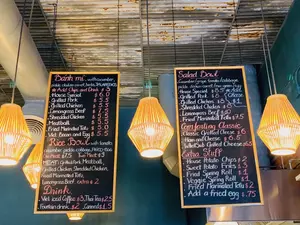 Have You Tried WhatSub Bahn Mi In Tyler? You Should.
So many options.
I have a dear friend who a total foodie. She has introduced me to so many incredible restaurants with delicious food I can't even remember them all. However, I was over-the-top delighted when she introduced me to the fast-casual Vietnamese eatery, WhatSub Bahn Mi last week.
After being sincerely surprised to find that we had a Vietnamese restaurant in East Texas, my surprise turned to happiness. As is our custom, we ordered a variety of appetizers and a couple of entrees so we could split everything.
We ordered the sweet potato fries and spring rolls to start with, and then we split the lemongrass beef sandwich and one of the variety of rice bowls they offer. Delicious. You know how sometimes you eat somewhere and you can just tell the food is very fresh? It tastes different, doesn't it? That's what it was like--on top of the unusual and delectable flavors, of course.
Did you know that they make their bread fresh every day? Oh yes. And trust me, you'll probably want to pour their signature chili sauce on everything--or even just enjoy it all by itself.
You can find them at 7924 S. Broadway ste 500 in Tyler or check out their Facebook page.