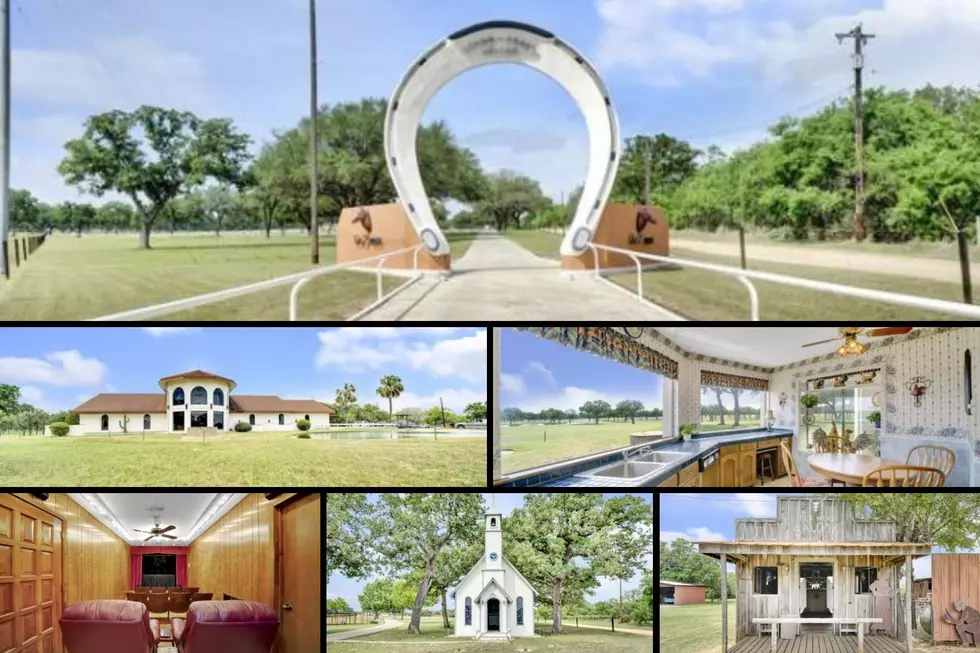 You're Going to Want to See This Unique 1970's Elmendorf, Texas Ranch
Ellen Hagan via realtor.com
If you grew up in the 1970s you might just fall in love with this unique ranch that is currently for sale in Elmendorf, Texas. There are so many things that make this property one of a kind. The first would have to be the iconic horseshoe gate as you enter the ranch. Are there some things that you would want to fix up, of course, but as you look through the photos below there is a lot of things to really like about this Texas ranch for sale. 
The ranch at 21155 Interstate 37 South in Elmendorf, TX was built in 1972 and is currently for sale with the list price of $3,900,000. There is lots of room to do whatever you want with this property as it's a total of 137 acres. There are 3 bedrooms and 3 bathrooms in the main house consisting of 4,300 square feet with a beautiful view of the San Antonio skyline from the 2nd floor sunroom. 
There is So Much to Love About This Texas Ranch
You could turn this into a rental or a venue/event center or just enjoy the property with your family. The area has been very well maintained, including some live oak trees estimated to be around 500 years old. There are 4 ponds on the property with one even having a dock.  
Other Extras You'll Love About This Texas Ranch
There is a 1,200 square foot metal workshop plus a hay barn and many other structures. Lighted tennis courts, cattle pens, a 1800's replica saloon and jail house, 1950's replica filling station, and a chapel. The mineral rights ownership are unknown. 
Check out these photos of this Texas ranch for sale: 
Elmendorf, Texas Ranch For Sale
It looks like it's from the 1970s but there is so much to love about this Texas ranch for sale.
You Can Rent a Cabin on the Ranch From 'Yellowstone' - See Pictures
The stunning Montana ranch that serves as the setting for the hit TV show Yellowstone offers cabins for rent, and the price includes tours of the set and ranch. Scroll below to see photos of the extraordinary property.
PICTURES: See Inside 'Yellowstone' Star Cole Hauser's Spectacular California Ranch
Cole Hauser doesn't just play a rancher on Yellowstone, he's lived that life off-screen, too. The actor's 5-bedroom-6-bathroom, 5,402-square-foot rural home on a very private, double-gated three-acre parcel of land includes the lavish 4-bedroom, 4-bathroom main residence, as well as a guest house and a separate studio apartment. The main house runs completely on solar power and comes with a 3-car garage, with easy transitions between indoor and outdoor living spaces, and the exterior of the property includes a pool area and a hot tub, as well as fenced-in horse corrals.