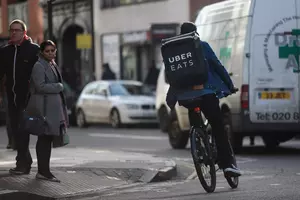 Texas' Favorite Quarantine Craving is Not What You Think
Jack Taylor / Getty Images
If we had to guess one restaurant dish that Texas is ordering more than any other, it seems like it would be a safe bet to say pizza, barbecue, or Mexican.  But it's none of the above and our favorite quarantine craving is surprising everybody.  
Noodles are ruling right now, and our favorite takeout dish in Texas, according to at least one food delivery company, is Pad Thai.  Spicy peanut sauce on noodles with chunks of peanuts sprinkled on top is my 12-year old's favorite dish, and apparently she's the only true Texan in our house.  She's part of the most popular food-ordering crowd.
Fox News said deliveries are up 30 percent for Uber Eats, and competitors like Door Dash, Postmates, and Grubhub can't be far behind.  Many of those services are offering free delivery right now, and if a restaurant offers free delivery, it's usually one of these services that will show up at your door.
Uber Eats broke it down by state, and I was surprised to see burritos were not the number one takeout choice in Texas.  Pad Thai is being ordered more than any other dish, and apparently, the delivery drivers are paying attention to what we're eating.  I always wondered if they cared, and yes, yes they do.
Other nearby states order these takeout dishes the most:
Louisiana - chips and queso
Oklahoma - spicy tuna roll
Waffle fries are popular in some states, and french fries are number one in other states.  And we all know those two things are not the same!  Waffle fries take up space across the whole tongue, and they're more of a mouthful going down than skinny little french fries.  But french fries are better for dipping.  Oui oui.
Whatever you pick, we've got a lot of fantastic East Texas restaurants to support, and if you're not hungry right this minute a gift card might be a great option because you can buy now and eat later.
A buffet of pizza, barbecue, Mexican, and some Pad Thai on the kitchen table sounds good and you can graze over the whole thing.  Perfect!
READ MORE: 6 ways the whole family can play together at home