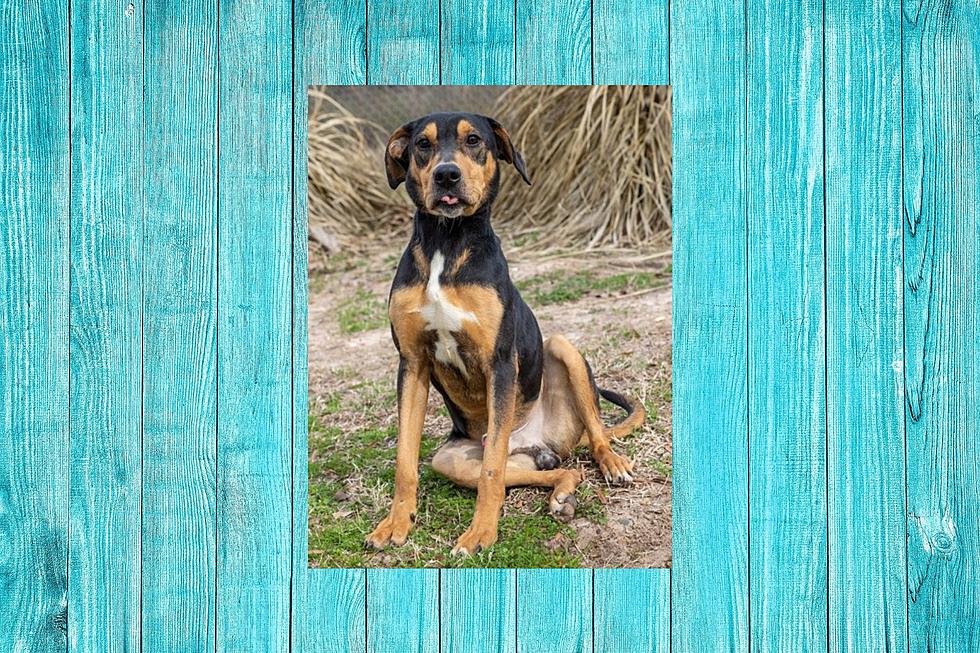 Mackey Is Playful – Just Look At His Pic, He's Sticking His Tongue Out
Pets Fur People
What a personality! A dog that has a playful pose that can stick his tongue out like this in Tyler, Texas while posing for a pic is just about as cute as they come. Mackey is just one of nearly one hundred dogs that are being cared for at the Humane Society's Pets Fur People in Tyler and he's just one that's looking for a new home.
Mackey is about four years old, weighs about forty-five pounds, and loves the companionship of other dogs. He appears to have some bloodhound and Doberman in his bloodlines somewhere. As with any dog at Pets Fur People, Mackey has a lot of unconditional love to give to an active family who'll just love him in return.
Mackey will go home with a starter kit of food, a collar and leash, and a certificate for half-price basic obedience training from Tyler Obedience Training Club.
For additional information on adopting Mackey call 903.597.2471 or check the Humane Society's Pets Fur People website. Pets Fur People requires a completed adoption application before a meet and greet can be arranged. Check out the animals that are available for adoption. Adoption hours are Tuesday through Saturday 10 am until 5 pm - closed for lunch 1-2 pm. The Humane Society's Pets Fur People is East Texas's oldest brick-and-mortar no-kill shelter. Pets Fur People offers routine vaccinations, except for rabies, to the public for dogs and cats. Follow Pets Fur People on Facebook, Twitter, and Instagram. Please be a responsible pet owner - spay or neuter your pets. Donations are appreciated.
The Ultimate Guide To 9 Exciting 2023 East Texas Spring Festivals And Events
It is that time of the year for us to get outside and have some fun. There are exciting festivals and events that will be providing us with a lot of activities.
Deion Sanders Owned The Largest Home In Texas, How Big Was It?
The home at 1280 N. Preston Rd. in Prosper was last listed on Zillow in 2019 for $14,500,000.00. It is not currently on the market, but scrolling through the pics below, you can get an idea of how Deion Sanders liked to live when he was in Dallas.
15 Most Neighborly East Texas Facebook Groups For Us All
You know, there's a lot happening around us, and much of the time we're totally oblivious to it. If it weren't for social media then a lot of us would be completely clueless. Stay informed with what's happening in your community through these Facebook groups.
12 Extremely Random Things For Sale Found On Tyler Marketplace
East Texans are trying to sell off some extremely random things and make a few bucks off of them before it becomes someone else's treasure.