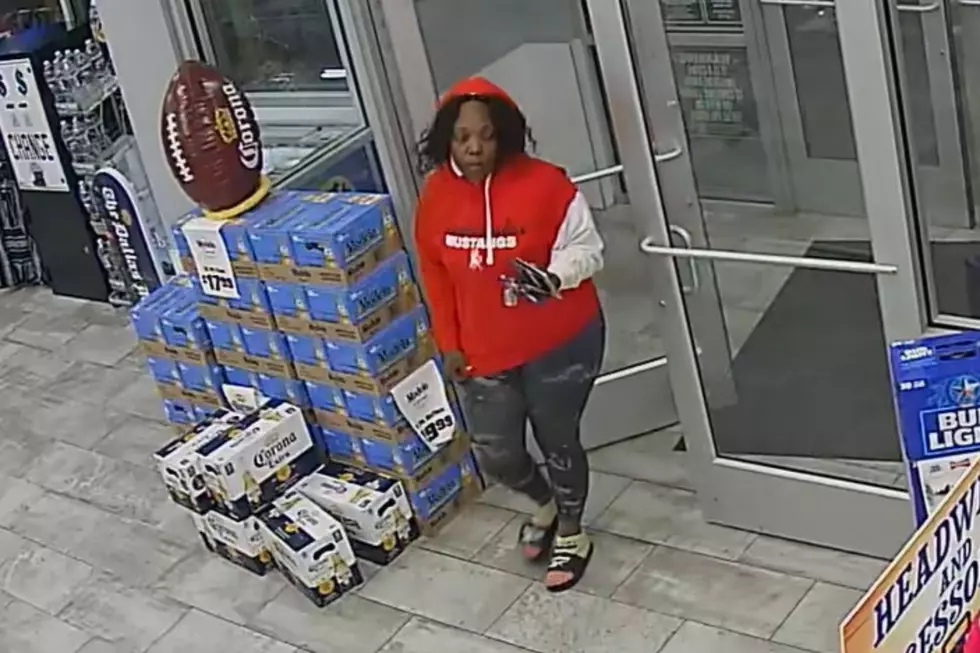 Police in Kilgore, TX Need Your Help Identifying a Fraud Suspect
Photo source: Kilgore Police Department
Do you recognize this woman suspected of committing fraud at a store located near Tyler, Texas?
On January 24, the Kilgore Police Department shared a few details, though not many, and a couple of photos in a Facebook post they shared on their page, which you can access here. Will you take a look at the photos, particularly if you live in or frequent either Kilgore or Tyler, Texas?
According to the post, the Kilgore Police Department is hoping the public may be able to shed some light on the identity of the person in the photo below. 
As you can see in the photo, the suspect is wearing a red sweatshirt with a hood or hat of some kind. We weren't given details on which specific business in Tyler, TX this incident allegedly took place, but you may be able to tell from the photo. This is actually a pretty clear screenshot compared to many we've seen.
This is the vehicle the suspect was driving before and after the alleged incident at a Tyler, Texas business:
You may actually be able to zoom in to get the tag number. Some of those who left comments on the original post speculated as to what it might be. One commenter said the vehicle looks like a 2020 Kia Forte GT with tag number NJJ2336.
If you have any info regarding the person in the photo or the incident itself, the Kilgore Police Department asks that we "contact Detective Justin Murphy at 903-218-6904 or Justin.Murphy@cityofkilgore.com. Please reference case number 2301-0894. All suspects are presumed innocent until proven guilty in a court of law."
Buy This $40,000 Home in Kilgore But It Will Need a Lot of Work
The home market is still wonky across East Texas so if you find a cheap home, you'll probably need to put some work into it.
Kilgore Police Discussing Safety
Here are some messages from the Kilgore Police reminding residents that they are safe.
Activity Ideas for Kids and Teens in Kilgore
Some of these answers are tongue and cheek, so please enjoy a laugh but only take part in the activities that won't get you in trouble with the law.