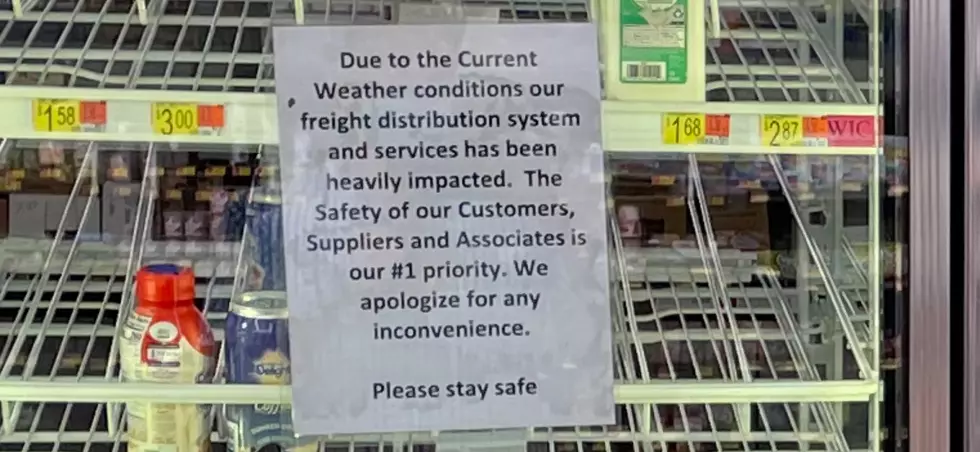 East Texas Grocery Store Shelves Still Empty
An explanation for Walmart on why all the shelves are empty
If your grocery list has some of the basics on it, there's a good chance that you won't be marking them off your list when you go shopping.
Grocery shopping was on the top of my priority list after church on Sunday. My shopping list for the family consisted of a few essentials - milk, breakfast sausage, lunch meat, bread - and then some non-essentials, like some treats for the dog! Gotta spoil them too.
So here it is a full week after the big thaw from the epic winter storm for the ages and a lot of the shelves in the grocery store are sitting empty. While doing my shopping at the Walmart on south Broadway in Tyler, I was met with a nearly empty milk refrigerator, an empty cooler for sausage and bacon, empty display racks where lunch meat should be along with a nearly completely empty aisle where bottled water is supposed to be. Those were the main things I was going to the store for, but they were out of what seemed to be everything. I took a trip to another store to complete my shopping list.
Walmart wasn't the only store suffering, Fresh by Brookshire's was recently struggling to keep store shelves stocked too. Now I know it's not the stores' fault for the empty shelves, the weather is to blame. The supply chain to get fresh products in to the store were severely interrupted. Because the delivery trucks were stranded on the interstate for days on end because of the storm, the whole food supply chain was disrupted. The store did post notes all over stating this fact.
I have confidence in knowing that one day our grocery store shopping trip will return to normal and that we'll be able to get everything on our list, but since the pandemic struck last spring, the whole grocery store and shopping experience has been disrupted.
One highlight of my shopping trip though, I was FINALLY able to purchase a canister of Lysol disinfecting wipes, something I haven't seen on the shelf since last February. So see there is a silver lining!
East Texas Grocery Store Shelves Are Still Trying To Recover After Winter Storm
50 Famous Brands That No Longer Exist
Here are 50 of your favorite retail chains that no longer exist.