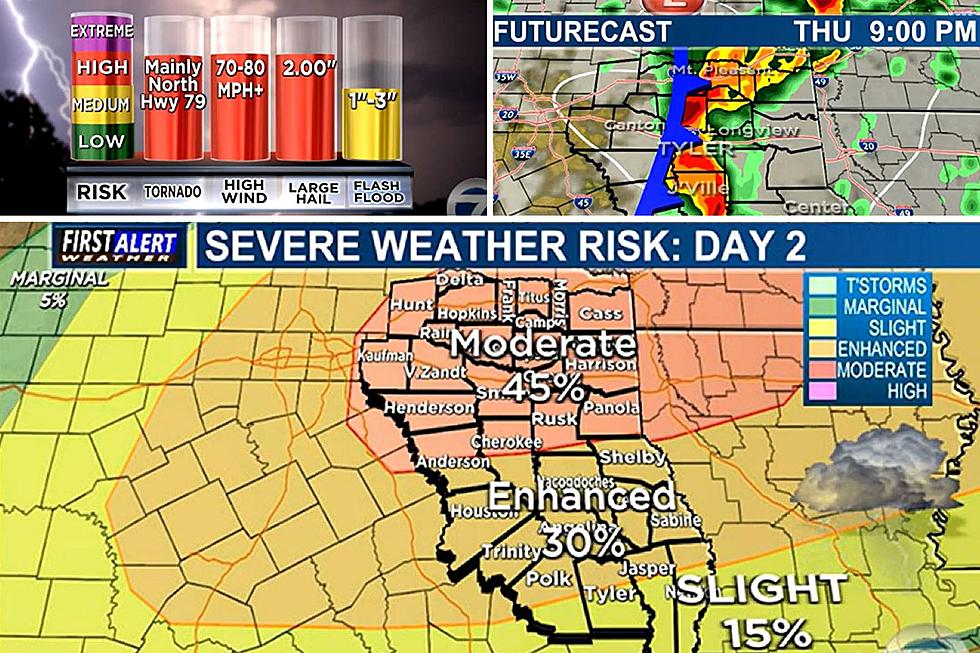 Tornadoes, High Winds, Large Hail Possible In East Texas Thursday
KLTV 7
East Texas could be in for a rough ride thanks to the strong cold front that will be moving through East Texas late Thursday afternoon. All of East Texas needs to be weather aware as early as late afternoon because the area could be dealing with some severe weather throughout the evening and through midnight.
The Storm Prediction Center out of Norman, Oklahoma has put a good portion of central East Texas as well as all of northern East Texas under a MODERATE RISK (45% chance) of seeing the possibility of significant severe weather and the remaining southern portions of East Texas under an ENHANCED RISK (30% chance) of seeing the possibility of significant severe weather.
When are the storms expected to arrive in East Texas?
Throughout the day Thursday, the entire area could see a shower or thunderstorm pop up with the majority of the action being associated with a cold front that will be moving into the area sometime after 5 p.m. That's when we have the biggest risk of seeing an isolated tornado spin up, large hail up to 2" in diameter, high winds up to 80 m.p.h., and the possibility of some localized flooding due to heavy downpours.
In the event that the National Weather Service office in Ft. Worth or Shreveport issues a tornado warning for any of our primary East Texas counties, we will break from our normal programming and join severe weather coverage from KLTV 7 Chief Meteorologist Mark Scirto and the Storm Tracker weather team who will be providing up to the second coverage of the storms as they move through the area.
You need to find a sturdy building and go to its lowest floor. Put as many walls between you and the outside of the building as you can and away from any windows. Get to the smallest, windowless, interior room that you can get to. If you are in an RV or mobile home, find a sturdy structure to seek refuge in. If you are in a vehicle and a tornado is headed your way, The best course of action is to drive to the closest shelter. If you are unable to make it to a safe shelter, either get down in your car and cover your head, or abandon your car and seek shelter in a low-lying area such as a ditch or ravine.
Remain weather-aware Thursday.
Stay weather aware throughout Thursday evening into Thursday night as this storm system and cold front pass through. Skies will quickly clear behind the front leaving behind an extremely windy Friday with lots of sunshine and cooler temperatures.
Tyler, TX People Share 12 of the Best Places to Go When There is a Tornado Warning
We'd like to add to this list of safer spaces people where people can seek shelter in the case of a tornado in the Tyler, Texas area. So if you're aware of any public spaces good for taking shelter during tornadic storms, let us know so we can add them!
KEEP READING: Get answers to 51 of the most frequently asked weather questions...
East Texans Are Strange And Funny When It Comes To Hotel Etiquette
East Texans answering the following question are kids at heart, concerned about germs and just darn funny!
Who Is The Best Vet In Tyler, Texas? Residents Respond With These Vets
There is definitely not a shortage of veterinarians around Tyler. When asked for the best, friendliest and least expensive vet in the area, Tyler residents spoke up with these responses.