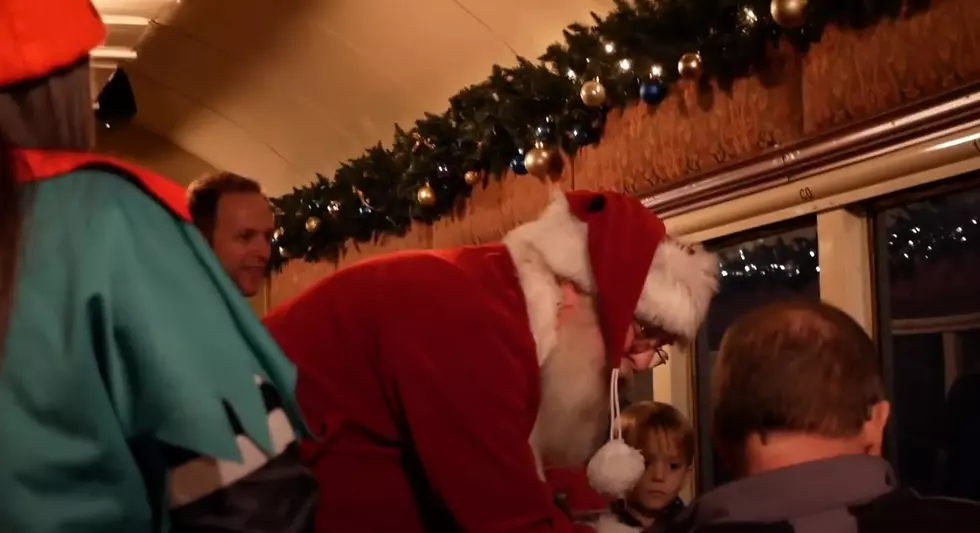 Take A Trip To North Pole Aboard The Polar Express From Palestine, Texas
Roadtrippin' With Takacs via YouTube
It all begins with a golden ticket. A golden ticket that will get your kids aboard 'The Polar Express' where the book and movie come to life along the rails of the Texas State Railroad between Palestine and Rusk, Texas.
One of the most beloved Christmas stories (and movies) of all time will become a real-life adventure for kids and adults of all ages as they make a trip to the North Pole. The entire train ride will be filled with excitement as the story of 'The Polar Express' is being read and played out for everyone to be a part of.
This is an interactive event for the whole family. When my daughter was younger we took her for a ride aboard The Polar Express and had a blast. She was dressed in her Christmas pajamas and ready for the whole story. Once the train departed the Palestine Depot, we were all singing the songs while enjoying cups of hot chocolate and devouring some cookies that were being served to us by the Coco Chefs as we made our way to the North Pole.
Upon arriving at the North Pole, my daughter had the opportunity to meet the elves and Santa himself, where she received her first Christmas gift of the season, a silver sleigh bell! From there it was a trip back to the depot while singing even more Christmas songs and having a great time with the other Polar Express passengers. The excursion created some great family memories that are with us still today.
The Polar Express has several daily departures from the Texas State Railroad's Palestine Depot, but tickets are going quickly and some cars are completely sold out. The first train actually departs next Friday, November 18th at 6 p.m. and the final departure will be Tuesday, December 27th at 8 p.m. There are several departures on the same day. Although some times are already sold out, there are still some prime spots available. Reserve your seats now.
Don't miss out on this opportunity to hop on a train that is headed to the North Pole with your kids and create some special memories that will last a lifetime from a quick ride aboard 'The Polar Express'.
Drive Thru Christmas Light Parks In East Texas (2022)
Gather up the family and head to an East Texas Christmas light park to create some memories with the family.
14 Must See Christmas Light Parks In Texas
If you're traveling anywhere in the state of Texas this Christmas, there is a good chance there is a drive-thru Christmas light park near your destination, like these:
Images do not depict actual park and are for display purposes only.
Photos of 'Enchant' Christmas Lights in Dallas, TX
Here is a look at some of the 4 million Christmas lights on display in Dallas, TX this holiday season.
You Could Find the Perfect Look for a Whataburger Fan this Christmas
The Whatastore is full of clothes, collectables and even Christmas attire that any fan would love.