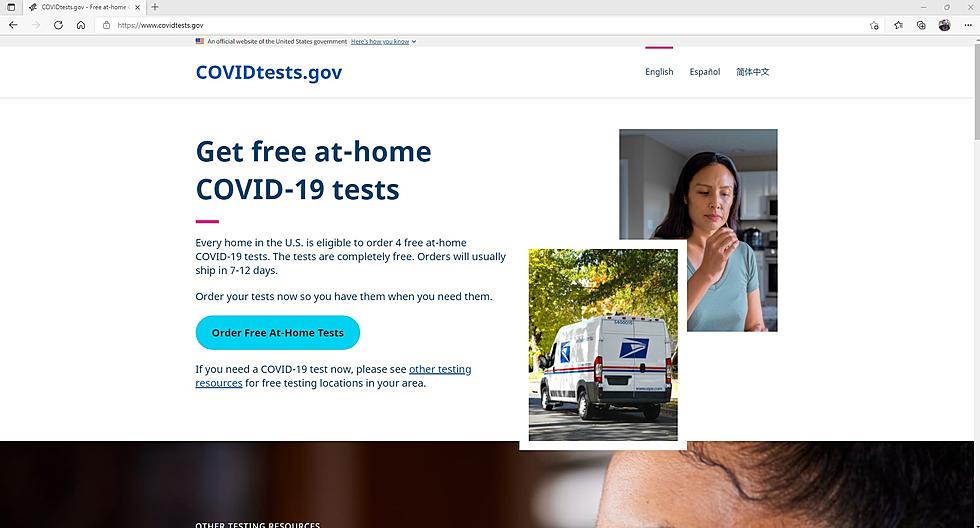 It Took Zero Time for Me to Order My Four Free COVID Tests to Arrive in Tyler, Texas
covidtests.gov
It was announced that every household in the United States could order four free COVID-19 home tests to be delivered to your home. As with anything government oriented, the process is never quick and easy. I am glad to say that ordering these tests is actually very quick and easy with zero red tape to cut through.
I remember when Obamacare launched in 2012, I think, and I hopped on to see if I could find coverage. At that time I was working for another radio station that didn't offer health insurance. I got on the website and, oh boy, it was an absolute nightmare to navigate. I eventually gave up and never signed up.
So I was certainly skeptical when it was announced that we could order four free COVID-19 home tests. I decided to give it a shot so if it was a disaster, I could let you know and hopefully find a way to help you work through some of the obstacles. I was very, VERY surprised to find that it took me literally two minutes to get it done.
First off, I went covidtests.gov and was greeted with this home screen.
I clicked on the "Order Free At-Home Tests" button which took me to the next page. Here I was asked to fill out my first and last name, email address and shipping address. I then clicked on "Check Out Now."
When I clicked on "Check Out Now", a confirmation page popped up just to make sure all my information was correct. I then clicked on "Place Order Now."
And Boom! I was done as I got this confirmation page.
I even got an email a couple of minutes after getting that confirmation with the same information.
Something quick and easy with no red tape from our government. I know, I can't believe I'm saying that either. I did notice, however, that it said the tests wouldn't ship out until late January and could take 10-12 days for them to arrive. So maybe that's the not so quick and easy about this process.
But hey, if you are wanting or needing some at-home COVID-19 testing kits, hop on covidtests.gov and get your four ordered now.
Dragonfly Inn is a Short Walk from First Monday Trade Days in Canton
The Dragonfly Inn in Canton could be the perfect stay for a weekend of shopping or just a girl's weekend away from the guys.
List of Fantastic Mexican Restaurants found in Longview
Here are some of the best Mexican restaurants found in Longview:
Locals Shoutout the BEST Pizza around Tyler
Pizza is much more than crust and toppings. Here are some of the best places to get pizza around Tyler.