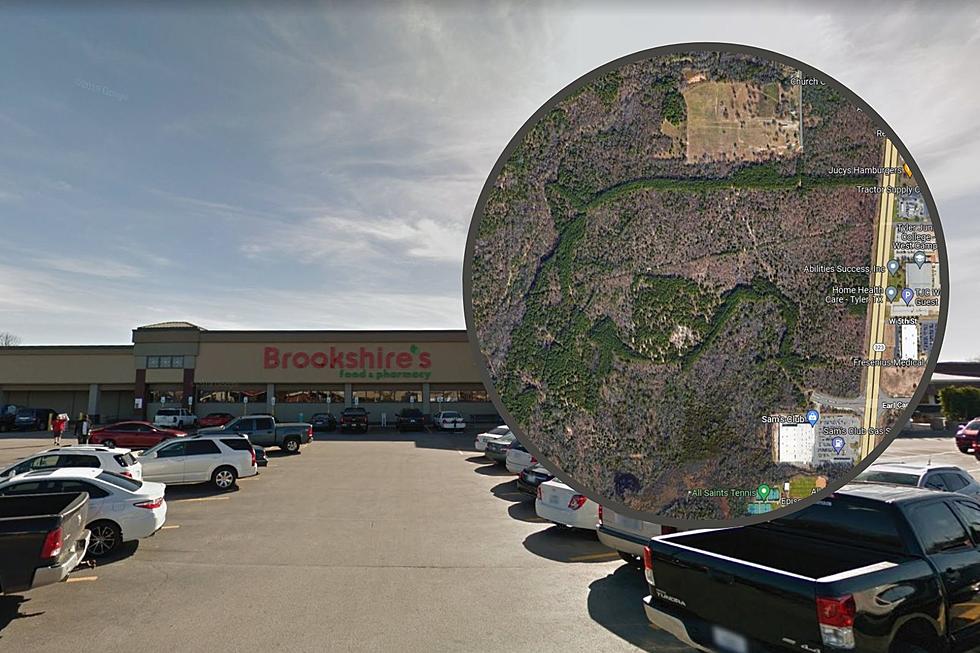 Brookshire's Will Be Building a Huge New Store in Tyler, Texas
Google Maps
Brookshire's Grocery Company is the leader in East Texas for grocery shopping. The family owned behemoth has been in East Texas for almost 100 years and has more than 200 stores not only in East Texas but in Louisiana, Arkansas and Oklahoma, too. Brookshire's Grocery Company also has the Super 1 Foods, Fresh by Brookshire's, Spring Market and Reasor's branded stores. It looks like one more store will be added to that total as a new store is coming to the west side of Tyler, Texas as part of huge new development project.
New Tyler Development
In a press release from Tour Tyler Texas through Newsbreak, The Canton Property Group, LLC, announced that they had sold nine acres to Brookshire's Grocery Company to add a new store in the Bellwood Master Planned Community, otherwise known as Bellwood Park, on the west side of Loop 323 in Tyler. For fans of Brookshire's, this is huge news.
Bellwood Park
Bellwood Park is a 543 acre development that will house single family homes, shopping, a possible park and maybe even a hotel. Going back to a 2019 article from the Tyler Morning Telegraph, the initial plans were to build a hotel and conference center in that area. A group of investors were seriously looking at that property going back to 2008. The economic recession of that time caused those plans to fall through.
TopGolf and Dave & Busters
There was even talk of building a TopGolf-like entertainment venue. It wouldn't be an actual TopGolf but it would be something similar, which I have suggested before that an East Texan should bring some people together to build something like this. TopGolf is copyrighted and you need to buy a franchise from that company, which is in the millions. But the concept of TopGolf Is Not. Take their idea and recreate it or even improve upon it. Same can be said for Dave & Busters, another coveted entertainment venue for East Texans.
Brookshire's is the King of Groceries in East Texas.
As far as Brookshire's, this would make a second store within a couple miles of each other as one already exists at Highway 64 and West Loop 323. It hasn't been determined yet if that store will remain open. I don't see why it wouldn't.
Non-Fans of Brookshire's
For those in East Texas who are not big fans of Brookshire's, this could be disappointing news for them. Those East Texans would love to see some new grocery competition in the area like a Kroger or Texas favorite H-E-B. There is the long rumored but never proven handshake agreement between the founders of Brookshire's and H-E-B that they would never build in their areas.
For now, Brookshire's will remain the King of Groceries in East Texas. We'll have to wait and see if this new Bellwood Park can bring some new stuff to Tyler.
13 Notorious Serial Killers Linked to Texas
Many consider America's first serial killer came from Austin and may have left to become the world's most famous killer.
Go to Infinity and Beyond at This Toy Story Themed Airbnb in El Paso
Taking a vacation is a great way to relax but also a great way to reconnect to your youth.
Gregg County, Texas Authorities Were Busy with 27 Felony Arrests Over the Week of February 13
Crime does not pay and these individuals, if convicted by a jury of their peers, could be spending a lot of time in jail for their offenses.