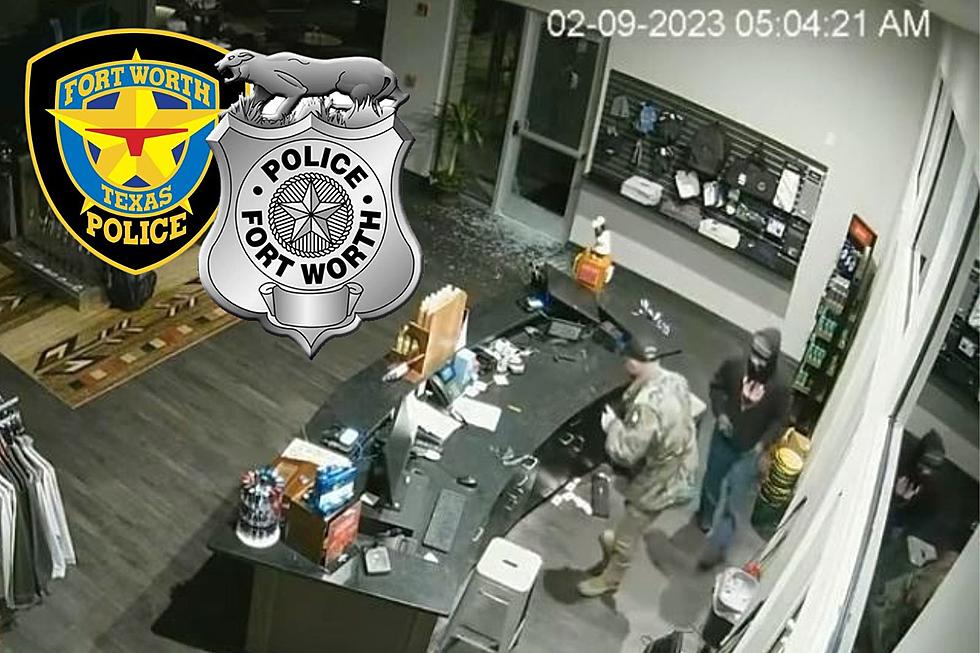 VIDEO: Police Seek Two Alleged Golf Club Shop Burglars in Fort Worth, Texas
Screenshot taken from Dallas Texas TV FB page video, Fort Worth Police Department
Police in Fort Worth, Texas are currently asking for the public's assistance in identifying and locating two alleged suspects of theft at a golf club shop.
The Dallas Texas TV Facebook page shared the surveillance video footage of this incident that took place, according to the time stamp on the video, on Wednesday, February 9, at a little after 5:00 am in the morning at a Forth Worth, Texas Golf Club Shop.
Though the video footage is surprisingly clear compared to what we often see when it comes to surveillance video, the two (what appear to be) male suspects, because of the angle and some of the clothing they were wearing, it's difficult to see details of their facial features.
Here are a few more details about what the two burglary suspects were wearing at the time of the incident.
One of the suspects was wearing tan or khaki pants and a camouflage shirt or jacket of some kind, with tan boots and a black baseball cap. The other suspect was wearing what looks like a black or dark gray hoodie, with jeans, gloves, and a dark-colored baseball cap.
In the video, you will see them break a shop window and crawl through. After that point, they rummaged about and swiped the cash registers or boxes and left through the broken window. According to some of the commenters on the post, the suspects would've "done better" to swipe golf clubs rather than take the cash registers only to find them likely empty or with little more than $100 in them.
Here's the video showing the entire break-in from the Dallas Texas TV Facebook page:
If you have any information regarding this incident, please reach out to the Fort Worth, Texas Police Department.
It is Illegal to Throw These 5 Things Away in Texas
So, yeah, if you're like me you've known things like tires and paint in the trash could potentially catch you a case, but a few things on our list may surprise you.
Check Out These 27 Weird Laws Still on the Books in the State of Texas
If you go through any state's law book, you're going to find some very strange laws that are just plain weird but still enforceable no matter how ridiculous.
46 Dogs Waiting to be Adopted in Tyler, Texas
These 46 dogs are waiting to be adopted from the Smith County Animal Shelter in Tyler, Texas.