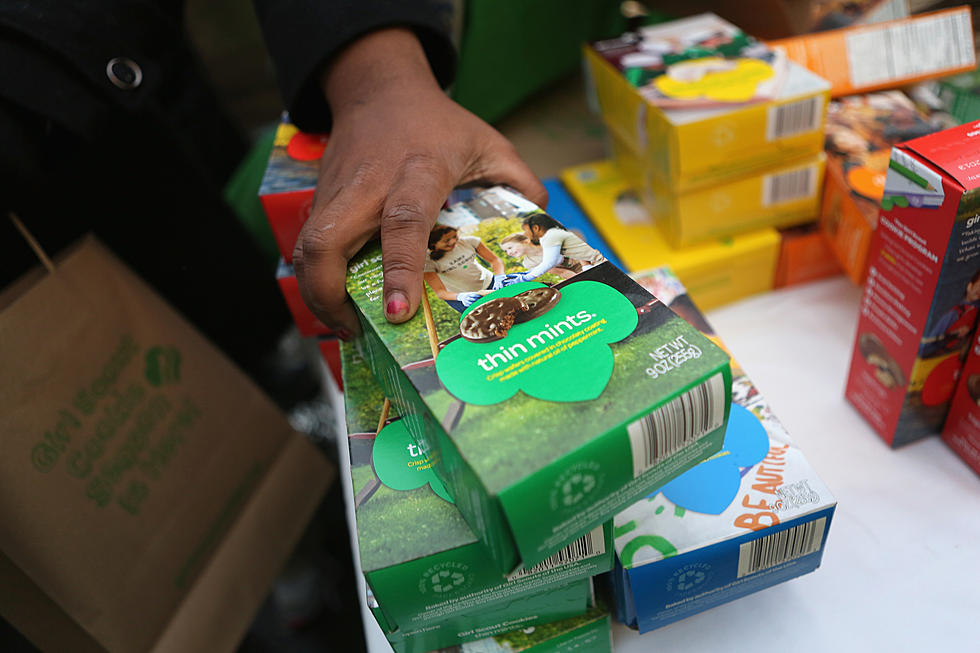 Never Be Cookie-less With This Girl Scout Cookie Locator
John Moore, Getty Images
We've seen the Girl Scouts set up outside grocery stores selling cookies already this month, but will they be there at precisely the minute that Thin Mint craving strikes? Cuz that doesn't wait.  Find out with this handy Girl Scout Cookie locator.
Not only are Girl Scouts learning valuable life skills, building confidence, and helping to make the world a better place, but they're also making it really easy now to feed our addictions to Tagalongs.
(Tagalongs are the BEST, aren't they?  I mean, argue for Thin Mints all you want, but the peanut butter and chocolate combination wrapped around that crispy wafer is day-making material.  But I digress.)
When the mood strikes, we can plug our zip codes into a handy cookie locator with the Girl Scouts of Northeast Texas to find out which grocery stores will have Girl Scouts offering cookies on the way in.
Another option is to install the Girl Scout Cookie Finder app on your iOS or Android, and then "Find Cookies Now."  Because again, the craving doesn't wait.
And, Little Brownie Bakers have a Cookie Locator that generates a calendar and puts each Brookshire's or Walmart appearance on the calendar so we can print that out and get it on the fridge.
Girl Scouts will be all over East Texas on several different days, so there's no reason that the cookie craving has to be denied.  Here are just a few of the dates and locations in Tyler that will have Girl Scout cookie booth sales.
Sam`s Club
2025 South Southwest Loop 323
Tyler, TX 75701
2/10, 2/11, 2/17, 2/18, and 2/25
Brookshire`s
2020 Roseland Boulevard
Tyler, TX 75701
2/17
Super 1 Foods
113 North Northwest Loop 323
Tyler, TX 75702
2/10, 2/11, and 2/17
Brookshire`s
100 Rice Road
Tyler, TX 75703
Today!  And each day through Sunday.
Lowe`s
5720 South Broadway
Tyler, TX 75703
Today!
There are several other locations over the next few weeks that will have the cookie sales, and we'll leave the links to the cookie finders up for you through the cookie season, or until we're all stuffed full.  Which never happens.
Meet the Cookies HERE, and decide if you're going for Thin Mints, Samoas, Trefoils, Tagalongs, or something else that strikes you.  Those S'mores cookies are back too. They're all good right out of the freezer, so we might as well stock up.