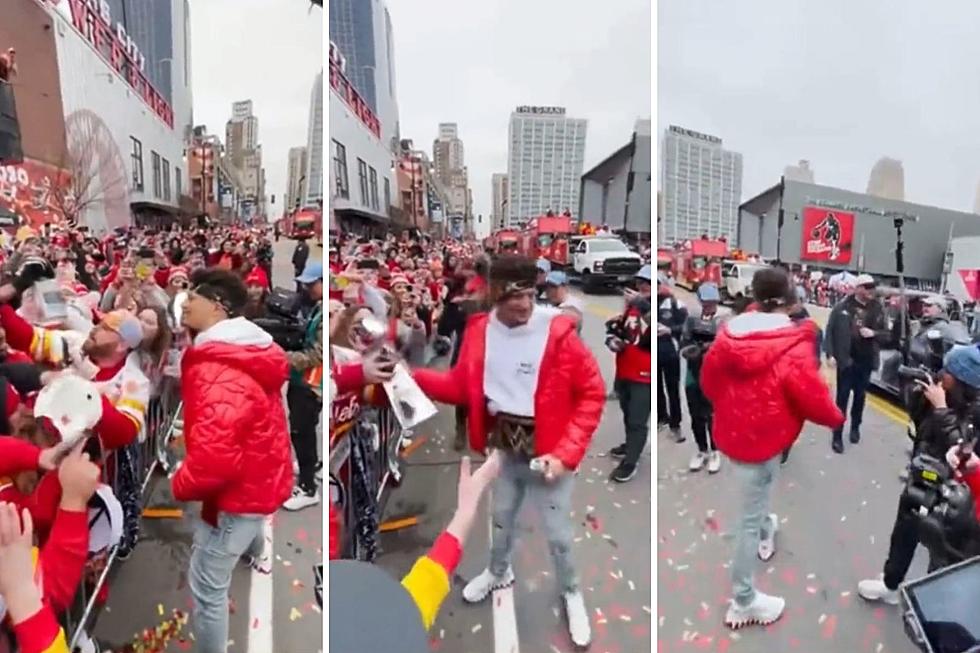 Drunk Patrick Mahomes Hands Lombardi Trophy to Random Fan, Walks Away
Shannonnn sharpes Burner (PARODY Account) via Twitter
Pretty much all of East Texas was celebrating as Whitehouse, Texas native Patrick Mahomes lead his Kansas City Chiefs to a second Super Bowl victory in four years. They beat Lane Johnson, a Groveton, Texas native, and his Philadelphia Eagles 38-35 to earn that second ring. As teams do after a championship win, a victory parade was held to go through Kansas City to celebrate with the hundreds of thousands of fans. Mahomes was celebrating a little too much as he drunkenly handed the championship trophy off to a fan in the crowd and walked away.
Patrick Mahomes Super Bowl Celebration
Its no secret of Patrick Mahomes' love of Coors Light. I'm personally not a fan of the adult beverage but however someone celebrates is all good in my book. For the Chiefs victory parade, Patrick was certainly indulging in his favorite beverage the entire celebration. As will happen, too much alcohol leads to some questionable decisions. One of those questionable decisions was to come down from the bus Patrick was on to take some pictures with fans while holding the Lombardi trophy and then hands it to a fan and walks off.

In case you were wondering, yes, team personal were close by and did retrieve the trophy before it disappeared into the fans collection.
A Sweet Moment During the Parade
In another moment on the parade route, there was a sweet interaction between Patrick and a young fan. That fan was holding a jersey from Mahomes' days as a Whitehouse Wildcat. Patrick saw the jersey, and clearly yelled "Whitehouse!" from the bus.
Patrick will certainly not be making any drunken handoffs to his running backs next season as they play for a chance at a third Super Bowl ring in five years. Go Chiefs!
Go Back in Time with This 1914 Era Home for Sale in Moody, Texas
There is just something fascinating about the architecture of homes built over 100 years ago.
Check Out These 27 Weird Laws Still on the Books in the State of Texas
If you go through any state's law book, you're going to find some very strange laws that are just plain weird but still enforceable no matter how ridiculous.
Goodwill in East Texas Will Not Accept These 24 Donations
Goodwill is a great place to donate some items you don't need anymore. However, there are things that they will not accept.