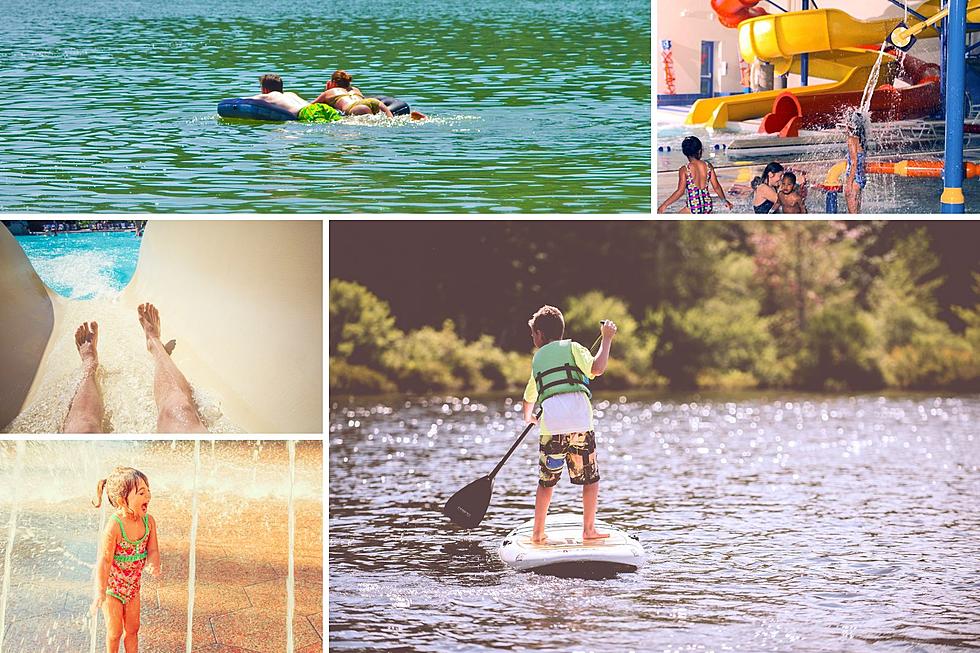 Cool Down And Splash Around At These 10 Tyler Water Attractions
Immo Weggman and Ben White via unsplash, wikimedia commons, Getty Images
If you've spent any time living in East Texas during the summer you know how brutal summer weather can be. Long stretches of the mid-90s with high humidity make it continually feel like the low 100s. With heat like that we're running from place to place to cool off and find some relief, whether that's in a grocery store, our office, our vehicles or just staying at home, we just want to get out of the heat - well, for most people.
There are those that do enjoy the heat and kids are among that group. Thankfully there are several activities around the Tyler area that can and will offer a break from the heat and some fun too, from water sports to water parks there's something for everyone at any skill level thanks to the water attractions or bodies of water.
The Tyler area is home to two huge recreational lakes - Lake Tyler and Lake Palestine - both of these lakes offer up some fun in the sun. Thrill seekers can rent personal watercraft, take out a kayak or paddle board, or just swim in the lake.
Tyler State Park, north of Tyler, has water activities for the family too. At this state park, you can rent kayaks, canoes, paddleboats, and paddleboards and swim in the 64-acre spring-fed lake.
Kids and families can enjoy one of the many splash pads around Tyler or Fun Forest Pool that are operated by the City Of Tyler. Tyler's Fun Forest Pool officially opens for the summer season Saturday, June 3rd with a special Memorial Day weekend preview May 27th and 28th. The pool has swimming lanes and two slides for the kids to slide down and have some fun. There is an admission fee. Tyler Parks and Recreation also has splash pads installed at these area parks:
Faulkner Park
Bergfeld Park
P.T. Cole Park
Woldert Park/Glass Recreation Center
For those wanting a little more adventure a little more than just swimming or running through a splash pad, you can visit these water parks close to Tyler and slide down their slides and float the lazy river. The Waterpark at the Villages and Yogi Bear's Jellystone Park at Whispering Pines, both of these locations require an admission fee and offer guests swimming pools, water slides, and water playgrounds.
When you're visiting Tyler this summer or just a resident looking for some relief from the East Texas heat and want to cool off by splashing around, Tyler has some great water activities waiting for you to enjoy.
While being outdoors and playing in the water, it's important to remember the sunscreen.
2023 Opening Dates For Water Parks Around East Texas
When it comes to catching a break from the oppressive East Texas heat and humidity you can turn to any of these nearby water parks.
Newest Coaster At Six Flags Over Texas, AQUAMAN: Power Wave
Six Flags Over Texas will open their 14th roller coaster March 11, 2023. This will be a launch-style first-of-its-kind water coaster
21 Fun-Filled Things To Do In East Texas For Your Bored Out-Of-Town Relatives
Now it's time to take on a new adventure with the family this holiday and to kick boredom to the curb with these fun East Texas activities.