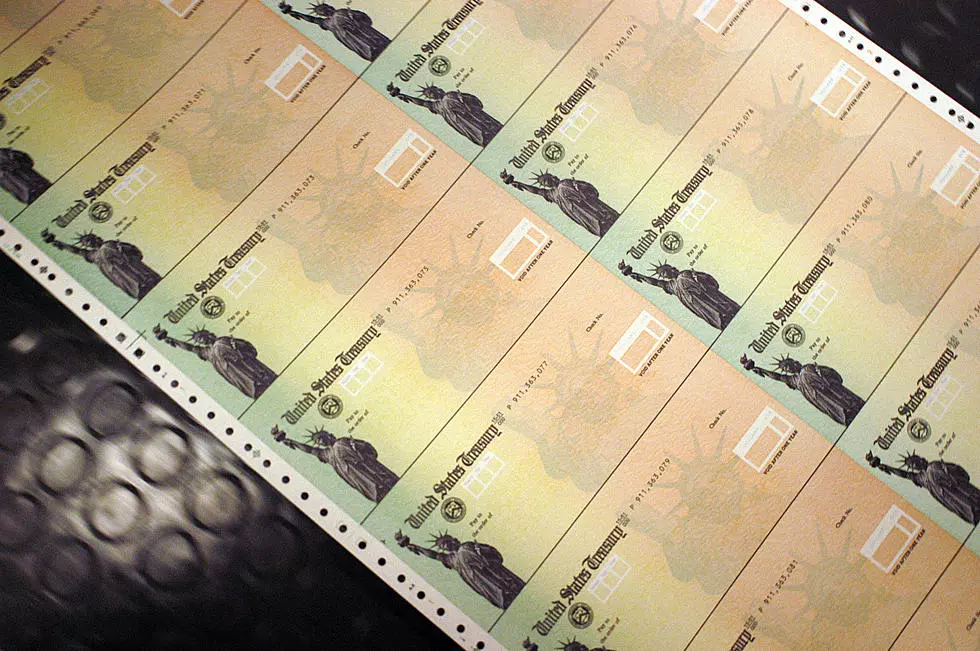 Almost 3 Million People Have Signed a Petition for 4th Stimulus Check
Getty Images
Support is growing among Americans for a fourth stimulus check.
No surprise here as a petition on Change.org called "$2000/month to every American #moneyforthepeople #covid19" is gaining momentum with nearly 3 million signatures calling for a fourth stimulus payment.
Newsweek reports that there are six different petitions on Change.org urging President Joe Biden and Congress to deliver recurring stimulus checks through the duration of the pandemic.
Stephanie Bonin, a restaurant owner in Denver and author of the "$2000/month to every American #moneyforthepeople #covid19" petitions tells Newsweek, "We need immediate checks and recurring payments so that we can keep our heads above water."


She is calling for "$2,000 payment for adults and a $1,000 payment for kids immediately, and continuing regular checks for the duration of the crisis." Her petition is nearing the 3 million signature mark and if she hits that mark, it would become one of the most signed petitions on Change.org.
There's no doubt the U.S. economy is showing signs of recovery, and although weekly jobless claims are at a pandemic-era low, the unemployment rate in June was at 5.9%. That's over 2 percentage points higher than February 2020's numbers that were reported by the Bureau of Labor Statistics.
The report also sites "food insufficiency" as a reason for additional stimulus money. The chair of the White House's Council of Economic Advisers, Cecilia Rouse, cowrote a blog with an economist in the Diet, Safety, and Health Economics Branch of the Food Economics Division,  Brandon Restrepo, that addressed the issue saying, "After the pandemic struck and hunger went up dramatically, there were temporary reductions in food insecurity rates following the passage of the CARES Act in March 2020 — when the first round of stimulus checks were released to many Americans."
In fact, each time stimulus checks were released, they saw the same result and went on to say, "With Federal aid payments now decreasing, however, it is not surprising that food insecurity is again on the rise."
Top 20 Restaurants Central Texans Wish Would Come to Temple
Back on April 30, 2021, I
asked the good people of Temple
if they could picture a good restaurant to fill the lot on North General Bruce Drive where the soon to be torn down Long John Silver's stood.
This was before it was announced that a Dutch Bros. Coffee location would open there (which was one of the places I predicted as a contender in our article).
So now we know what will go in that spot, but the responses to my survey were interesting because they paint a picture of just how diverse Temple's population is. People recommended some familiar restaurants with locations in the surrounding area, but also a few I'd never even heard of.
Here are the top 20 results of the survey. Let's see what the good people of Temple are craving!
10 Myths About Texas That Even Some Natives Believe
Everything's bigger in Texas, including the tall tales! Our state can seem pretty strange to people from far away, or even our immediate neighbors. There are several myths about Texas that range from quirky to fun and just plain ignorant and insulting, and even some people born and raised her believe 'em. Here are a few we can dispel today.
Here are Some Fun Things You Still Have Time to do Before School Starts
School starts in Central Texas in just a few weeks. There's still plenty of time for your family to get out and have some fun before this beautiful summer ends. Here are some ideas to spark your imagination and help you plan an epic Texas road trip.