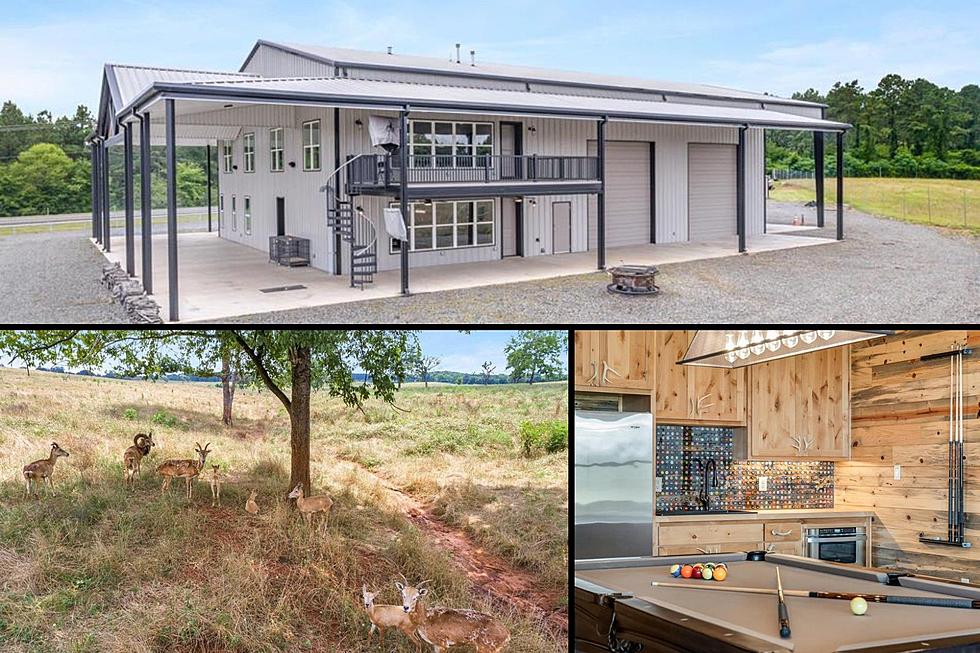 Want to Buy a Ranch? The 36 Ranch is Now For Sale in Jacksonville, Texas
Photo courtesy of Delanee Clark via realtor.com
There are tons of people that dream about owning lots of land and working a ranch in the great state of Texas, although it's lots of hard work there is a fantastic property available now to live out that dream in Jacksonville, Texas. East Texas is a beautiful place to live especially when you have a 246-acre ranch to call your own. The 36 Ranch in Jacksonville, Texas is currently for sale but there is a hefty price currently listed at $4.5 million dollars. 
While this property is expensive it's set up for any adventures you want to have once you buy it. There is a 30-acre lake (at capacity) and 2 ponds stocked with fish, all you need to do is grab your fishing pole. Plus, there is so much wildlife that you will find on the property, including: Axis, Fallow, Whitetail, Barbado, Mouflon, Barasingha, Blackbuck, Sable Antelope, Red Stag, Orynx and Ibex.  
The Main Home is a Beautiful Barndominium
You'll love the amazing views from the stunning home that comes with 4 bedrooms, 4 full bathrooms, 1 half-bathroom, it's a total of 3,256 square feet. The home has lots of beautiful wood, you will find granite and high-quality custom finishes. You need to see the photos below showcasing just how astonishing this property truly is.  
Let's See the Photos
This property comes with 85 acres of timber, 6 breeding pens, a 660KW generator, storm shelter, and so much more. Let's look at the photos of the incredible 36 Ranch currently for sale in Jacksonville, Texas. 
246 Acre Ranch For Sale in Jacksonville, Texas
Known as the 36 Ranch in Jacksonville, Texas this property is currently for sale with a list price of $4.5 million dollars.
Gallery Credit: Billy Jenkins
WBSM's Top SouthCoast Stories 10/23-10/29
Gallery Credit: Ariel Dorsey