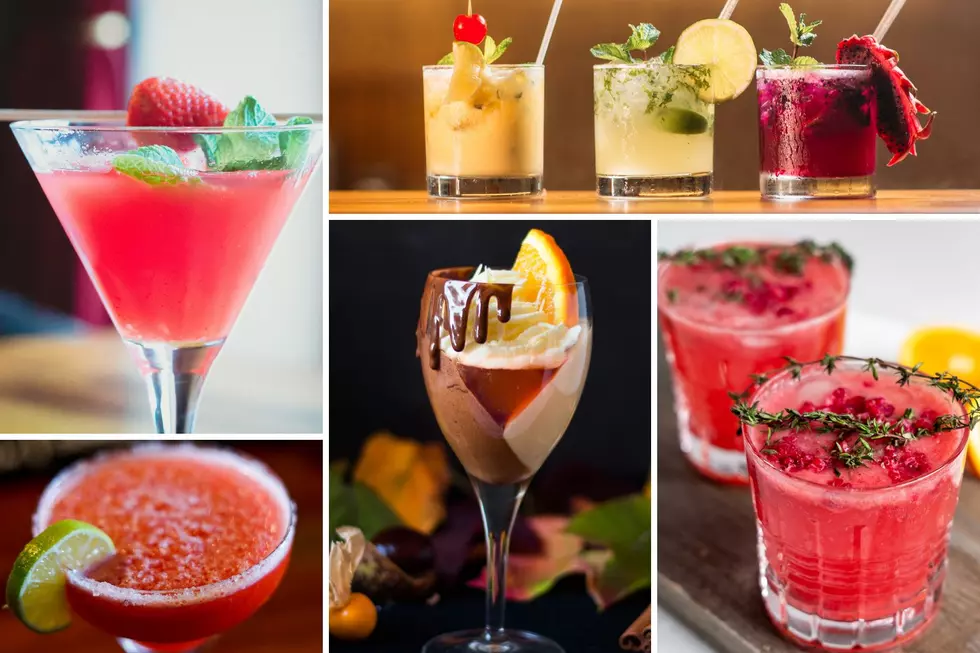 14 Cocktails To Make, Enjoy And Share (Or Not) On Valentine's Day
Kobby Mendez, Jens TheeB, Theo Crazzolara, Tai's Captures, and Rirri via unsplash
This Valentine's Day, thousands of Valentine's Day cards will be exchanged between romantic partners showing just how much they love each other. In addition to those cards, beautiful bouquets of roses and other flowers will be delivered to offices throughout Tyler, Texas and Longview. If that's not enough, boxes of jewelry will be unwrapped, chocolate hearts will be given away or held by a stuffed animal. Valentine's Day will be topped off by a romantic dinner for thousands of couples too.
Before the day is over though, couples may want to unwind with a special Valentine-themed cocktail. Instead of pouring a simple glass of wine or making a vodka cranberry or bourbon on the rocks, why not try something a bit more elaborate and unique for this special day. Playing bartender could be fun on Valentine's Day.
You'll need to do a little prep work ahead of time to pull off these pink, red and chocolate-themed cocktail drinks for Valentine's Day. That's what this weekend's for as you put a spin on a classic drink and add in flavors like raspberry, blood orange, strawberry or pomegranate. Or create a unique chocolaty dessert cocktail.
Here are some Valentine-inspired cocktail recipes to spice up the day for lovers.
Rose Gin & Tonic
Ingredients:
2 oz Glendalough Rose Gin
Tonic Water
Lime wedge, garnish
Mint sprig, garnish
Directions:
Add Rose Gin to an ice-filled wine glass.
Top with tonic water and garnish with a slice of lime and a fresh sprig of mint.
Chocolate Martini
Ingredients:
2 tbsp. chocolate syrup, plus more for drizzling
4 oz. Baileys Irish Cream
4 oz. chocolate liqueur
4 oz. Smirnoff vodka
Ice
shaved chocolate (optional)
Directions:
Pour chocolate syrup onto a shallow plate.
Dip the rim of the martini glasses into chocolate syrup to coat the rims.
Drizzle the inside of each glass with chocolate syrup.
Combine Baileys, chocolate liqueur, and vodka in a large cocktail shaker.
Fill with ice and shake until thoroughly chilled, about 20 seconds.
Divide evenly between glasses.
Top with shaved chocolate.
Serve.
(Delish)
Cherry Sazerac
Ingredients:
1 oz. absinthe
Ice
1 tsp. maraschino cherry juice
2 dashes Peychaud's Bitters
2 oz. rye whiskey
1 oz. cognac
Lemon peel, for garnish
Maraschino cherry, for garnish
Directions:
Chill a cocktail glass in the freezer until chilled, at least 10 minutes.
Add absinthe to chilled glass and swirl around the glass. Discard liquid.
Fill a small glass or cocktail shaker with ice. Add cherry juice, bitters, whiskey, and cognac. Stir until chilled then strain into a cocktail glass.
Garnish with a lemon peel and maraschino cherry.
(Delish)
Rose-Colored Glass
Ingredients:
1/4 ounce Angostura bitters
3/4 ounce lemon juice
1 ounce simple syrup
Crémant d'Alsace rosé sparkling wine, to top
Garnish: red rose petals
Directions:
Add the bitters, lemon juice and simple syrup into a shaker with ice and shake.
Strain into a coupe glass.
Top with sparkling wine.
Garnish with red rose petals.
(Liquor)
Toblerone
Ingredients:
3/4 ounce Baileys Irish cream
3/4 ounce Frangelico
3/4 ounce Kahlúa
1 ounce heavy cream
1/2 ounce honey syrup
Garnish: chocolate syrup, to rim glass
Garnish: Toblerone chocolate, freshly shaved
Directions:
Place chocolate syrup in a shallow bowl or on a plate. Dip the rim of the cocktail glass in the chocolate, and put it in the fridge to chill.
Add the Baileys, Frangelico, Kahlúa, heavy cream and honey syrup into a shaker with ice and shake until well-chilled.
Strain into the prepared glass.
Garnish with freshly shaved Toblerone chocolate.
(Liquor)
Tootsie Roll
Ingredients:
2 ounces rye whiskey
1 ounce Lustau Pedro Ximénez sherry
6 dashes Scrappy's chocolate bitters
Garnish: Luxardo maraschino cherry
Directions:
Add the rye whiskey, sherry and chocolate bitters into a mixing glass with ice and stir until well-chilled.
Strain into a chilled cocktail or coupe glass.
Garnish with a Luxardo maraschino cherry.
(Liquor)
Love & Murder
Ingredients:
1 ounce Campari
1 ounce green Chartreuse
1 ounce lime juice, freshly squeezed
3/4 ounce simple syrup
4 drops saline solution (5:1 water to kosher salt)
Directions:
Add all ingredients into a shaker with ice and shake until well-chilled.
Strain into a chilled coupe glass.
(Liquor)
Strawberry Margaritas
Ingredients:
1 qt. strawberries, hulled and quartered (about 4 cups)
1/2 c. sugar
Juice of 3 limes, plus lime wedges for garnish
2 c. silver tequila
1/2 c. triple sec
1 c. freeze-dried strawberries
1/4 c. kosher salt
Directions:
Puree the fresh strawberries, sugar and lime juice in a blender until smooth, 2 to 3 minutes.
Strain through a fine-mesh sieve into a large measuring cup or pitcher.
Stir in the tequila and triple sec and refrigerate until ready to serve.
Just before serving, crush the freeze-dried strawberries in a resealable plastic bag using a rolling pin or heavy skillet.
Mix the crushed strawberries with the salt in a small bowl and pour onto a shallow plate.
Use a lime wedge to wet the rim of a glass, then dip the rim in the strawberry salt.
Fill the glass with ice and pour in the margarita.
Garnish with a lime wedge.
Repeat to make more margaritas.
Raspberry Smash
Ingredients:
10 Fresh Raspberries, Divided
Ice, As Needed
2 oz. fluid Vodka
1 oz. fluid St. Germain Liqueur
1 oz. fluid Simple Syrup
1 oz. fluid Freshly Squeezed Lemon Juice
Club Soda, Chilled, For Topping
1 slice Fresh Lemon For Garnish
Directions:
Add 8 of the raspberries to a cocktail shaker and crush them with a muddler or the back of a spoon. Add a glassful of ice to the shaker, then pour in the vodka, St. Germain, simple syrup, and lemon juice. Cap the shaker and shake it vigorously for about 15 seconds, until liquid is chilled.
Strain into a tall glass filled with ice. Top with your desired amount of club soda and give the drink a quick stir to combine. Add remaining 2 raspberries and a slice of lemon to the top of the drink and serve immediately.
Cherry Vodka Sour
Ingredients:
3 fluid ounces vodka
3 fluid ounces sweet and sour mix
1 tablespoon cherry grenadine syrup
Directions:
Stir together vodka, sweet and sour mix, and grenadine in an 8 ounce glass. Fill with ice.
Sweet Seduction
Ingredients:
1 fluid ounce Malibu rum
1 fluid ounce banana liqueur
½ cup pineapple juice
ice cubes
1 tablespoon grenadine
Directions:
Measure the rum, banana liqueur and pineapple juice into a cocktail shaker. Add a generous scoop of ice.
Cover and shake until the outside is frosty, about 30 seconds.
Strain into a glass filled with ice and gently pour the grenadine on top. It should float.
Paloma Cocktail
Ingredients:
6 oz. tequila blanco
1 1/2 oz. fresh lime juice
6 oz. fresh grapefruit juice
Pinch of salt
Crushed ice, for serving
12 oz. grapefruit soda, such as Jarritos, Squirt or Fresca
3 slices fresh pink or red grapefruit, for serving
3 lime wedges, for serving
Directions:
Divide the tequila, lime and grapefruit juices among the three glasses.
Add a pinch of salt to each glass.
Fill three-quarters full of ice, then stir to combine.
Top with grapefruit soda, then garnish with a slice of grapefruit and a lime wedge.
Red Berry Frozen Sangria
Ingredients:
1 750-ml bottle chilled dry red wine (such as cabernet sauvignon, pinot noir or merlot)
1 c. frozen strawberries
1/2 c. frozen blueberries
1/2 c. red seedless grapes
1/2 c. chilled brandy
1/4 c. superfine sugar
3 c. ice
Directions:
Combine red wine, strawberries, blueberries, grapes, brandy, sugar, and ice in a blender.
Blend until smooth.
Pour into glasses and garnish with fresh strawberries.
Enjoy these Valentine's Day-themed drinks responsibly!
13 Alcohol Distilleries You Can Visit in Texas
These distilleries are open for the public to visit, just make sure you're not driving after consuming alcohol.
26 Recommended Hole in the Wall Restaurants Near Tyler, TX
If you're looking for a small unpretentious out of the way restaurant near Tyler, Texas this list will help.
New List of 15 Best Restaurants in Tyler, Texas
This list shows us once again that there are lots of delicious restaurant options in Tyler, Texas.
Tyler Residents Who Leave, Move To These 15 More Appealing Cities the Most
So, where do people who leave Tyler, TX go? It's actually pretty interesting. It would seem most people who leave don't go too far, opting to stay in or around Texas, but some do spread their proverbial wings and fly... far.