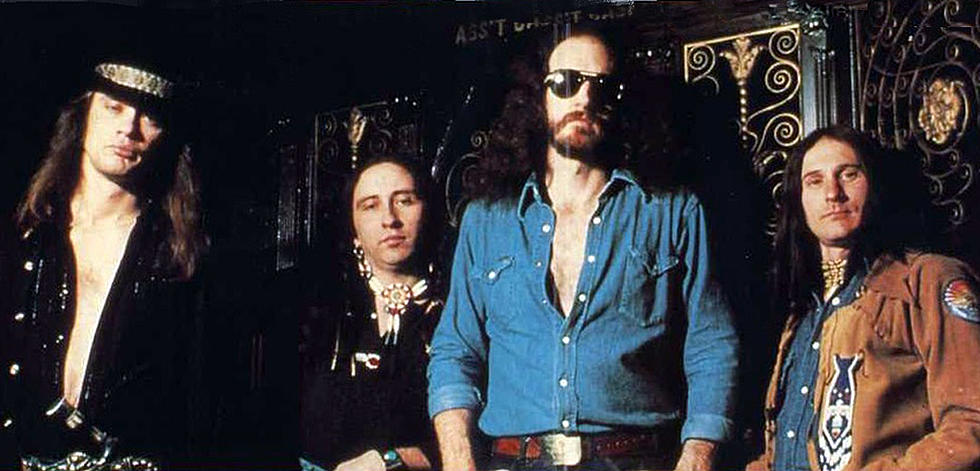 Why The 'New Blackfoot' Is Crap; How A Great Band Went Sour
YouTube
Some of you are going to need a bit of a refresher course here but hang with me.
If you're not familiar with the band Blackfoot, well, as a Classic Rock fan, shame on you. In the late 70s and early 1980s, Blackfoot represented all that was great about Southern hard rock.
While The Allman Brothers Band delivered their iconic, melodic jams and Skynyrd somehow made the confederate flag "cool" again with their dual guitar attacks and everyman, 'hey, down South we can be progressive too' lyrics, Blackfoot was an entirely different animal.
Frontman Rickey Medlocke held direct ties to Lynyrd Skynyrd  (he was their original drummer and is featured on their first album).  So, his Southern Rock cred was strong from the start.  Rick is a proud Native American and he hooked up with fellow American Indians Greg T. Walker and Jackson Spires, alongside regular ol' American mutt Charlie Hargrett to form Blackfoot.
Unlike Skynyrd, however, or The Allmans or Molly Hatchet for that matter, Blackfoot brought something different to the table:  Metal.
Fused with their Southern imagery and staunch Native American image, Blackfoot churned through every record sporting the clear influences of bands like Deep Purple and Sabbath.  You know this one:
"Train, Train" is a fine example.  It evokes Black Sabbath's "The Wizard", Skynyrd and sincere Americana all at once.
Should you need further proof that Blackfoot effortlessly combined Southern Rock with metal  (and in this case) even punk rock.  Take a listen to "Good Morning" from their 'Marauder' album a few years later:
And, of course, there is their signature song.  'Highway Song' was written as a tribute to their fallen comrades in Lynyrd Skynyrd following the awful plane crash that claimed their friends Ronnie Van Zandt and Steve and Cassie Gaines.  It cops the two guitar trade off from 'Free Bird' as a salute at the end:
So, we have established why Blackfoot was a great band in their heyday.
But, when the group began falling out of favor with their record company in the mid-eighties for not being "commercial enough", an absurd comedy of errors began that, sadly and bizarrely, continues to this day.
Following the success of their 1979 album Strikes and 1980's Tomcattin', the aforementioned Marauder was met with lackluster sales  (which is a shame because it's actually one of the band's finest albums overall).
So, in 1983 the band's label, Atco, all but demanded that Blackfoot make an effort to cash in on the burgeoning "pop metal" trends making waves at radio and MTV.   At this point, the guys had been at it since 1969.  No one can really blame them for wanting to keep hold of the success they'd worked so hard to obtain.  So, they agreed to try a more commercial approach.
Enter Uriah Heep's Ken Hensley:
The UK keyboard wiz had a knack for writing hits but also maintained a level of respect among hard rockers.  He was invited to join the band.  Then, things got weird for Blackfoot fans.
The resulting album, SIOGO, presented a brand new sound.  Gone were the 70s Southern Rock throwbacks.  Instead, listeners were met with stuff that sounded as if it might be more comfortable on a Bon Jovi record.  And the video.  What.  The.  Hell?:
Obviously, nobody bought that nonsense.
In truth, SIOGO  (which, by the way, the band told the record company was a Native American term for "brotherhood" - but, in reality, was an acronym for "Suck It Or Get Out", a message to potential groupies that hung on their tour bus) - is not a bad record.  It has its moments.  A critical listener can hear what the band was trying to accomplish and it's not all terrible.
But, the band tried again. This time with the equally tepid Vertical Smiles - accompanied by an over-the-top-sexist album cover.  I mean, seriously.  Even Nikki Sixx, of Motley Crue, who once opened for the band, laughed and said, "Dude!  Wow.  Really?"
On this album, there are very few forgivable Blackfoot moments.  The record is ridiculous and the band admits as much today.
And, so after poor sales and a disastrous tour, the band called it day.  Right?
There was one album left on the contract.  Rickey fired the rest of the band, hired a new group and released another album billed as 'Rickey Medlocke & Blackfoot' (because that somehow makes it better) which featured this atrocity:
After another round of poor sales, Atlantic Records noped the hell out of there and Rick spent the next few years recording indie albums.  One of which, After The Reign, is a pretty good return to form and worth searching out if you enjoy his work.  It's good stuff.
At this point, I should tell you that I know Rickey.
I first met him when my band did a string of dates opening for what was then Blackfoot in the early 90s.  Neal Casal  (who later worked with Ryan Adams and has gone on to an awesome solo career) was playing guitar with him at the time and we became pals.
I should also tell you that he's an awesome guy.
Rick was always a sage advisor.  My band had recently signed a deal with one of the "major labels" and Rickey's advice later proved to be vital in protecting us from future legal stupidity.  I was just a kid in my 20s and I didn't know any better.  For that, I'll always be thankful.  Plus, he was fun to have a beer with.
After Medlocke gave up on Blackfoot, he was given an offer to rejoin Skynyrd; this time as guitarist/vocalist/songwriter for the band.  He took it and it was a good move.  He's done very well for himself artistically and financially.
Thereafter, a string of Blackfoot-esque bands emerged.  The other guys took a turn at reviving the band.  But with all due respect to Greg, Charlie and Jakson, without Rickey, it never clicked.  While the band was billed as 'Blackfoot', without Rick - it didn't sell tickets.  So, the guys in the 2000's were playing small venues for less than $5,000 a night.
They too decided to call it a day eventually.
And now, here we are.  2016.
Rickey has decided to revive the Blackfoot "brand" - with a new group.  He's not in it.  No, instead, he's hired a group of kids to be the "New Blackfoot".
I might understand this if it were a hugely successful band like Kiss.  They, after all, have all but promised, that Kiss will continue long after Gene and Paul retire.  I wouldn't like it.  But I guess I'd "get" it.
But Blackfoot?  Here's a look at the new band...and they are really terrible:
Rick appears in the video as some sort of "shaman", passing on the legacy of the band and then makes a really quick, not-interested appearance playing rhythm guitar in the video.
It might be forgivable if the band were any good.  They're awful.  The song is terrible. What's with this front-man?  Why so many mohawks?
For me, this is a shame.  The original Blackfoot really has a legacy that should be celebrated.  Beyond the hilarious mis-steps above, if you take the time to listen to the group's early work, it's sincere.  Blackfoot gave us some good stuff.
This?  The band has long-since been dead - but this is Rickey Medlocke putting the headstone on the grave.