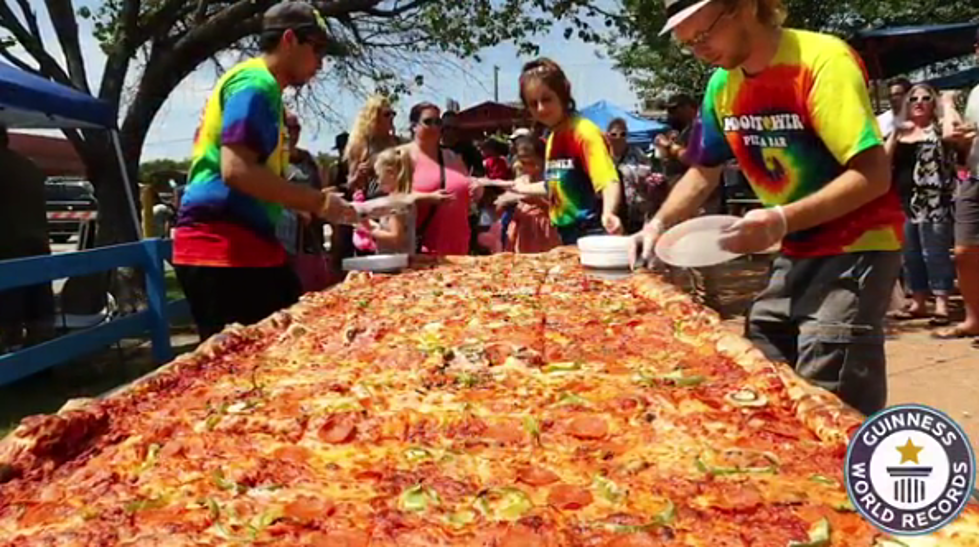 Texas Pizza Joint Now Holds World's Record For Selling Largest Pizza
Guinness World Records via Instagram
Living up to the Texas motto that everything is bigger in Texas, a Texas pizza joint south of Fort Worth now holds the Guiness Book of World Records for selling the world's largest pizza and its even available for delivery!
The Moontower Pizza Bar in Burleson is baking up 'The Bus', named for it's rectangular shape so that it can be delivered! Requiring a two day's notice when ordering, the 8 foot by 2 foot 8 inch pizza is now the record holder for being the world's largest commercially available pizza taking the record away from Big Mama's and Papa's Pizzeria in Los Angeles.  Big Mama's had held the record since 2010.
Moontower describes this monstrosity as "3072 square inches of yum!" It takes about 30 minutes to bake the one topping pizza in a rotating oven that will set you back $299.95, plus tax.
It's really true that everything is bigger in Texas!