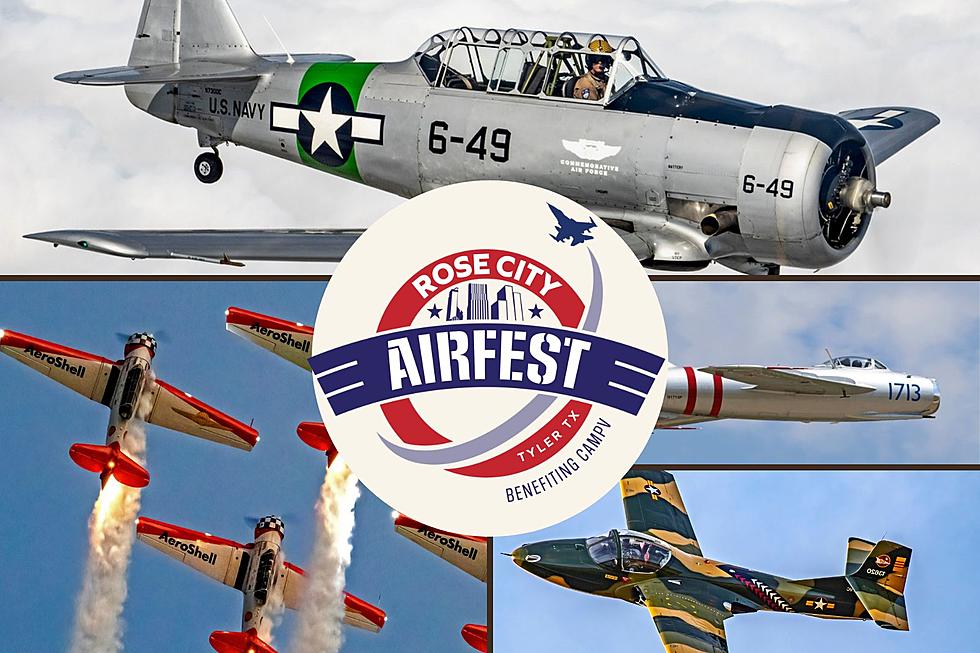 Here's How You Could Win Tickets to the Rose City Air Fest
Rose City Air Fest, Camp V, Canva
The Rose City Airfest is coming back for it's third year. This is a fun East Texas event that you'll want to add to your summer calendar right away.
The annual Rose City Airfest, hosted by Camp V, is held to celebrate America and benefit East Texas veterans. This years event will be on June 30 at Tyler Pounds Regional Airport, Metro Aviation 2535 Dixie Dr., Tyler, TX.
Just like previous years, there will be lots to see and do like looking at some amazing planes up close, speaking with pilots about the planes history, taking some pictures,  and more. The Rose City Air Fest is sure to be an exciting event for the entire family to enjoy!
So How Can You Win Some Tickets? 
If you're thinking about going to the Rose City Airfest, we're happy to say we've been given some tickets to give away for free! Grand prize winners will receive a set of VIP tickets to the airfest and other lucky winners will receive a set of general admission tickets.
All you have to do for a chance to win is get social with us and follow the prompts in the contest attached below! After doing so, you will automatically be qualified for a chance to win.
You have until June 27 to enter.
Want More Informational About the Rose City Airfest? 
Parking opens at 2 p.m., then gates open at 3 p.m. The exhibit will be from 3 p.m. to 5 p.m. followed by a performance from Girl Named Tom from 5 p.m. to 6 p.m. The Airshow will be from 6 p.m. to 9 p.m.
For further information, visit the Rose City Airfest website.
2022 Rose City Airfest was Full of War Plane Excitement
Hundreds of folks gathered at Tyler Pounds Regional Airport for a fantastic July 4th weekend air show.
2021 Rose City Airfest Pictures
Here is a look at some of the amazing planes on display at the Rose City Airfest in 2021.