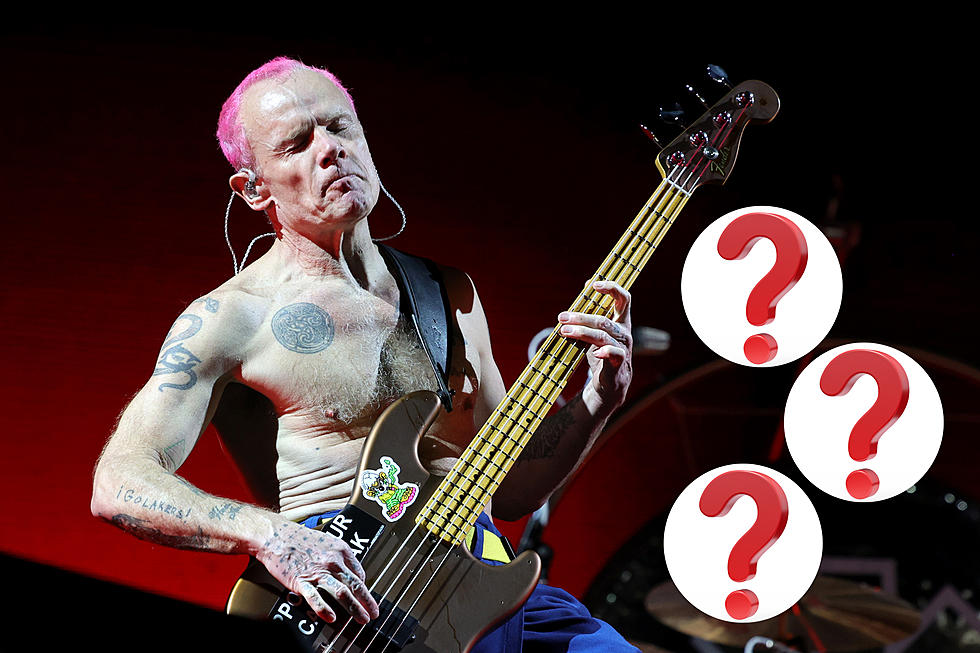 Red Hot Chili Peppers' Flea Names His Three Favorite Bass Lines
Ethan Miller, Getty Images / Getty Images (3)
Part of the fun of Twitter is the questions posed asking for "favorites" in specific categories. One Twitter poster recently asked for other Twitter users' "favorite 3 bass lines," and they ended up getting a response from one of today's top modern rock bassists, Flea.
The Red Hot Chili Peppers musician has definitely crafted his fair share of memorable bass lines over the years, leading his band to a Rock and Roll Hall of Fame induction. And as the co-founder of the Silverlake Conservatory of Music in Los Angeles, he has taken an active role in passing down his musical knowledge to aspiring students, so his opinion on his three favorite bass lines should carry a little more weight than the average responder.
Interestingly enough, Flea's choices for the favorite bass lines were spread across multiple genres, giving love to one of the funkiest bands in history, rock legends and jazz royalty. So how did Flea respond to Twitter user KingBritt's tweet? By naming songs from Parliament, Led Zeppelin and Alice Coltrane.
Flea Picks Parliament's "Flash Light" as One of His Favorite Bass Lines
Parliament, often referred to as Parliament Funkadelic or P-Funk, released the song "Flash Light" in 1978 as part of their Funkentelechy Vs. the Placebo Syndrome album. It became the band's first No. 1 R&B song, and spent four months on the U.S. pop chart while peaking at No. 16.
Though the bassline is often attributed to Bootsy Collins and was written for him, Collins initially rejected the part and interestingly enough keyboardist Bernie Worrell created the bass sound utilizing multiple Minimoog synthesizers.
Living up to the "funkadelic" name, there's little doubt that this descending and ascending bass funk groove is infinitely catchy, and it's no surprise that it caught Flea's ear.
Parliament, "Flash Light"
READ MORE: What 10 Artists Thought of Huge Bands That Covered Their Music
Flea Picks Led Zeppelin's "Ramble On" as One of His Favorite Bass Lines
One of Led Zeppelin's earliest hits, "Ramble On" was released in 1969 as part of the Led Zeppelin II album. While Jimmy Page's guitar work, John Bonham's thunderous drums and Robert Plant's vocal wail often grabbed most of the attention, "Ramble On" gives bassist John Paul Jones the showcase he so rightfully deserved.
Jones' bass is the glue to this song, laying perfectly alongside Page's acoustic guitar and Bonham's more subtle and steady beats. There's an ease about the bass line that is infinitely cool, and it's easy to see why this is one of Flea's picks.
Led Zeppelin, "Ramble On"
Flea Picks Alice Coltrane's "Journey in Satchidananda" as One of His Favorite Bass Lines
"Journey in Satchidananda" is the title track to Alice Coltrane's fourth studio album, released in early 1971. Coltrane, the wife of jazz legend John Coltrane, played piano and harp on the record, while Cecil McBee handled the bass in the studio and Charlie Haden took over on bass when Coltrane played live.
The album and title track marked a bit of a transition in Coltrane's career, reflecting the influence of Swami Satchidananda, to whom Coltrane had become close while being his disciple.
A more spiritual vibe permeates the record, but the repetitive ascending and descending bass line lay the base which all the other instrumentation seems to flow through.
Alice Coltrane, "Journey in Satchidananda"
How Did Flea's Fans Respond to His Picks?
As you might expect, with Flea being a more rock centric artist and Led Zeppelin being the biggest name of the three, a lot of the response from fans lauded his choice of "Ramble On."
As for "Flash Light," there was also some love for the Parliament favorite.
You can actually see Flea playing bass with the Red Hot Chili Peppers on tour, perhaps picking up some influence in the process. Be sure to get your tickets here.
Top 66 Rock + Metal Bassists of All-Time