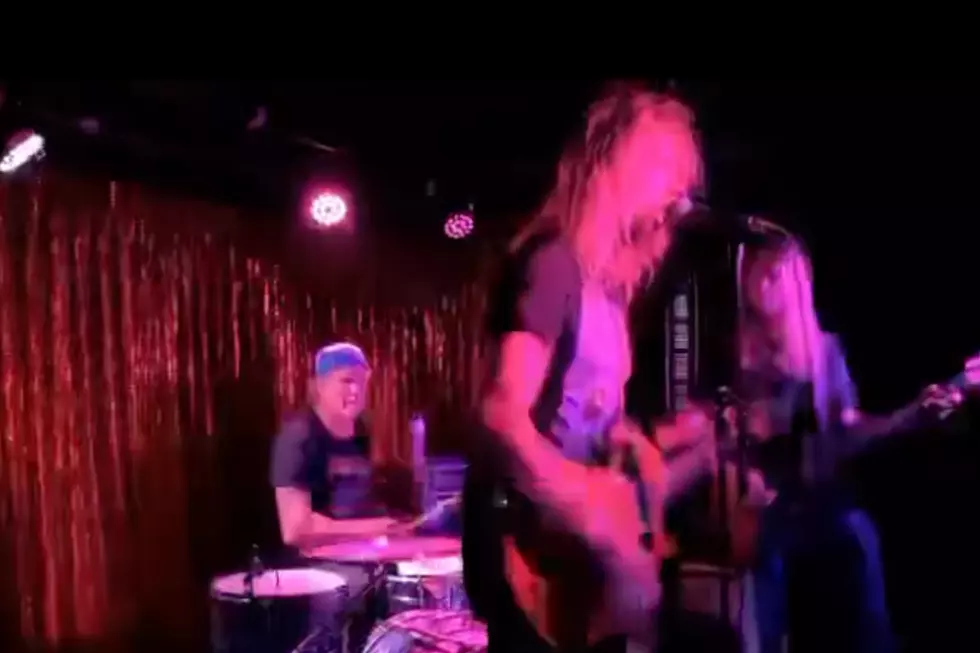 Red Hot Chili Peppers Drummer Sits In With Pub Band to Play AC/DC Covers for 17 People
Facebook: Cherry Bar
Once a musician, always a musician! While Red Hot Chili Peppers are currently playing to thousands nightly on tour, drummer Chad Smith recently rocked a crowd of 17 during a night out in Australia. The musician dropped by Melbourne's Cherry Bar, where he sat in with the pub's band for a pair of AC/DC classics.
It was open mic night at the pub, and Smith took his turn behind the drumkit while the house band of AC Dan and Josh May led covers of AC/DC's "If You Want Blood (You Got It)" and "Up to My Neck in You." Footage of the performances can be seen below.
Seth O'Donnell, who was also a drummer performing that night at the Cherry Bar, lent Smith his sticks to perform, but the Chili Peppers drummer reportedly broke them. That didn't seem to matter too much to O'Donnell, who got photos with Smith and shared his account of the night on social media.
"Got to play drums in front of my idol @chadsmithofficial from the @chilipeppers, then he played them with my sticks (and broke them), and then I got to hang with him," said O'Donnell, adding that the musician also checked out his band Adhesion." O'Donnell also shared a photo of the broken drum sticks, with the tip of one of the sticks knocked clear off.
The Cherry Bar also shared video footage of their famous guest's special drum cameo via their Facebook page. Manager James Young wrote, "Red Hot Chili Peppers drummer Chad Smith is a legend. Last night at Cherry in front of 17 punters he got up and played drums at our Cherry Jam open mike night." Smith reportedly stuck around to watch the other performers and was rewarded with a Cherry drink card as well.
Smith will play to a decidedly larger audience tonight (Feb. 9), rocking Melbourne's Marvel Stadium with Red Hot Chili Peppers and their special guest Post Malone. The group's Australian run concludes Sunday in Perth, Australia at Optus Stadium before jetting off for Pacific Rim shows next week. You can get your Red Hot Chili Peppers tickets here.
66 Best Hard Rock + Metal Drummers of All-Time