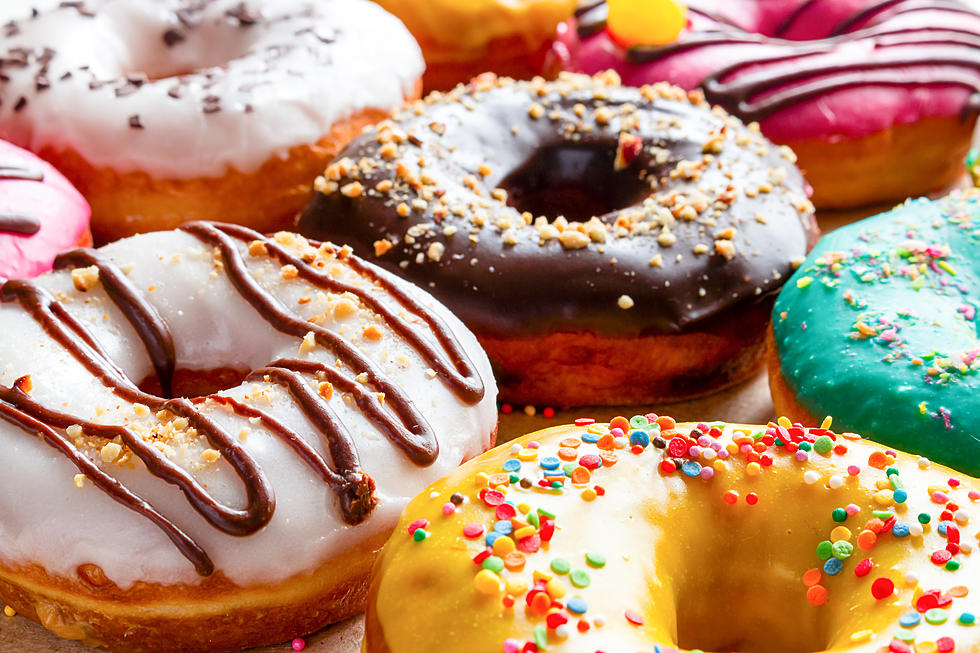 National Donut Day Is Friday, June 7th Y'all!
Thinkstock
I love 'em glazed, creme filled, sprinkled, bacon topped and just about anything else too! Of course I'm talking about donuts!
When it comes to celebrating food on these national food days, National Donut Day is among the oldest. Dating back to World War I, the Salvation Army wanted to show thanks to the women that were boosting troop morale by serving up hot donuts to American soldiers on the ground in France. Then in 1938, National Donut Day was created by The Salvation Army in Chicago as a fundraiser with a goal to help those that needed it during the Great Depression.
Around here there are quite a few donut stores - which seem to be very busy on Saturday morning and filled with kids in their pajama's still going for the white sprinkled donut.  Everyone has a favorite and one that is special to them.  The guys over at Offers.com polled more a 1000 people to ask them:  What is your favorite donut type?
Glazed – 36%
Boston cream – 23%
Jelly-filled – 15%
Sprinkles – 10%
Powdered – 9%
Twist – 8%
When it comes to getting a free donut or other special offer on National Donut Day, there are no shortages of offers! Check out these cool deals and freebies from offers.com:
Dunkin': Enjoy a free classic donut of your choice with the purchase of any beverage at particpating Dunkin' locations on June 7th. See details.
Krispy Kreme: They're the best when the red neon sign is on!  Select one free donut from Krispy Kreme's menu at participating locations on June 7th.  Get this, if Krispy Kreme gives away a million donuts, they'll launch another giveaway, a free taste of their newest donut later this month. See details.
Kwik Trip: As a rewards members, members can log into their account to get a coupon for a free Cake Donut, Dunker or Glazer. See details.
Shipley Do-Nuts: Enjoy a free glazed do-nut with any purchase.
In addition to National Donut Day, donuts are also celebrated three other times during the year. We can look forward to International Jelly Filled Donut Day on June 8th, National Creme Filled Donut Day on September 14th and Buy A Donut Day on October 30th!