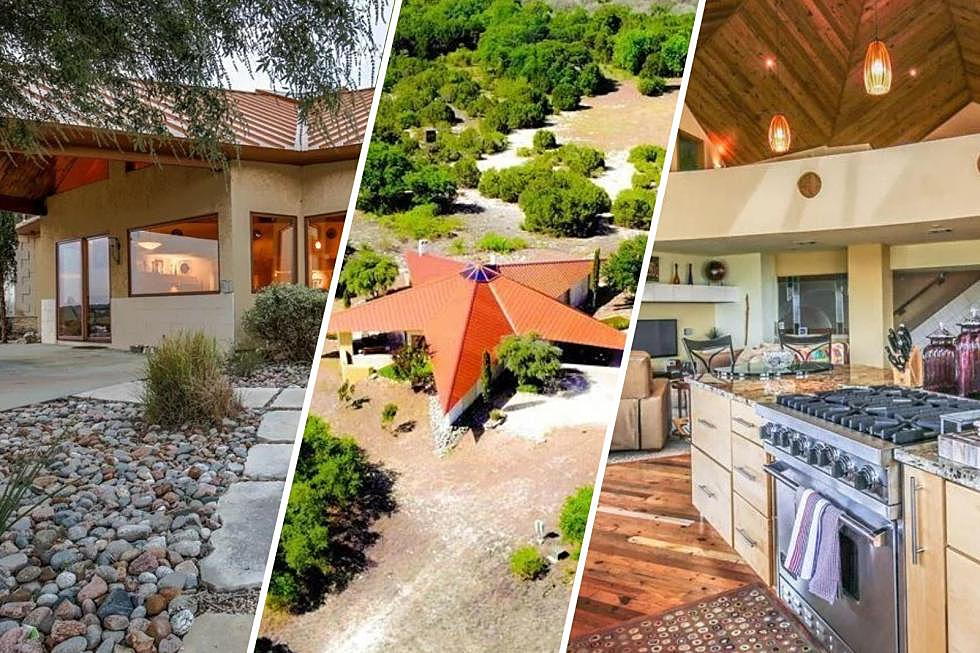 This Amazing Lone Star Shaped House Outside of Dallas is 100% Texan
Cobb Properties
I never knew I wanted to live in a lone star shaped house until I saw this. Now it's all I want in this world. Listen, this house has got me thinking that living two hours southwest of Dallas, TX, might not be that bad.
This house is so cool. The main house was designed and built by architect Douglas Mehrens of Cerrillos, NM. "The entire structure is metal, steel beams and pipes compose the frame with metal studs used inside. The home was built in 2008 and is approx. 4945 sq. ft."
The builders were able to incorporate centuries old reclaimed wood too, check this out:
The only wood inside the home was used on the ceiling and reclaimed wood floors. The wood used for the ceilings and floors is over 200 years old purchased from a demolition company in Dallas who recycle materials. The beautiful point that makes up the center of the Lone Star is a skylight that is 21 feet above the floor and surrounded by tongue and groove stained wood. The exterior of the home is stucco.
And it's ideal for hunters. The ranch boasts deer, turkey, and feral hogs along with six deer blinds and 1 bow blind in a tree, all with deer feeders. And in case you were wondering, the front pasture is approximately 70 acres. The remaining 360 acres out back are rugged, and fun for 4 wheeling and exploring. Encompassing nearly 430 acres total.
Ok, let's check this bad boy out:
Name One Thing More Uniquely Texan Than This Lone Star Shaped House. You Can't
It's my new dream house. Seriously. I never knew I wanted to live in a lone star shaped house until I saw this. Now it's all I want in this world.
Casa Estrella Facts:
Type: Ranches, Recreational Land, Residential Property
City, State: Jonesboro, Texas
County: Hamilton
ZIP Code: 76538
Presented By: Tai Klam
Taxes: $10,500
Bedrooms: 6
Bathrooms: 4
Full Lineup Announced For '23 Red Dirt BBQ & Music Festival in Tyler
This year's festival will be on Saturday May, 6th.
Tickets are on sale now at
reddirtbbqfest.com.
We can't wait to see all of you back out on the brick streets of Tyler, TX, this May.
Bottoms Up! Here are The Top 10 Drunkest Cities in Texas
Most everyone likes to throw one back and have a good time, of course we still love ya if you don't. But I like to believe drinking is even more of a proud tradition here in Texas. From Austin, TX to Tyler, TX out west to El Paso, wouldn't you like to know if your city is among the drunkest in The Lone Star State?