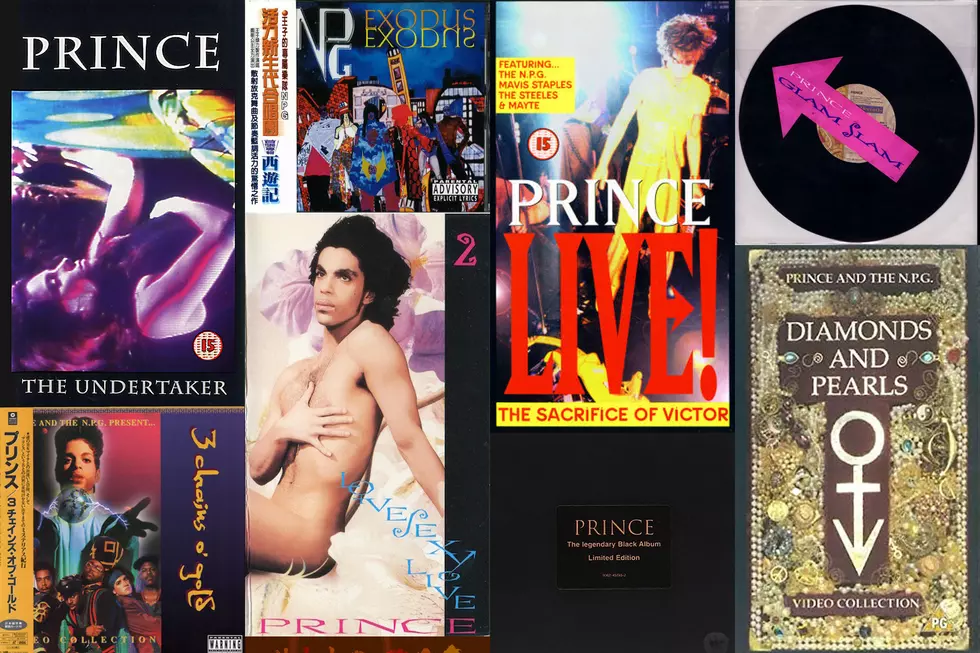 Out-of-Print Prince: 16 Albums and Videos That Need Rereleasing
UCR
Did somebody lose the key to Prince's vault? Seven years after the prolific superstar's death, his mourning fans have gotten very little access to the wealth of unheard music he is known to have left behind.
Prince's estate and their record label partners have only unearthed one previously unreleased studio album – 2021's Welcome 2 America – since he died in April 2016.
Three of Prince's most famous albums – 1999, Purple Rain and Sign O' the Times – have also been re-issued in expanded versions featuring numerous previously unreleased tracks. Two other albums, 2018's Piano and a Microphone 1983 and 2019's Originals, were essentially collections of demos.
What happened to the treasure trove of new music many fans expected? Three years have passed since the expanded Sign O' the Times arrived, and almost two since Welcome 2 America.
Hope remains for a Parade-era box set or the live album Prince was reportedly planning to issue from his 2016 Piano and a Microphone tour. In the meantime, how about focusing on a simpler goal? Release some of these 16 out-of-print albums and long-form home videos, many of them were originally only available overseas on now-outdated formats such as VHS and Laserdisc:
Lovesexy Live 1 & 2 (1989)
The 1988 Lovesexy Tour found Prince performing in the round for the first time, with a massive stage that featured a moving Ford Thunderbird and an actual basketball court. The two-hour set was divided into raunchy and spiritual halves and featured the same crack band first seen in 1987's fantastic Sign O' the Times concert film. The Sept. 9, 1988, show in Dortmund, Germany, was broadcast live on television and eventually released overseas on Laserdisc and VHS. The show has never been legally available in the United States – or anywhere in the world on DVD, Blu-ray, compact disc or vinyl for that matter.
The New Power Generation, Exodus (1995)
At the height of his mid-'90s battle to free himself from his Warner Bros. record contract, Prince covered his face with a thin red veil and assumed the not-so-secret identity of Tora Tora, a "new" member of his backing band the New Power Generation. He handled lead vocals for two tracks on their third album, including the epic P-Funk-styled title track. Exodus has gone on to become one of the most expensive and sought-after out-of-print Prince titles, with vinyl copies currently selling for more than $400.
The Undertaker (1994)
Prince, bass player Sonny T and drummer Michael Bland recorded a live power-trio album on the morning of June 14, 1993, consisting primarily of new songs. They planned to release a CD of the session free with issues of Guitar World magazine, but the project was another victim of Prince's battle with Warner Bros. The label put a stop to what they saw as his attempt to oversaturate the market with new music. A video version of the album was released the following year on Laserdisc in Japan and VHS in Europe, but as with Lovesexy Live, The Undertaker has yet to be legally issued in the United States in any format. It's also never appeared on CD, DVD or Blu-ray anywhere in the world.
Live! The Sacrifice of Victor (1994)
Prince held one of his famous late-night after-shows on Sept. 8, 1993, with Mavis Staples and the Steeles, performing a variety of covers, rarities and previously unreleased songs. As with The Undertaker, the Live! The Sacrifice of Victor home video was released on Laserdisc in Japan and on VHS in Europe. The United States was once again ignored – and of course, it hasn't been legally released anywhere on CD, DVD or Blu-ray.
The Black Album (1987/1994)
Every Prince fan worth their salt knows this story already, right? Originally planned as the follow-up to 1987's masterful Sign O' the Times, The Black Album was meant to prove Prince could still get nasty. Just before it was supposed to be released, Prince had a spiritual epiphany and shelved the album. He then rush-recorded and released 1988's much more positive-minded Lovesexy, while bootleg copies of The Black Album spread like wildfire among his fans. During the worst of his subsequent battle with Warner Bros., Prince agreed to a 1994 release of The Black Album as a way to get out of his contract more quickly – but only in a limited edition. So, basically, the cat's been let out of the bag twice and shoved back in twice, can we drop the charade and get some affordable physical reissues already?
20Ten (2010)
As part of his admirable attempts to explore alternative music release methods, Prince gave away a new album named 20Ten along with various British and European newspapers or magazines in the summer of 2010. He had performed a similar trick with 2007's far-inferior Planet Earth, although that album soon got a more traditional worldwide release. The delightfully breezy 20Ten later appeared on major streaming services, but a proper physical release of the album never happened in the United States.
Crystal Ball (1998) / Kamasutra (1998)
Barely a year after celebrating his long-sought-after independence with 1996's triple album Emancipation, Prince offered his fans the first direct access to his fabled vault of thousands of unreleased songs with the Crystal Ball box set. To be honest, he didn't stick the landing. For one thing, the box set's name should have been saved for an eventual release of the three-disc set that got cut down to 1987's Sign O' the Times. For another, somewhere around one-third of this material came from then-recent mid-'90s sessions, as opposed to the '80s golden-era treasure trove many fans were hoping for. That said, there are plenty of great songs to be found and a first-ever vinyl edition of this collection would be very welcome. (His all-new acoustic album The Truth from the Crystal Ball box has since been released separately on vinyl, unlike the NPG orchestra's instrumental Kamasutra album, which was also included in the original 5-disc set.)
New Power Soul (1998)
Prince was finally free from any record-label contracts, yet again co-opted the New Power Generation name on the fine if unremarkable New Power Soul some three years after Exodus. It's pretty clearly a solo record, highlighted by his stirring ballad "The One." Compact-disc copies of New Power Soul are fairly easy to find, but the album has never been released on vinyl.
NPG Music Club Recordings (2001-2005)
Prince launched an innovative online music subscription site called the NPG Music Club in 2001 where subscribers could download previously unreleased songs and videos, primarily delivered via long-form "Ahdio Shows." Many of the best songs from these concerts were compiled on 2004's digital-only The Chocolate Invasion and The Slaughterhouse compilations. A physical box set containing all of the audio and video from the NPG Music Club's four-year run would be most welcome.
3 Chains O' Gold Home Video (1994)
The near-universal scorn heaped on Prince's third and final big-screen movie, the Purple Rain sequel Graffiti Bridge, apparently wasn't enough to turn him off from the medium permanently. Four years later, he released 3 Chains o' Gold, a 73-minute home movie largely comprised of videos from 1992's Love Symbol album, loosely tied together by vignettes that expanded on the narrative from that concept record. It's never been legally released on DVD or Blu-ray.
The Hits Collection (1993)
The Hits Collection was a video companion to his first-ever greatest hits collection, The Hits / The B-Sides. However, the set only included 15 of the music videos Prince had starred in by the time, leaving out clips such as "When Doves Cry" and "U Got the Look," among many others. Seeing as Prince released more than 150 videos during his career, maybe it's time for a more complete collection.
Interactive CD-ROM (1994)

Prince's home-computer video game invited fans into a virtual version of his Paisley Park recording studio. They could sample clips of over two dozen songs while collecting the five pieces of his symbol to hear and see previously unreleased songs and videos. Advances in the digital world have left CD-ROM technology in the dust, but it would still be nice to revisit the game and hear the original versions of tracks such as "Loose!" and "Endorphinmachine" again.
Madhouse, 8 and 16 (1987)
An un-credited Prince released two jazz-fusion records in 1987 with Eric Leeds, who'd just played sax on Sign O' the Times, The Black Album and Lovesexy. CD and vinyl copies of Madhouse's 8 and 16 are available online, but prices have risen rather high in recent years. There's also the potential for a pretty excellent expanded box set, as the duo recorded two versions of a third album named 24 – first in 1988 and again in 1993 with members of Prince's New Power Generation band. Both are easily found in bootleg form but have never been legally released.
A Proper 12" Mixes Collection
OK, this is a little bit of a cheat, in that this isn't a reissue of a previously released title, but rather a new compilation of previously released material. Prince's extensive catalog of 12" remixes includes 11 tracks that found a home on the second disc of 2006's (excellently named) Ultimate Prince compilation. But plenty more deserve a spot in a more comprehensive set, particularly Lovesexy-era standouts such as "Glam Slam" and "I Wish U Heaven (Parts 1, 2 & 3)."
Prince Year by Year: 1977-2016 Photographs
The prolific, genre-blending musician's fashion sense evolved just as often as his music during his four decades in the public eye.
When Richard Marx Met Prince