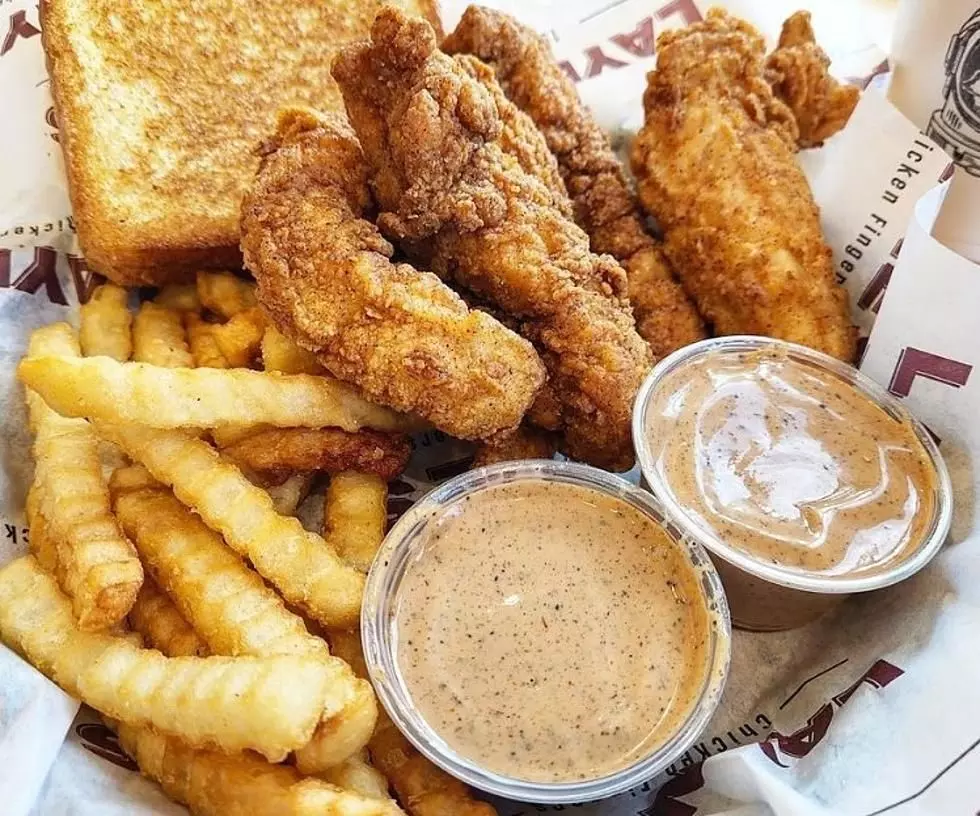 Layne's Chicken Fingers Comments On Lubbock Locations & Details
Layne's Chicken Fingers
Calling all fried chicken lovers, a new spot is coming to Lubbock and they're hitting it full speed ahead.
I interviewed the COO and CEO of the company to find out more about their West Texas locations.
Now we can't hold it against them, but Layne's Soon to Be Famous Chicken Fingers actually started in College Station in 1994. They plan to have around 35 locations in Texas soon, with five of them right here in Lubbock.
"We are a hand-battered, cook-to-order, crinkle-cut fries, five different sauces, gravy milkshakes, premium chicken tender restaurant. Any time we go to a local community we skew our brand to that local community," said Garrett Reed, Chief Executive Office for Layne's Chicken Fingers.
They go on to say they hope to have 100 locations by the next four years, which is crazy.
If you check out their menu it will make you even hungrier, offering things like chicken fingers, fries, sandwiches and so much more. I'm personally looking forward to trying their Layne's Sauce, which is a mix of "tangy, spicy, zesty, and peppery flavors all perfectly balanced to deliver the ultimate dipping sauce."
You may have seen Layne's in other Texas cities like Frisco, Allen, and Katy. Judging from social media, it seems like people are really excited about this place expanding.
They are in the process of hiring a franchisee to open their locations here in West Texas. They have interviewed some people but are looking to find the perfect fit.
"What we really look for is local presence with our franchisee. We don't want to be some corporate restaurant that comes in. We want someone local that is a part of the community that is an entrepreneur, business person in that community to spearhead our brand, said Reed.
They hope to have someone picked by the end of the year but they are always looking so it could be within a month too.
They are looking to open locations in Lubbock, Abilene, Odessa, and Middleton. From signing a franchisee to opening a location it takes about six to nine months.
They hope to open the Lubbock locations first but it really depends on finding a spot.
While I've never been to Layne's Chicken Fingers, I do look forward to trying it because from all the pictures they look A1.
Layne's and its mascot, Astro Chicken, promise they have the power to make all menu items spicy, which I know a lot of you will be very happy to try and have.
Layne's Chicken Fingers will open five locations here in Lubbock but the specific locations have not yet been disclosed. They have looked at some locations but are still waiting to choose a franchise person before they pick a location. As soon as they pick a person with a local presence they will start opening. They hope to open 20 locations in West Texas by the end of it all.
You can find out more about Layne's on their official website.
Remember: if you know of any places opening soon or brand new to Lubbock that you want me to check out, reach out at: kelsee.pitman@townsquaremedia.com.
Lubbock Things To Do With Your Kids This Summer
LOOK! This Amazing Victorian Farmhouse Near Lubbock Is For Sale
This 3-year-old Victorian Farmhouse is located just minutes from Lubbock. Meaning you've got room to enjoy and you are away from the hassle of the city, but close enough to get things done. This house is a dream home for someone wanting an older style home with personality, a wrap around porch, a big red barn, and a large fenced back yard. Check out the pictures. For more information contact Wright Realty and Design.