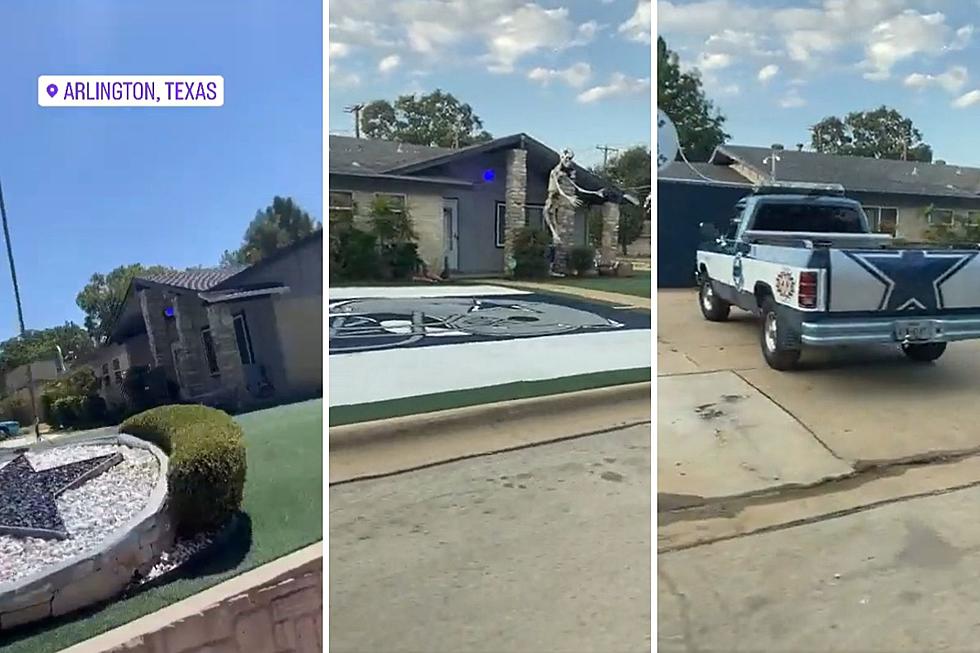 Texas Man Turns Front Yard Into Dallas Cowboys Football Field
Twitter/Canva
Unbelievable Transformation: Texas Man Transforms Front Yard Into Ultimate Dallas Cowboys Football Field.
Get ready to be blown away by one Texas man's dedication to his favorite football team.
From the end zones to the goalposts, this isn't just any yard - it's a touchdown-worthy spectacle that will have you cheering in awe.
From Lawn to Gridiron Glory
Imagine driving through a typical suburban neighborhood and suddenly coming across a replica of the iconic AT&T Stadium right in someone's front yard. Well, it's not quite a replica, but this die-hard Dallas Cowboys fan took his love for the team to an entirely new level by recreating a Cowboys-themed football field right at his doorstep. It's not just a lawn anymore; it's a gridiron masterpiece
True-to-Life End Zones
No detail was too small to escape this fan's watchful eye. The end zones sport the team's classic star logo, outlined with precision and care.
Conclusion
This Texan's front yard makeover has taken fandom to an entirely new level. With its impeccable attention to detail, unwavering team spirit, and undeniable community charm, this Dallas Cowboys football field stands as a testament to one man's devotion to his beloved team. So, whether you're a die-hard football fanatic or just someone who can appreciate an extraordinary passion project, this front yard transformation will have you saying, "How 'bout them Cowboys!"
Check out the video for yourself below:
6 Exemptions For Wearing a Seat Belt in Texas
Wearing a seat belt in Texas is the law but there are 6 exemptions to the law.
Adios Texas! Here Are The Ten States Former Texans Move To
Moving away from Texas is always a daunting thought. But where do the former citizens of Texans go when they leave? The top ten is right here.
13 Fun Attractions That are Free to Visit in Texas
Here is a look at some really fun activities to enjoy with friends and family in the state of Texas that won't cost you anything.