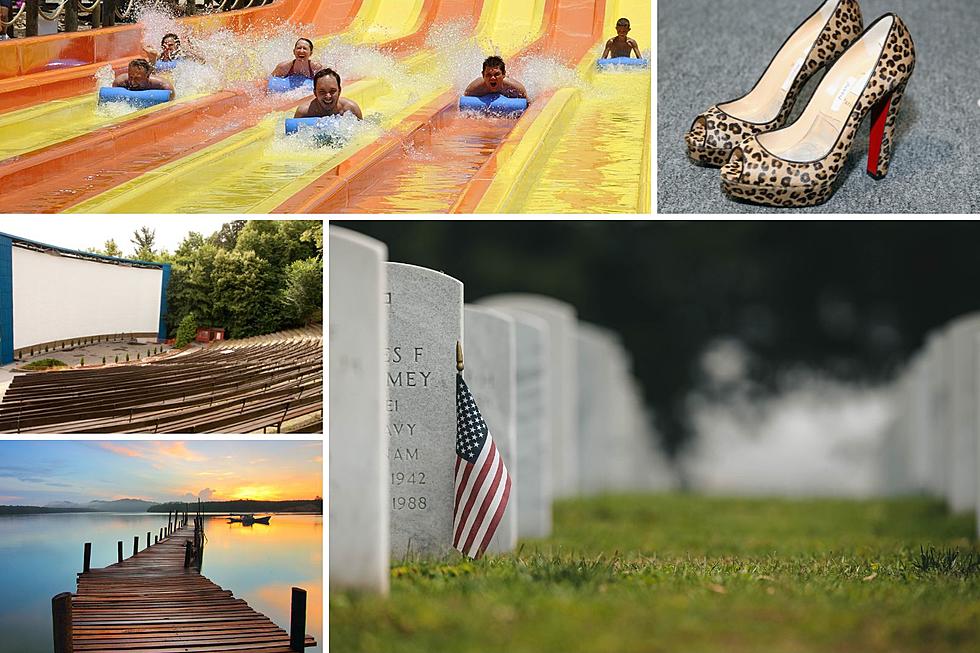 14 Memorable Things To Do Memorial Day Weekend Around East Texas
Splash Kingdom Water Park, Getty Images and Canva
It's Memorial Day weekend in East Texas. Friends and families will be firing up the grills, others will be out shopping and taking advantage of sales on furniture, while some will be doing yard work, completing the 'honey-do list' or just trying to relax and recharge.
This holiday weekend though is about the devoted men and women who served our country and died while serving in the United States armed forces. So, while you're firing up the grill, swiping the credit card, working, or just relaxing we should all pause and remember these brave men and women who fought, served, and gave their lives for our great nation.
Memorial Day weekend also marks the unofficial beginning of summer. Many of us will be on the lakes having some fun in the sun and others will be taking to the road to get in the first mini-vacation of the summer.
While traveling, please be courteous and remember to wear your seatbelt. If you're going to be in a boat on the water, remember to wear a life jacket and that sunscreen. Above all, never mix alcohol with driving or boating it could have a tragic and devistating outcome.
Living in East Texas we know the weather is about to change and get into more of a summertime pattern. Sunny, hot, and humid! It's a fact of life and we just have to accept it.
Here's a partial list of some of the things to do around East Texas this Memorial Day weekend:
For more specific information on each event, just click or tap on their bold headline.
the park opens for summer 2023 Saturday
I-20 - Canton
Spend the day in the sun and sliding down the water slides, wasting away in the lazy river, catching waves in the wave pool or relaxing in a cabana.
Saturday 10a - 1p
I-20 - Canton
In conjunction with the water parks summer opening, the first-ever car show will be happening on-site too
Saturday 8:30 p.m.
Fun Forest Pool - Tyler
The final movie in the Movies In The Park series will be happening at Fun Forest Pool in Tyler. Here's your chance to see 'Luca' with the family for free. Just bring a blanket to spread out and some movie snacks and enjoy the free flick.
Thursday thru Saturday, May 25th thru 27th
Henderson County Courthouse
This is the longest-running fiddle contest in Texas. There will be a carnival, jam sessions, live music, food trucks, a domino tournament, a car show, a corn hole tournament, a street dance, and more fun.
Friday thru Monday, May 26th - 29th
Texas SH 64 East
This annual event celebrates the Celtic culture and history with music, artisans, games, vendors, food, and fun.
Saturday
Reo Starplex Event Center - Longview
This world-renowned celebrity hypnotist puts on a comedy hypnosis show. You have the opportunity to be a star in this show or just sit back and watch the fun and antics play out on stage.
Saturday
downtown Athens
The 11th annual Walk A Mile In Her Shoes event coincides with this year's Fiddler's Festival in Athens and is presented by the East Texas Crisis Center. This is the International Men's March to stop rape, sexual assault, and violence against women. A Walk a Mile in Her Shoes Event is a playful opportunity for men in our community to raise awareness about the serious causes, effects, and remediations to sexualized violence.
Walk a Mile in Her Shoes ask men to literally walk one mile in women's high-heeled shoes.
Farmers Market
Kilgore - Saturday 8a - 12n
Whitehouse - Saturday 10a - 12n
Saturday 10a - 3p
Cherokee County Courthouse - Rusk
The county square will be transformed into a jam-packed festival feel with vendors, local businesses, arts and crafts vendors, food trucks, entertainment, and a lot of fellowship with community members.
Saturday 10a - 5p
Quitman - downtown square
Vendors, live music, raffles, and a motorcycle show are among the many things that will be happening, including a motorcycle fun run by Bikers For Christ.
Skins & Skulls At The Amphitheater
Saturday 2p - 3p
Martin Creek Lake State Park - Tatum
Come learn about the wildlife that lives in East Texas and have a hands-on experience touching the skulls and skins of those animals. Meet at the Twin Oaks Amphitheater.
Sunday 9p
Lake Palestine Resort
There is a $5 per vehicle charge to attend this fireworks show. Presented by Lake Palestine Resort located at 8900 Ruby Lane, Frankston.
Monday 8a
Teague Park - Longview
The City of Longview will be honoring the men and women of the armed forces who have died while serving our country. The ceremony will be that the Veteran's Memorial Plaza inside Teague Park and will include an invocation, flag retirement ceremony and closing remarks.
5 New Texas State Parks Being Developed
These 5 Texas State Parks will be worked on over the next 12-15 years.
The Ultimate Texas Bucket List: 30 Must-Do's in the Lone Star State
From things to eat to places to see, this list has it all. Next time I am thinking of taking a road trip, which is most of the time, I'll definitely be going back to this list again and again.
Make Sure to Visit These 19 Unforgettable Breakfast Options in Tyler
Here are some of your best breakfast options for Tyler.
This Galveston Train Rental is Ranked as a Top 13 Best Place to Stay
We may have found a very unique vacation rental for your summer travels through Texas.