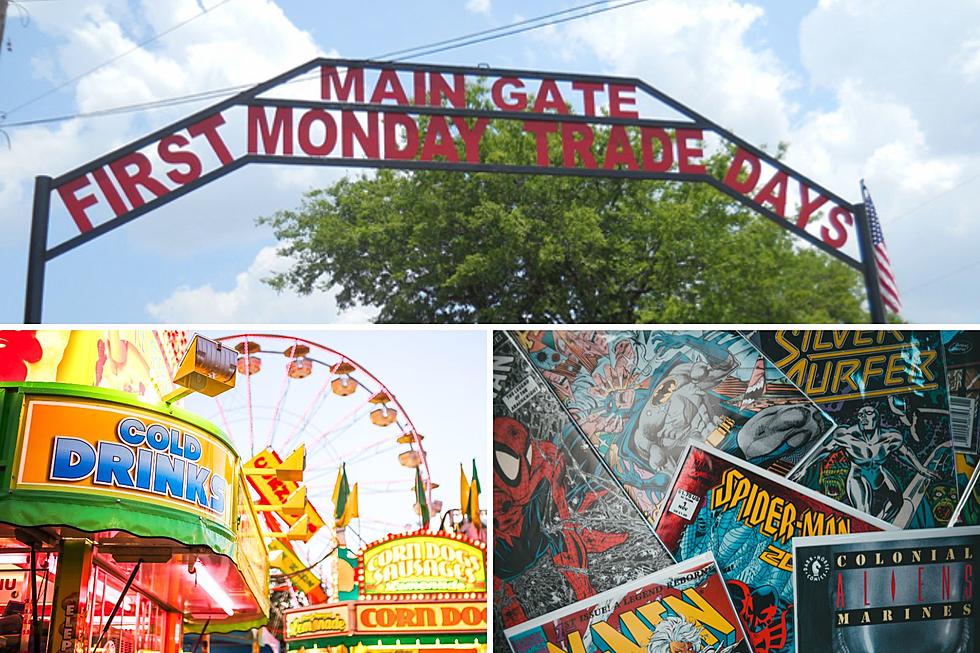 Don't Miss These Exciting Events in East Texas This Weekend
Lucky Larry, Mix 93-1 and Canva
Tuesday night was a great night for kids here in East Texas because they got to stay up a little later than usual and go door-to-door trick-or-treating as they were dressed up in their favorite Halloween costumes. Now that the fun is over it's time to look forward to the weekend and what all there is to do around the area.
If you like to window shop and shopping, in general, this is going to be a good weekend for you. The weather is going to cooperate. It's expected to be sunny with some clouds and highs in the low- to mid-70s. So if you head outside to a trade days event or hit up the carnival it's going to be extremely comfortable.
Here's a look at this weekend's events in East Texas.
For more information on any of these events, click or tap on the event name to be redirected to their official event page or website.
Thursday - Sunday
downtown Canton
Shop til you drop at the world's largest and oldest flea market.  First Monday Trade Days has more than just a little something for everyone, they have a lot for everyone!  There is something there just waiting for you to purchase that you just can't live without.  There is also live music and plenty of food to satisfy any appetite.
Thursday - Sunday
Broadway Square Mall - Tyler
The fall carnival is back in Tyler. Here's your opportunity to ride carnival-style rides, play games on the midway, and eat a lot of fair-style foods, including corn dogs, funnel cakes, cotton candy and so much more. There is no admission to visit, but all rides require tickets or armbands that are available for purchase.
Saturday and Sunday
Cascades Country Club Event Center - Tyler
It's an event for all not just comic and anime lovers. There will be panels of guests, vendors, and more.
Saturday @ 7p
Purtis Creek State Park - Mabank
Join a ranger for a night hike and learn about legends passed down from the Caddo and Wichita Native Americans! It'll be a mile and a half round trip hike in the dark.
Saturday @ 8a
Tyler Junior College - Tyler
It's a day filled with fun and dancing with the Tyler Junior College Apache Belles.
Saturday @ 10a
Oak St. - Palestine
The first Saturday in Palestine offers a unique shopping experience for anyone and everyone. There is shopping, food trucks, events, live music and more.
Can 5 Endangered Texas Sites Be Saved?
Through neglect, lack of maintenance, or trying to make way for progress, these nine locations throughout Texas have been identified as an 'endangered place' by Preservation Texas.
Gallery Credit: Lucky Larry, Mix 93-1 and Maleri McHam
Weather Inspired Baby Names Expected To Soar in 2024
Younger parents are being drawn to atmospheric-related names when it comes to naming their children.
Gallery Credit: Lucky Larry, Mix 93-1
Really? It's Illegal For Texans To Visit These 8 Places In Texas?
Lets take a look at 8 of the places that Texans and can't visit while roaming the great state of Texas.
Gallery Credit: Lucky Larry, Mix 93-1
5 Giant Retailers Have Closed Their Stores In Texas So Far This Year
These retailers once operated stores in East Texas and have since pulled out or closed their doors for good in 2023.
Gallery Credit: Lucky Larry, Mix 93-1