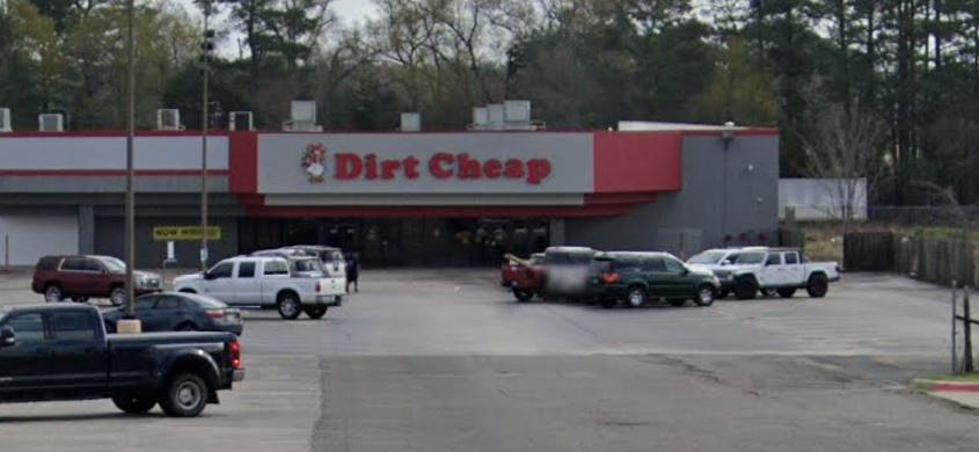 Discount Retailer 'Dirt Cheap' To Close 13 Texas Stores Including Tyler
Google Street View
Another Tyler, Texas retailer will be closing its doors in about a month. The store that gives major brand customer returns and excess inventory a second chance to find a buyer will be closing thirteen of its Texas stores around May 6th, leaving just two stores in the Lone Star State.
Budget-conscious shoppers once swarmed the Dirt Cheap store on NNW Loop 323 in Tyler, Texas seeking to save 40% to 90% off retail prices on returned merchandise. Now the store is looking to liquidate everything from clothing, shoes, toys, games, household items, bedding items, curtains, and more as they look to close this store and a dozen more in Texas.
Dirt Cheap stores in these Texas cities will be closing:
Alvin
Arlington
Denton
Ennis
Garland
Hillsboro
Nacogdoches
New Braunfels
North Richland Hills
San Antonio
Waco
White Settlement
Dirt Cheap stores will remain open in these two Texas cities:
Euless (D/FW metroplex)
Pasadena (southeast Houston)
According to KFOX 95.5, the affected stores are indicated by a red light and 'store clearance sale' tag on the I Love Dirt Cheap official website and the closings of those stores listed above were confirmed by a local manager. We also spoke with a representative from the Tyler store that confirmed the store's final day would be May 6th. The affected stores have new limited hours and are expecting to close around May 6th.
Last week an announcement was made and reported in the Marshall Messenger that the Dirt Cheap Marshall warehouse would cease operations and the facility would be closing on May 26th. The facility opened in 2020 and at its height, employed around 500 East Texans.
Dirt Cheap will still operate stores in seven other states in addition to the two remaining stores here in Texas. While much of the merchandise is already deeply discounted you can probably expect more discounts and price reductions leading up to the final days of sales.
A List of 15 Big Retail Chains That Will Close Stores in '23
While consumers move more and more to online shopping, just like my wife, the landscape of stores is changing too.
Investing.com
put out a list of major retailers that are cutting many of their traditional stores loose and taking on a smaller footprint.
25 Retailers That East Texans Wish Would Open Their Doors Again
Nostalgia, there's nothing like it. East Texans wish these 25 retailers (along with a few restaurants) would once again magically re-open their doors so we can shop there again.
If I've left off a retailer that you would like to see be revived,
email me
the store name anytime.
18 Chain Restaurants That Are Slowly Disappearing
We all grew up loving these restaurants, but they are slowing disappearing right in front of our eyes.