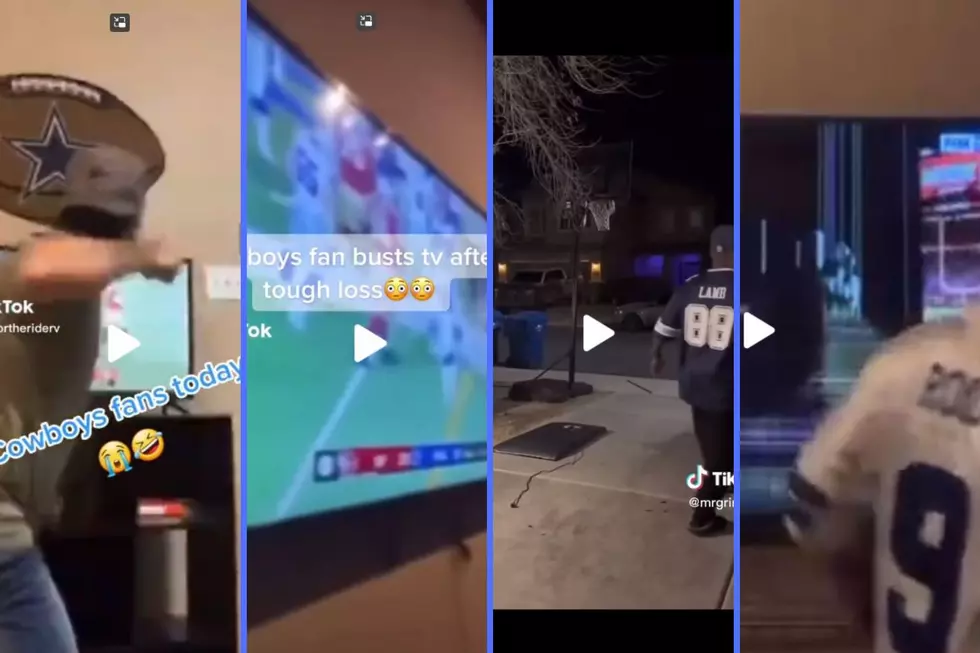 NSFW TikTok Videos Show 4 Cowboys Fans Destroying Their TV's
Tiktok: mrgrinchton, crossthetracksent, ninerwarriorjosh85, j_king628
It's embarrassing to admit but I used to be one of these fans that over-reacted to my favorite team losing a game. In my late teens and early twenties, there would be times that I would be mad for multiple days after my team lost a big game. But as I've grown older, I realize that it's just a game and being in a bad mood over a game makes no sense at all. Although as you will see with these 4 (not safe for work) videos below, some people still need to learn how to handle a loss, as you will see Dallas Cowboys fans who decided to punch their TV after their team lost to the 49ers in the playoffs. 
This type of disappointment was not just for people who were at home as you can see there were also fans that were at the Dallas Cowboys watch party at AT&T Stadium who were throwing punches with each other after the loss on Sunday night. The tough part is that the Cowboys had plenty of opportunities to win the game but as much as it pains me to write this, the 49ers did enough to get the win. 
Don't Drink So Much That You Punch Anything
It's crazy that almost every week there is a new video that is circulating online showing grown adults that are fighting like little kids. Learn from other people, don't drink so much alcohol that would make you think it's okay to assault anyone. It's crazy that adults have to be reminded of this.  
You Shouldn't Punch TV's Over Your Favorite Team Losing
Beyond not punching people, you should also not punch walls or furniture. Although there are still people that need to learn that lesson. Here is a look at 4 people that destroyed their TV's after watching the Dallas Cowboys lose to the San Francisco 49ers. 
LOOK: The story behind every NFL team name
Stacker
delved into the story behind every NFL football team name. Overall team records, also included, are reflective of NFL regular-season games. There are some football teams with well-known nicknames—the Jets, for instance, are often referred to as Gang Green—but we also divulge how some teams' official names are sparingly used (the Jets' neighbors, the Giants, are actually known as the New York Football Giants). Sometimes a team name can tell you a lot about local history: The Vikings of Minnesota draw upon the area's strong ties to Scandinavia, and the Tampa Bay Buccaneers are dripping in local legend related to Florida's pirate past.
Let's kick off the countdown with the folks who earned their nickname by buying boxes of used team jerseys.
LOOK: These Are the Richest NFL players
To uncover the richest NFL players,
Stacker
consulted
Celebrity Net Worth
and ranked them by their 2022 net worth, calculated using a proprietary formula.