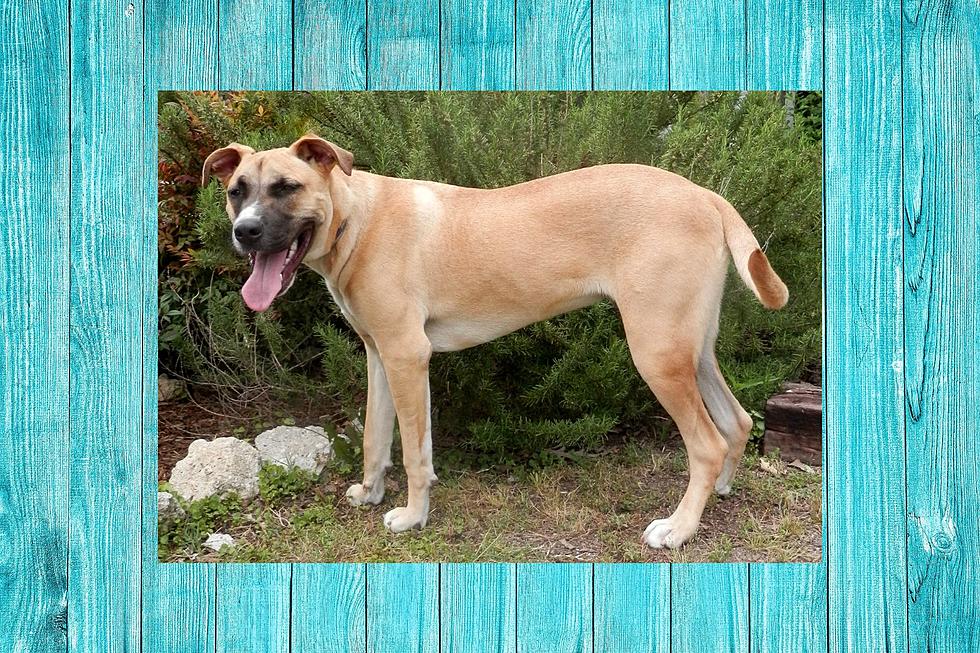 Beasley Is Big Guy Who Will Always Watch Over Your Family
Pets Fur People
Beasley is a newcomer to the Humane Society's Pets Fur People in Tyler, Texas and he is this week's 'Pet Of The Week'. Arriving at the shelter on March 7th, Beasley's looking to be united with a new family soon and isn't looking to stay long. He is a retriever/labrador mix that has a lot of positive things going for him.
Beasley is:
house trained
plays well with other dogs
knows basic commands
crate trained
walks well on a leash
cats don't even bother him
Beasley weighs about 100 pounds and is more than happy to jump in the back seat of your car or the bed of the truck and go for a ride as the whips his ears! In addition to all of those qualities of this nearly 7-year-old guy, he will also help keep track of what's going on outside and will let you know if there is indeed something going on outside.
Beasley will go home with a starter kit of food, a collar and leash and a certificate for half-price basic obedience training from Tyler Obedience Training Club.
For additional information on adopting Hunter call 903.597.2471 or check the Humane Society's Pets Fur People website. Pets Fur People requires a completed adoption application before a meet and greet can be arranged. Check out the animals that are available for adoption. Adoption hours are Tuesday through Saturday 10 am until 5 pm - closed for lunch 1-2 pm. The Humane Society's Pets Fur People is the only brick-and-mortar no-kill shelter in East Texas. Pets Fur People offers routine vaccinations, except for rabies, to the public for dogs and cats. Follow Pets Fur People on Facebook, Twitter, and Instagram. Please be a responsible pet owner - spay or neuter your pets. Donations are appreciated.
These are the 6 Deadliest Animals in Texas and How to Avoid Them
Texas is beautiful. However, there are some dangers that could disturb the viewing of that beauty.
It is Illegal to Name Your Baby These Names in Texas
For the most part, you can name your baby whatever you want. However, these names are actually illegal to use in Texas.
15 Things that Make Texans Proud to Be from Texas
There are many reasons to love the state of Texas, here are 15 reasons we are proud to call Texas home.