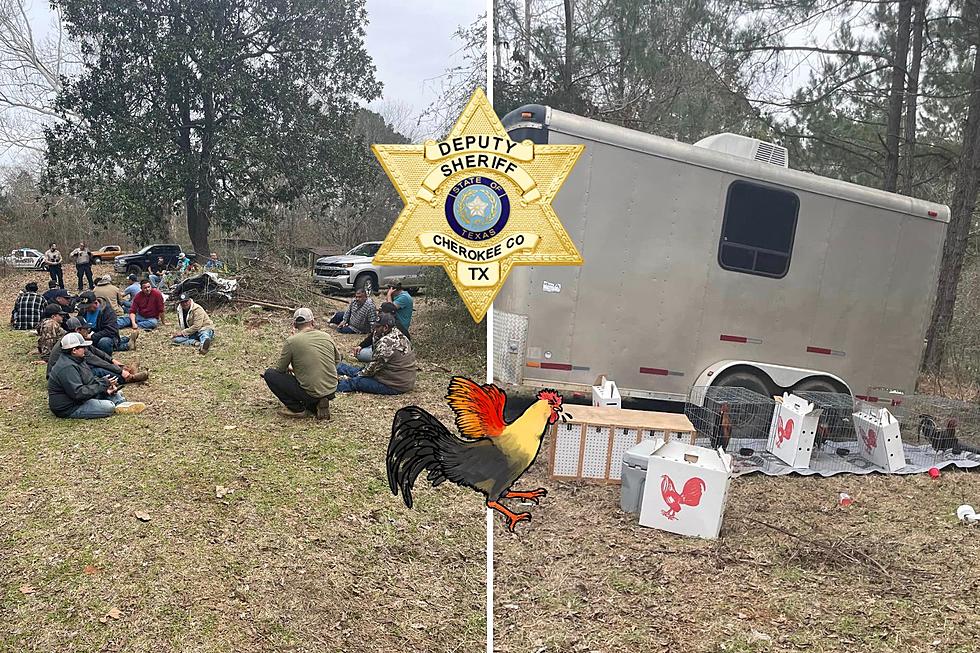 Alleged Cherokee County, TX Cockfighting Ring Busted
Cherokee County Sheriff's Facebook
In Texas, making roosters fight has been illegal for decades but that hasn't stopped cockfighting rings from popping up.
Cockfighting is considered a BILLION dollar industry around the world and continues to be a prevalent problem in East Texas with many still supporting and defending the practice. A quick Google search of "Texas Cockfighting" will unravel a rabbit hole of videos and news reports of fighting rings and arrests.
According to a post on the Cherokee County Sheriff's Facebook Page, They Busted Up The Ring On Sunday (Feb. 19).
The Cherokee County Sheriff's Office reports that they received information about a rooster fight taking place on CR 2405 in the Redlawn area. When deputies responded to the area they were able to detain 26 individuals.
Upon further investigation, 24 individuals were arrested and 2 juveniles were released to guardians.
22 were arrested for being a spectator at the rooster fight, 1 arrest for allowing the use of real estate for rooster fighting, and 1 arrested for felony evading with a vehicle and unlawful carrying of a weapon.
30 vehicles were towed and 88 birds were seized.
In 2011 the Texas Legislature strengthened the ban on cockfighting by making it a felony to raise fighting gamecocks and a misdemeanor to attend cockfights. Despite busting up this ring police say that the investigation is ongoing because like we mentioned earlier, cockfighting rings continue to thrive and survive in East Texas and this certainly will not be the last one that we will hear about.
Gregg County, Texas Authorities Were Busy with 27 Felony Arrests Over the Week of February 13
Crime does not pay and these individuals, if convicted by a jury of their peers, could be spending a lot of time in jail for their offenses.
Multi-Family Complex For Sale in Bullard, Texas
This 16-unit complex is currently for sale with a list price of $3.5 million dollars.
Let's Look at the 10 Most Expensive Neighborhoods in Tyler, Texas in 2023
If you're wondering where the most expensive homes are located in Tyler, Texas this list of neighborhoods will help.