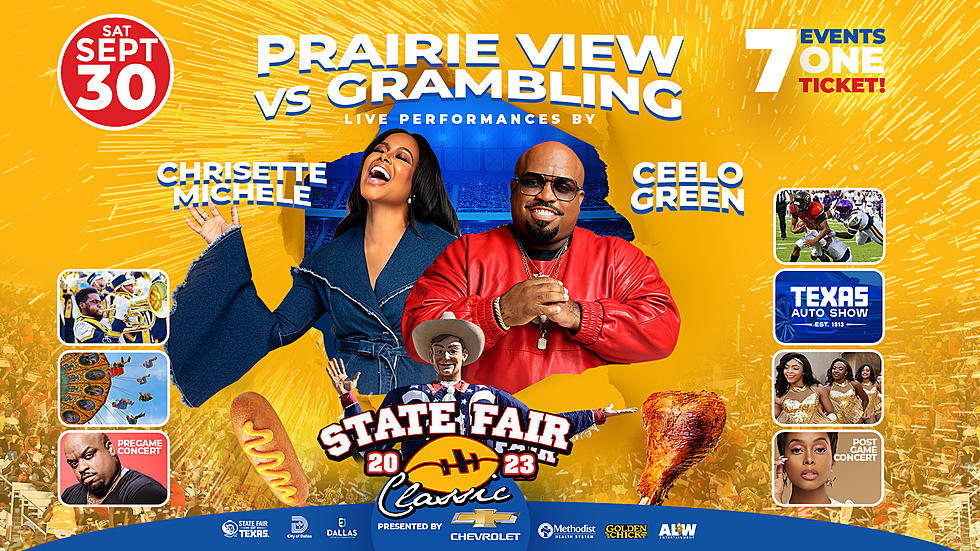 7 Huge Events Happening At The State Fair Classic In Dallas, TX
ALW Entertainment
One Of Our Favorite Events Of The Fall Is Back In Dallas, TX! The Annual State Fair Classic Is On And Its Bigger And Better Than Ever!
We're quite sure you're familiar with the annual State Fair Of Texas with its rides, food, concerts and more but for one special weekend during the fair, you can enjoy a college football game and so much more for the cost of ONE TICKET!
The Big Event Goes Down Saturday September 30th!
Don't miss out on the annual Saturday of fun in Dallas with lots to see and do! Before we get into all the events that you'll be able to check out during The State Fair Classic, let us remind you that you can get tickets right now at several East Texas and Louisiana locations including:
TYLER - Mass Connection Barber Shop, One Stop Barbershop
KILGORE - Raisin Smoke BBQ & Catering
CORSICANA - Clipper Kingz
PARIS - Paris College
SHREVEPORT - Little J's Music, GSU Alumni Shreveport
You can also purchase tickets at Ticketmaster or visit statefairclassicfootball.com for more details! Plus, keep it locked to Kiss-FM for your chance to win tickets!
7 Events You Can Enjoy For The Price Of One Ticket!
1. The World's Largest State Fair
At 24 consecutive days, the State Fair of Texas is the longest-running fair in the nation, as well as one of the largest. Where else can you find larger-than-life dinosaurs, a contortionist archer, and the most epic water ballon fight you've ever seen? Only at the State Fair of Texas! There's lots of new and exciting shows and attractions for you to enjoy this Fall and its all included with your admission ticket.
2. Pre-Game Concert With Cee-Lo Green
Multi-talented and unapologetically flamboyant, CeeLo Green made a name for himself with his soulful trademark crooning as a member of Goodie Mob before he broke away in the early 2000s for a colorful and unpredictable career as a solo artist and collaborator.
3. Football Game Between Grambling State & Praire View
The State Fair Classic is an annual college football game between the Grambling State University Tigers and the Prairie View A&M University Panthers of the Southwestern Athletic Conference. The State Fair Classic, held annually at the Cotton Bowl in Dallas, Texas, began in 1925 featuring the Wiley College Wildcats and Langston University Lions. The first game was played on Monday, October 19, 1925. Both teams met four consecutive years in Dallas before Prairie View replaced Langston in 1929.
4. The Halftime Show Featuring The Battle Of The Bands
If you're unaware how HBCU classics go, you want your football team to win and you also want your BAND TO WIN. The "Game Inside The Game" will be the battle of the bands at halftime and you're going to enjoy it!
5. Post-Game Concert With Chrisette Michele
In a very short span of time, R&B singer/songwriter Chrisette Michele shot from small-time performer to one of Def Jam's most promising talents, purely based on her unique instrument -- a gorgeous and effortlessly versatile singing voice colored with Billie Holiday-esque inflections of vocal pop and jazz.
6. Texas Auto Show
Check out some of the newest cars and cars that haven't come out yet at the Texas Auto Show that the whole family will enjoy!
7. Grammy Award Winner Pamela Dawson And The Desoto H. S. Choir singing the National Anthem
Pamela Dawson, the recipient of the 2023 Grammy Music Educator Award, making music isn't just about creating sound waves, it's about how the movements a person makes can affect the sounds they create. As director of choral music at DeSoto High School in DeSoto, Texas, she along with her choir will be singing the National Anthem which is something you don't want to miss!
The New Food at the 2023 State Fair of Texas is Sure to Make Your Mouth Water
Fair season is here to enjoy a ton of rides, lots of games and eat some great tasting fair food. The State Fair of Texas in Dallas has all that but takes the food to a whole 'nother level.
Texas State Fair Food Finalists for 2023
These are the judge's favorites for new foods at the Texas State Fair
Here are the Free Concerts on the Chevrolet Main Stage for the 2023 State Fair of Texas in Dallas
This year's State Fair of Texas has a show for every type of music fan.