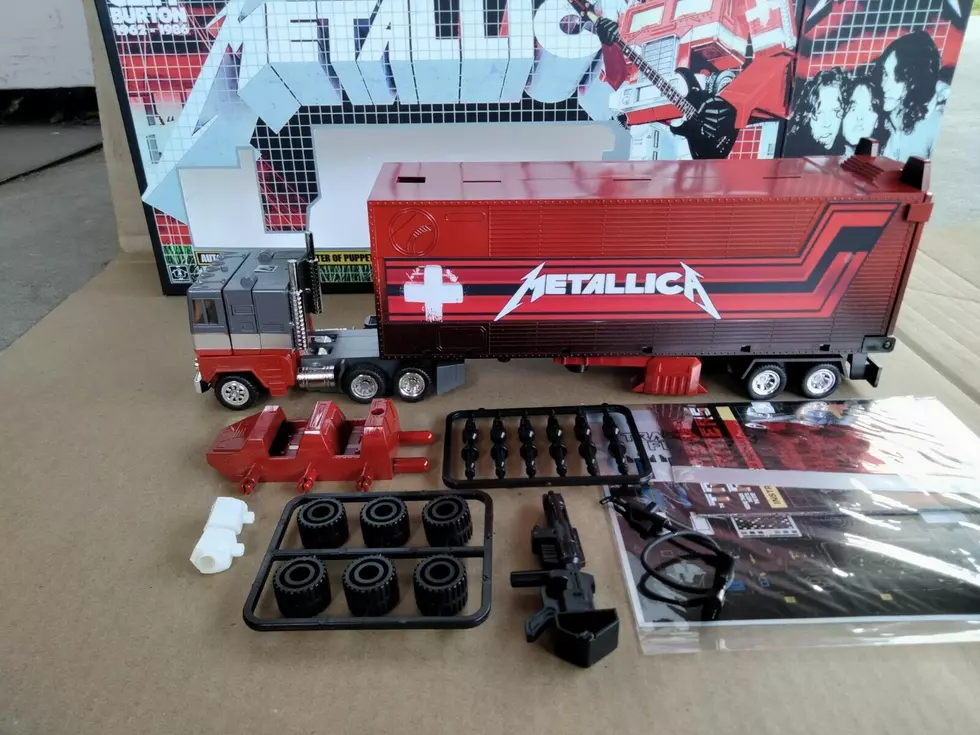 You Could Own this Master of Puppets Themed Optimus Prime
strata32000 via eBay
My favorite rock and heavy metal band of all time, Metallica, and my favorite nerd pleasure, Transformers, have come together thanks to an eBay seller. This seller has made a custom Optimus Prime to celebrate the band, and the era featuring bassist Cliff Burton, that is available to bid on right now on eBay.
Dude, this is pretty sweet.
eBay seller, strata32000, has a sweet version of Optimus Prime that would look perfect in my collection. I just hope I can outbid everyone, including possibly you, for it. It is a Generation One Optimus Prime paying respects to Metallica's Master of Puppets album and to honor the late Cliff Burton who was their genius bassist during that time. ("Orion," to me, is still one of the greatest songs of all time and it doesn't have a single lyric. It's a true musical masterpiece.)
Optimus is decorated in the red and black colors of the album. His trailer features the Metallica logo of that era with a graveyard cross near the front. Both on the lid and the side is a simple tribute to Cliff Burton with his years on Earth.
The eBay auction is up until Sunday night, May 9. The seller is promising to have it to the auction winner between Saturday, May 15 and Monday, May 17. As of this writing, May 5, 9:40 a.m., the winning bid is at $511 with each bid being in increments of $10.
What's even cooler is this seller has other themed Transformers. He has a Megatron themed as the orange and grey Nintendo Zapper, a Toys R Us themed Optimus Prime, a Nintendo themed Optimus Prime, a Garbage Pail Kids themed Optimus Prime and a couple of others. All of those are up for auction through Sunday, too.
Check it all out on his eBay page HERE. Make a bid and add them to your collection.
Themed Transformers on eBay Through May 9, 2021