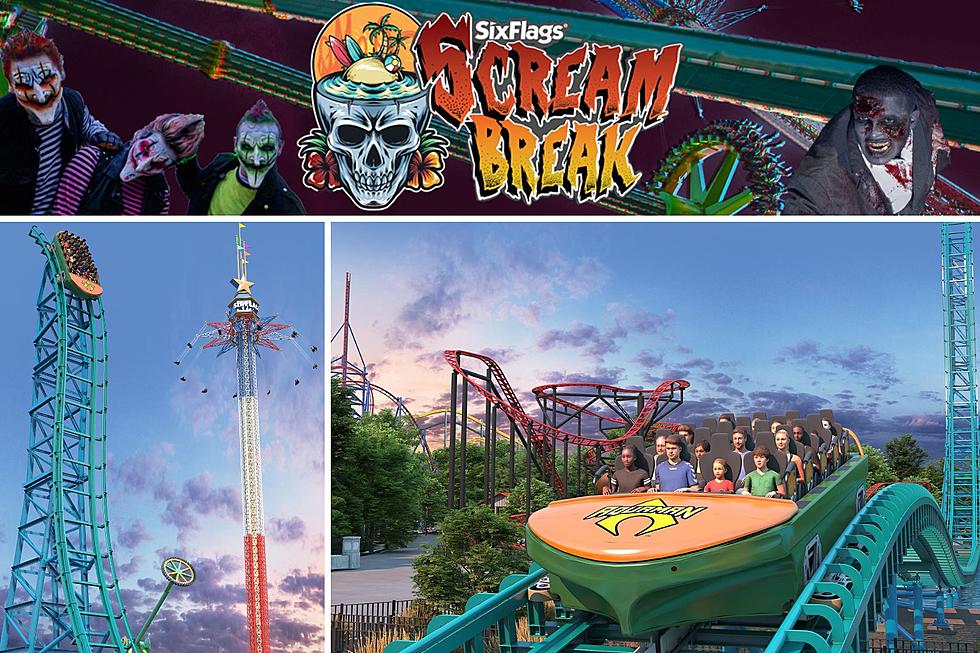 Win Tix And Take A Ride On AQUAMAN: Power Wave At Six Flags Over Texas
Six Flags Over Texas
Since 1961, Six Flags Over Texas has been known as the 'Thrill Capital of Texas'. With heart-pounding roller coasters and thrill rides, entertaining live shows and characters, and food, like funnel cakes and their famous 'Pink Thing', generations of families have been entertained throughout the park's legendary history. The 2023 season at Six Flags Over Texas in Arlington, Texas is already underway and there are some big things planned for this year.
Six Flags Over Texas will debut the first-of-its-kind launched water coaster AQUAMAN: Power Wave on Saturday, March 11th as the park celebrates Spring Break!
It's the first of its kind in North America where riders are launched backward and forward, traveling along more than 2000 feet of track up two independent 150-foot twin towers. The water coaster then sends riders straight down at 90 degrees at nearly 63 miles per hour to a massive splashdown. Get ready to get wet on the park's 14th roller coaster.
Six Flags Over Texas will be celebrating Spring Break the week of March 11th - 19th by giving spring breakers access to all that the park has to offer. There will be a special nightly event from March 11th - 18th in the parks Gotham City area. Six Flags Scream Break will offer parkgoers an exclusive after-hours event for brave souls. This event will feature two haunted houses, a scare zone with select rides, like MR. FREEZE, BATMAN: The Ride, THE RIDDLER: Revenge, Texas SkyScreamer, CATWOMAN: Whip and our all-new AQUAMAN: Power Wave water coaster, being open from 9 p.m. to midnight. There is an additional charge for this special event.
With all that is happening at Six Flags, we want you to have some fun and catch a wave on AQUAMAN: Power Wave.
Interact with Mix 93-1 to win* a pair of tickets to Six Flags Over Texas and have some fun this spring.
* Winning tickets does not guarantee a ride on AQUAMAN: Power Wave. You'll have to wait in line just like everyone else and will be subject to the park's operation of the ride.
Newest Coaster At Six Flags Over Texas, AQUAMAN: Power Wave
Six Flags Over Texas will open their 14th roller coaster March 11, 2023. This will be a launch-style first-of-its-kind water coaster
KID FLASH Cosmic Coaster At Six Flags Fiesta Texas
Opening Summer 2023 will be a first-of-its-kind single rail family racing coaster at Six Flags Fiesta Texas in San Antonio. This roller coaster is geared towards younger guests that are at least 36' tall.
Six Flags Over Texas Mourns The Loss Of Former Favorite Park Rides
Six Flags Over Texas wrapped up a huge celebration in August as it celebrated its 60th anniversary. During the 60 year history of Six Flags, there has been a handful of memorable rides, attractions and shows that have had to be retired and removed from the park for various different reasons. Here's a look back at them as they were displayed for the parks' 'Fright Fest' event.