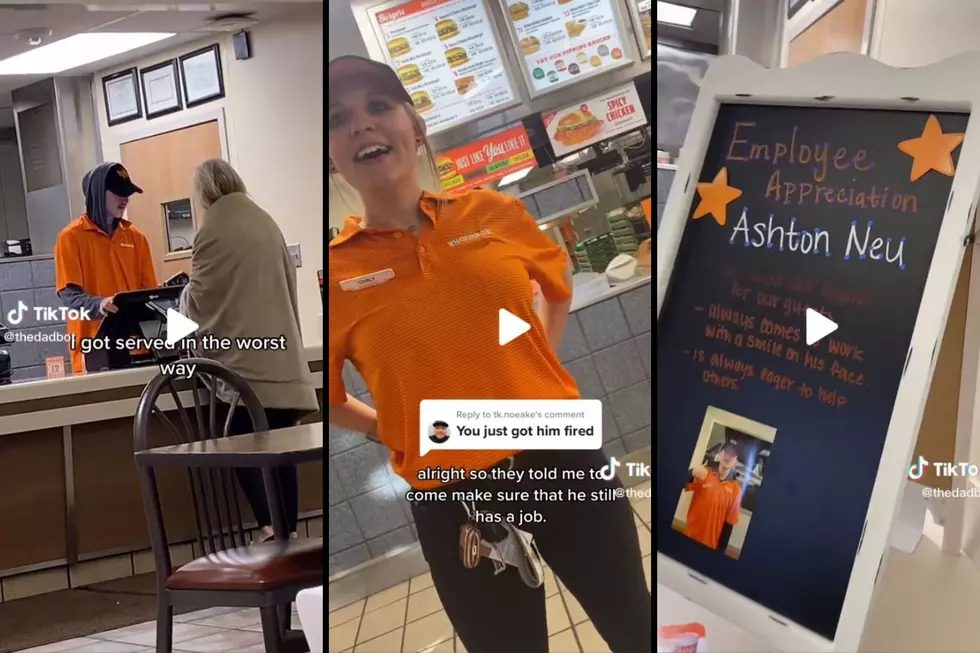 This Wonderful Whataburger Employee Will Restore Your Faith in Humanity
tiktok.com/@thedadbot, Canva
It seems like every time you open up social media on your phone there is always negativity being posted. And lots of that hate can be directed at restaurants or food service workers. And yes, there are some employees that don't care about doing a good job that that is the same in every profession. Which is why I loved seeing this series of TikTok videos showing a Whataburger employee going above and beyond his job expectations to take care of a customer. 
The first video you will see is a customer asking for a manager at a Whataburger location. According to the comments on TikTok this video was not recorded in Texas, this type of kindness deserves some recognition. The man in the video needed to break a $100 bill, so he ordered an orange juice just to get the change. Fast food locations don't keep a lot of cash on hand so the employee couldn't break the big bill. The customer said he needed the drink due to his sugar levels being low.  
Internet Negativity Began When the Whataburger Employee Video Started Going Viral
As soon as the video started picking up steam online there were people that started commenting that the video got the employee fired. That was NOT the case, in fact the employee was given kudos by his management team for always taking care of the customer. 
A GoFundMe Was Set Up for the Whataburger Employee
To show appreciation to the employee there was a GoFundMe account that was set up. But at the end of this last video we found out that any money donated would be then passed along to a charity for people that had struggled with domestic violence. So, for anyone that is worried about the next generation, there are some great teenagers that will do incredibly positive things as they become adults.
31 Ways to Show Off Your Whataburger Fandom
From shirts to hats to jewelry, there are a plethora of ways to show off that you're a fan of Whataburger.
PSST: Check Out The Whataburger Secret Menu
The items are available year round, but make sure you're grabbing breakfast items and lunch items during those respective times.