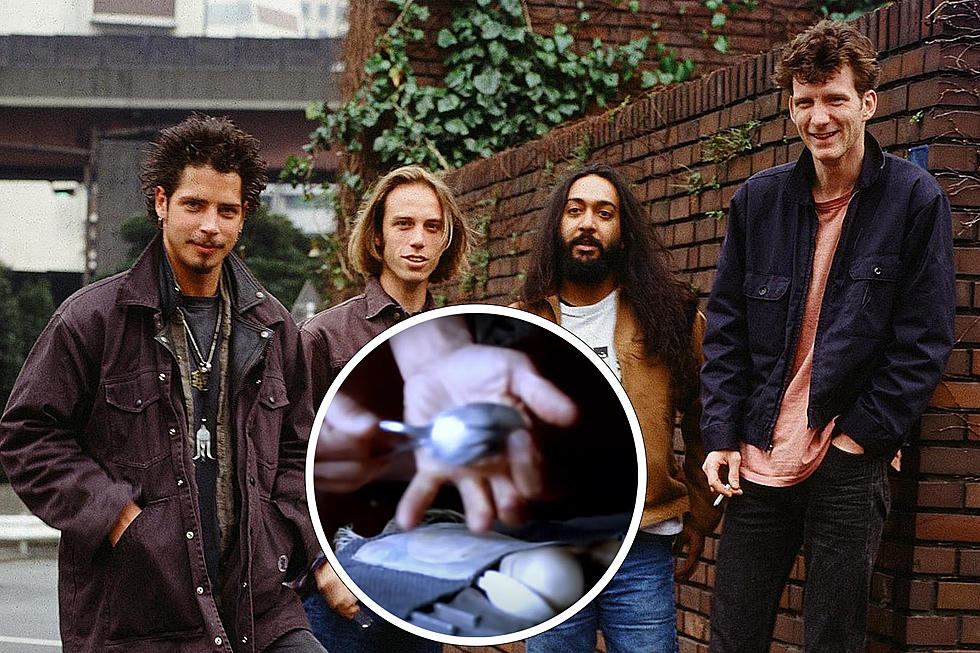 What Is Soundgarden's 'Spoonman' Really About?
Koh Hasebe/Shinko Music , Getty Images / YouTube - Soundgarden
"Spoonman" is one of Soundgarden's most iconic songs, but what is it really about?
The track is featured on the band's fourth and most commercially-successful album Superunknown, which came out in 1994. It peaked at No. 3 on Billboard's Mainstream Rock songs chart, and it won a Grammy for Best Metal Performance at the 1995 Grammy Awards. Despite its popularity, many people don't know the origin story of the song, so we're going to dive in and explain it.
Who Is the 'Spoonman'?
"Spoonman" was inspired by a man named Artis, who made a name for himself as a street performer in Seattle. His instrument of choice were always spoons, so he was given the name "Artis the Spoonman." According to his website, he started performing in 1972, and eventually shared a stage with Frank Zappa and Aerosmith, in addition to Soundgarden.
"My mom bought me a pair of musical spoons when I was 10... I had a collection of records that I played along with on my bongos and spoons and I'd sing along, too. She never told me to turn it down or turn off the music," Atis recalled to Maximum Ink in 2019. "I've always wanted to be a rocker... Imagine yourself as a 12-year-old, and instead of being something like what your father was, you said: poet or musician. Who is going to accept that? I just wanted to be a rock star, and who would have thought of that?"
"It's more about the paradox of who he is and what people perceive him as. He's a street musician, but when he's playing on the street, he is given a value and judged completely wrong by someone else," Chris Cornell said of the song in an interview with Request in 1994.
"They think he's a street person, or he's doing this because he can't hold down a regular job. They put him a few pegs down on the social ladder because of how they perceive someone who dresses differently. The lyrics express the sentiment that I much more easily identify with someone like Artis than I would watch him play."
What Was Artis the Spoonman's Connection to Soundgarden?
Soundgarden knew of Artis because he'd been performing in Seattle for years, and they developed a friendship in the '90s. The rockers invited the artist to open one of their shows in Seattle, and they later asked him to play his spoons on the recording of the song "Spoonman." He's also the star of the music video.
"We didn't know what a spoon solo was gonna sound like on a Soundgarden song since it's never happened before. You don't hear a lot of rock songs with spoons in them, so it was sort of an experiment and it turned out really great," Cornell said during a special with MTV.
READ MORE: Where Did the Word 'Grunge' Come From?
"I never really met 'em until they invited me to open a show for them two years ago here in Seattle," Artis explained in the clip. "When I'm in Seattle, or wherever I'm anywhere, my only aspiration and involvement vocationally for 20 years is playing spoons and entertaining."
Where Is Artis the Spoonman Now?
Artis suffered a heart attack in 2002, according to The Seattle Times, and a pass-the-hat benefit held during a festival in Seattle helped raise over $3,200 for him to help with his medical bills. Several years later, he moved to Port Townsend, Wash. and has lived there ever since [via KUOW.org].
He released an album called Finally in 2018, and keeps the spoons from the "Spoonman" video in a cabinet in his home, according to the aforementioned Maximum Ink interview.
"I just managed to be a rock-star with fucking spoons!" he concluded.
Soundgarden, 'Spoonman'
Every 'Big 4' Grunge Album, Ranked From Worst to Best
Gallery Credit: Lauryn Schaffner, Loudwire