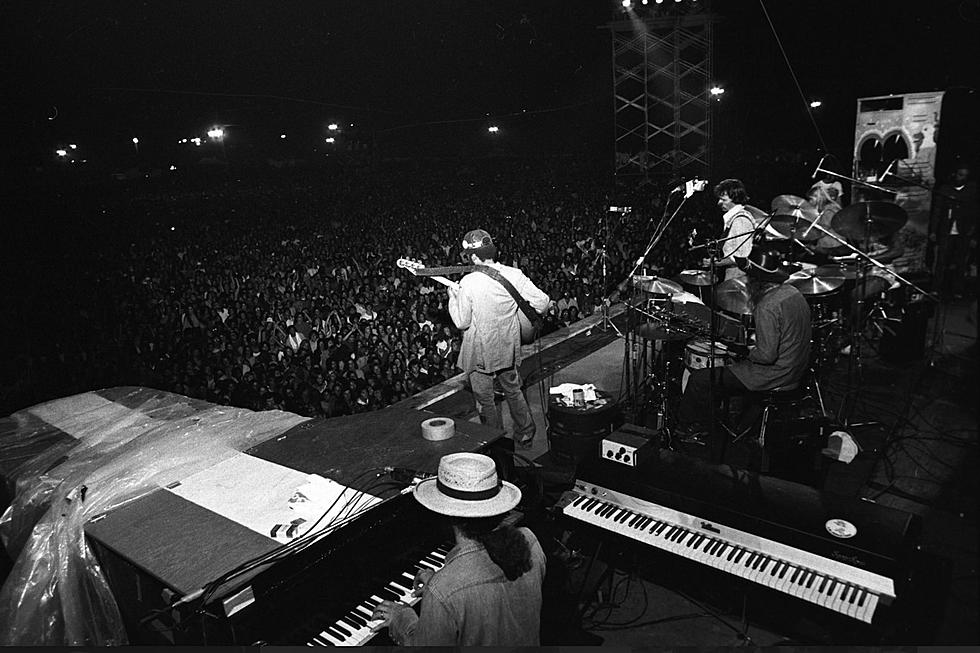 50 Years Ago: The 1973 Watkins Glen Summer Jam Outdraws Woodstock
John Lynskey Collection
On July 28, 1973, an estimated 600,000 people crammed into the Watkins Glen Grand Prix Raceway in Central New York State.
This beat Woodstock, which drew around 400,000. Although about 150,000 tickets were sold for the Summer Jam at Watkins Glen, four times that many fans showed up, effectively making it one of rock's biggest live events.  A year earlier, Summer Jam's producers, Shelly Finkel and Jim Koplik, helped orchestrate a Grateful Dead concert in Hartford, Connecticut, that included guest appearances by Dickey Betts, Berry Oakley and Jaimoe of the Allman Brothers Band. That show was a success, but what if it could be done bigger?
That's how 1973's Summer Jam came to be. It featured the Dead, the Band and headliners the Allman Brothers. In a new book by bestselling author Alan Paul, Brothers and Sisters: The Allman Brothers Band and the Inside Story of the Album That Defined the '70s, the chaos and triumph that was the Watkins Summer Jam is explored in the words of those who experienced it firsthand. Below are five things we learned about one of the biggest concerts of all time.
1. The promoters didn't expect the Band to accept their invitation and had already hired Leon Russell as the third act. 
Finkel and Koplik had already given Leon Russell a contract, and he'd already signed it when it was decided that the Band and Bob Dylan, who had not toured since 1966, should be invited instead. Dylan declined, and the promoters thought the Band, who hadn't toured in more than a year, would do the same. But to their surprise, they agreed to perform for a fee of $75,000. "We didn't want to play Watkins Glen," guitarist Robbie Robertson explained. "We were in a mood and felt that the only reason to do things like that was the money. But we were talked into it: 'Oh, come on. It's just up the road.'" Russell, who had been hired for the same amount, wasn't thrilled with being canceled. "We had to pay him half not to play," the promoters noted.
Listen to the Band Perform 'Back to Memphis' at the Watkins Glen Summer Jam
2. It was debated for some time who would close the show.
The sequence of Summer Jam's bill was important, especially for an event that was expected to last for hours. It was already settled that the Band would open for the two co-headliners, who were each being paid $117,500. But at a meeting, Bunky Odom, who worked for the Allman Brothers, had been given strict instructions by the band's manager not to accept anything aside from the closing slot. "I told Phil [Walden] that insisting on closing could be a deal breaker and that it wasn't necessarily the best slot anyway," Odom recalled. "That you want to play from 5:30 to sundown, after which people would be too fucked up to listen." Walden was adamant, but before Odom could speak up at the meeting, Jerry Garcia said, "We'll take the first six hours to test the PA out." Problem solved.
Listen to the Grateful Dead's Soundcheck Jam at the Watkins Glen Summer Jam
3. New York nearly shut down the event because there weren't enough restrooms. 
New York State officials learned a lesson from Woodstock. Not long after the 1969 festival, the state legislature passed the Mass Gathering Act, which implemented certain rules surrounding events. Part of it mandated that organizers spend $100,000 on portable toilets and $50,000 on bottled water. But when inspectors came to the site before the show, there were 40 toilets less than the required 1,000. "The company said there were no more johns in the state of New York," Finkel recalled. "And I said they had to expand their search." Eventually, more toilets were brought in from Pennsylvania. Then at the last minute, the Dead's touring manager, Sam Cutler, told Koplik that his band would not take the stage until they were paid an additional $25,000 as compensation for the hundreds of thousands of extra festivalgoers who had shown up. Koplik paid, only for Phil Walden to also discover that Summer Jam had become a "free concert." He too demanded more money for his band. "My whole point — and Bunky's – was they sold hundreds of thousands of tickets for $10," Cutler said. "They made fortunes, and our musicians are standing onstage going, 'There's 600,000 people out there. Don't we get more?' We'd all have been fools not to make that demand."
4. There was free cocaine and marijuana backstage.
"We had an array of drugs," Koplik admitted. "Instead of being drug-free, it was free drugs, with a trailer of free coke and pot for anyone in the band. It was 1973 and it was quite festive, with naked women running around. The bands got along great. They all hung together, and everybody loved everybody."
5. Arriving in a helicopter, the Allman Brothers Band asked the pilot to circle a few times so they could take in the enormity of the crowd. 
There may have been no better view of Watkins Glen that day than the aerial one the Allman Brothers got as they arrived at the venue in a helicopter. They even asked the pilot to circle the grounds so they could see it all. "We wanted to soak it in, and it was absolutely stunning, exhilarating and exciting to see this incredible mass of human beings," keyboardist Chuck Leavell said. "It was an ocean of bodies. We were all just really buzzed by the whole scene and situation." Gregg Allman, however, was "petrified" and said that he'd "rather ride a camel than a helicopter."
Listen to the Allman Brothers' Watkins Glenn Summer Jam Set
Allman Brothers Albums Ranked
Their long, complicated history isn't always an easy one to navigate.