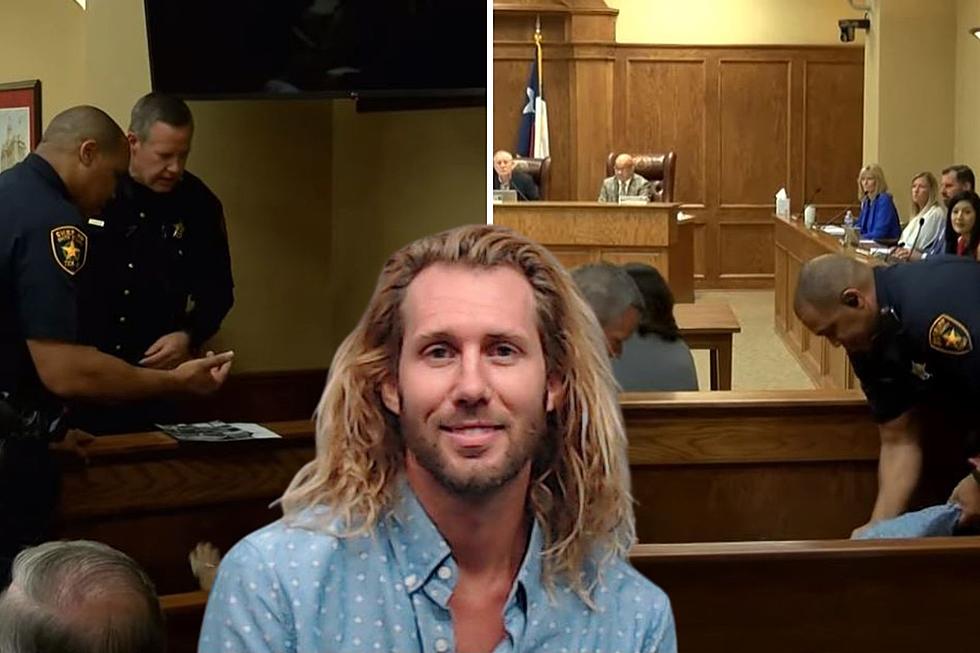 WATCH: Son Of Arrested Smith County, TX Clerk Dragged From Hearing
Canva
The Controversy Around The Recent Arrest Of The Smith County Clerk And Her Son Took Another Unexpected Turn This Morning.
Let's recap this story from the beginning so you can up to speed. The Wife & Son of A Smith County Precinct Commissioner And Another Man Were Arrested on March 28th After Allegedly Interfering With A Traffic Stop.
Derrick Phillips, a friend of the man pulled over and adult son of Karen Phillips, the Smith County Clerk, stepped out of second vehicle, and began interfering with the traffic stop. When a second deputy arrived to provide assistance, an attempt was made to arrest Derrick Phillips, who then ran into the residence. Karen Phillips can be seen shouting expletives and putting herself between the deputies and Derrick Phillips.
The Smith County Sheriff Released Body Cam Video Of The Incident.
Karen Phillips is also the wife of Smith County Precinct 3 Commissioner Terry Phillips, was charged with interfering with public duties and Derek Phillips was also arrested on charges of evading arrest/detention, interfering with public duties and resisting arrest/search/transport.
Now that you're up to speed, the story took another bizarre turn at The Smith County Commissioner's Court hearing Tuesday (May 9).
A man had to be forcibly removed and handcuffed during Tuesday's meeting of the Smith County Commissioners Court.
Lance Phillips, another son of the recently arrested Smith County Clerk Karen Phillips and Pct. 3 Commissioner Terry Phillips, was the man removed from the courtroom according to KLTV and CBS19.
Phillips returned to commissioners court this week following an attempt last week to speak on the recent arrest of his brother and mother. While Phillips was approved to speak at this week's meeting on another agenda item, he never made it to the podium.
During another citizen's public comments, Lance Phillips began shouting "let her speak" from the crowd. This followed an earlier incident in which Phillips was asked by a deputy to lower his voice before the meeting.
Smith County Sheriff Larry Smith who was in attendance could be seen telling deputies that Phillips needed to be removed for breaking decorum.
Phillips then refused to comply with a deputy's orders and retreated to the end of a row of seating. Deputies then picked Phillips up by his arms and carried him out. He was then handcuffed and placed in a patrol cruiser and charged with disrupting a meeting or procession with bond set at $500.
25 richest families in America
RANKED: Here Are the 63 Smartest Dog Breeds
Does your loyal pup's breed make the list? Read on to see if you'll be bragging to the neighbors about your dog's intellectual prowess the next time you take your fur baby out for a walk. Don't worry: Even if your dog's breed doesn't land on the list, that doesn't mean he's not a good boy--some traits simply can't be measured.
WOOF: These are the most popular dog breeds in America