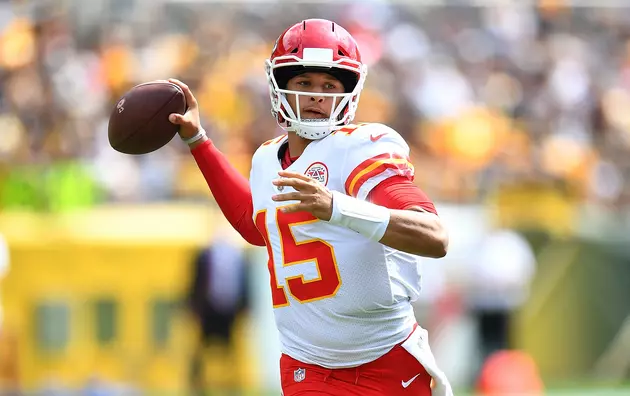 This Weekend's Pro Bowl Features Several Texas Players
Joe Sargent, Getty Images
They'd rather be skipping the Pro Bowl this weekend to get ready for the Super Bowl instead, but it's still a big honor to be selected to play with the best of the best in the NFL's all-star game.  And there are several players with Texas ties headed to Orlando to play in Sunday's Pro Bowl.

Unless you've been living under a rock, you know Patrick Mahomes had an unbelievable season for the Kansas City Chiefs.  He was hot right out of the gate at the beginning of the season, and he stayed hot, proving that he's no flash-in-the-pan and he's going to have a long and pretty special NFL career.  He made East Texas proud as a high school quarterback, and we love him at the highest football level too.  We hope he rocks the Pro Bowl with a couple of his incredible no-look passes and elusive scrambles.  We'll be watching.
Other top players with Texas ties to make this Sunday's Pro Bowl include J.J. Watt from the Houston Texans and Ezekiel Elliott of the Dallas Cowboys.
The Texans are sending four players to the Pro Bowl.  Linebacker Jadeveon Clowney, Wide Receiver DeAndre Hopkins, Linebacker Benardrick McKinney, Running Back Lamar Miller, and Defensive End J.J. Watt were all voted in.  And Quarterback Deshaun Watson was a last-minute add this week, replacing Tom Brady, who apparently has other things to do to get ready for the Super Bowl.
From the Dallas Cowboys, Running Back Ezekiel Elliott, Cornerback Byron Jones, Defensive End DeMarcus Lawrence, Guard Zack Martin, and Offensive Tackle Tyron Smith made the Pro Bowl roster.  Dak Prescott and Amari Cooper were added to the NFC roster this week as injury replacements.
The Pro Bowl is always a good opportunity to test snack recipes and beverage concoctions before the big game on February 3rd.  Break out the warm-up drills for chip-bag-opening and dip-stirring this Sunday, and decide how you want to position the cooler.  The big game party is only a week away.
Pro Bowl players a picked by votes from fans, players and coaches, and they'll hit the field at Camping World Stadium in Orlando, FL this Sunday at 2 pm on ESPN.  Get your snacks ready.