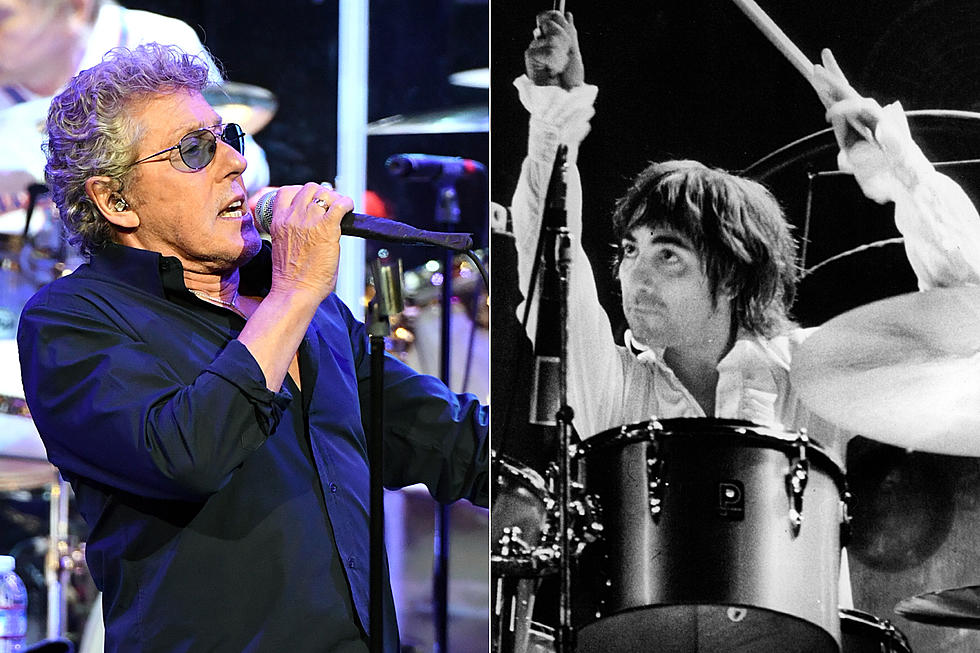 The Who's Roger Daltrey Provides Update on Long-Awaited Keith Moon Biopic
Ethan Miller / Keystone, Getty Images
The Who drummer Keith Moon was one of rock's greatest characters, and getting his story right is something that bandmate Roger Daltrey has been keen to do ever since the idea of a Keith Moon biopic came up. Now, The Who vocalist has offered an update on the long in the works film project, which appears close to finally being ready to move forward.
While a thunderous drummer and showman onstage, Moon was also well known for his hedonistic and often destructive behavior offstage. The hard-partying musician was known for destroying hotel rooms and exploding toilets with explosives. The drummer died of an overdose in 1978 at the age of 32.
Talk of a Moon biopic has existed since 2005 when Wayne's World and SNL star Mike Myers was initially attached to portray the over-the-top drummer. But in the years since, the project has stalled. Daltrey, who along with Pete Townshend, is one of the film's executive producers, has shared with NME an update on the movie's current status and offered insight on why it has taken so long to get things underway.
"I'm at a draft that's ready to go to directors," revealed Daltrey, who added, "I'm waiting on a reply from a director that I was talking to prior to starting writing the script. I'm very pleased with the script, it will be made. As soon as soon as he's finished the film that he's on, he will read it and I'll get a reply from him. Hopefully we'll get it made ASAP."
The singer revealed that one of the holdups has been getting the right script, with plenty of submissions before he decided to take on the writing himself. "It's a tricky one, and it's taken me a long, long time. A myriad of writers came up with failed scripts to finally make me sit down and write the kind of story I had in my head of how to tell a story that engages people, that really does expose the full Moon," he explained.
READ MORE: 20 of the Coolest Rock + Metal Related Guinness World Records
Reflecting on his late bandmate, Daltrey recalled, "He was flawed, like we all are. But he was wonderful and he was an absolute uncontrolled genius. And people like him are greatly missed in life today, because life is so full of fucking mediocrity, it's unbelievable."
While Mike Myers was once attached, Daltrey says he feels that the actor is too old now to play the role. He does, however, have someone else in mind that he used as the template when writing the film.
"I've got someone in mind as a template, but he might be too old to play Keith. But I've got a template, which is the most useful thing," says Daltrey. "Mike [Myers] would have been great at that time but he's too old now, unfortunately. But I do have someone in mind who's a very very, very good actor. But again, he might be too old but he's a template. So I can use him to bounce other people [off] and look at their screen presence. Because there was something about the original Moon that has to be there in whoever I get to play Keith Moon in this."
After Moon's death, The Who recruited Faces drummer Kenney Jones to take over behind the kit and recorded two more albums before their 1983 split. Jones returned for multiple reunions, but Daltrey and Townshend remain the two band members still left touring under The Who banner.
66 Best Hard Rock + Metal Drummers of All-Time