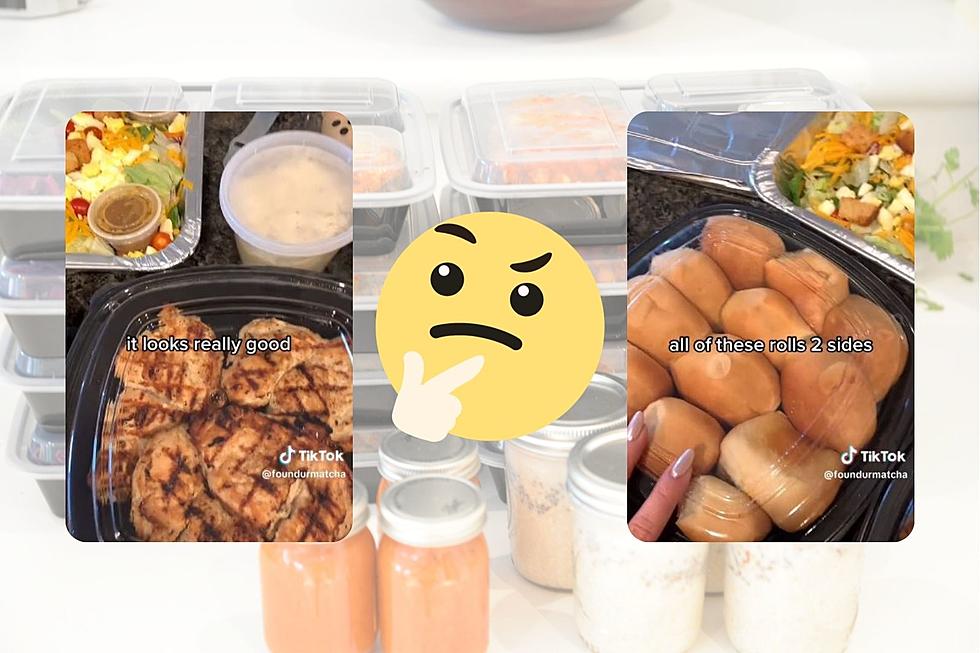 The Texas Roadhouse Meal Prep Idea on TikTok is Kinda Helpful
Tiktok, Canva
This Texas Roadhouse meal prep idea has been gaining more and more popularity on TikTok over the past few months. I'm just not sure it's a great idea. Well, anytime you can get your hands on those amazing rolls and cinnamon butter it's always a good idea, but it just depends on what you're trying to accomplish with your meal prep plans.  
If you haven't seen the videos that have gone viral on TikTok about the Texas Roadhouse meal plan here are some more details about it. Texas Roadhouse is offering a family meal for $40. It gives you a large container filled with multiple chicken breasts. Along with all that protein there is a really big salad with tomatoes, cheese, dressing, croutons and other deliciousness. Add 12 of their amazing rolls plus two side dishes and that is everything. It's a lot of food for the money.  
Other Restaurants Are Charging Much More
There are other restaurants like Chipotle that offer this same type of family meal but there you will be charged around $90. So, if you're looking to save some money and not have to meal prep all day this Texas Roadhouse meal might be the way to go. 
Why I'm Not Sold on the Idea
My thought behind the whole meal prep idea was about eating healthy. And when you're consuming multiple rolls from Texas Roadhouse each day for lunch, it's difficult to say that's healthy. But again, if you're just trying to save some time with your meal prepping this might be just what you're looking for.  
Have you tried this TikTok trend, do you think it's a good idea? Let us know in the comment section.  
Making the TikTok Donut Cake
The dump cake from Tik Tok, how does it taste and is it really as simple as it seems to make it? Here's a step-by-step "How To"
Comments on Englishman's Viral TikTok Video about H-E-B
He loves his H-E-B as much as any native Texan.