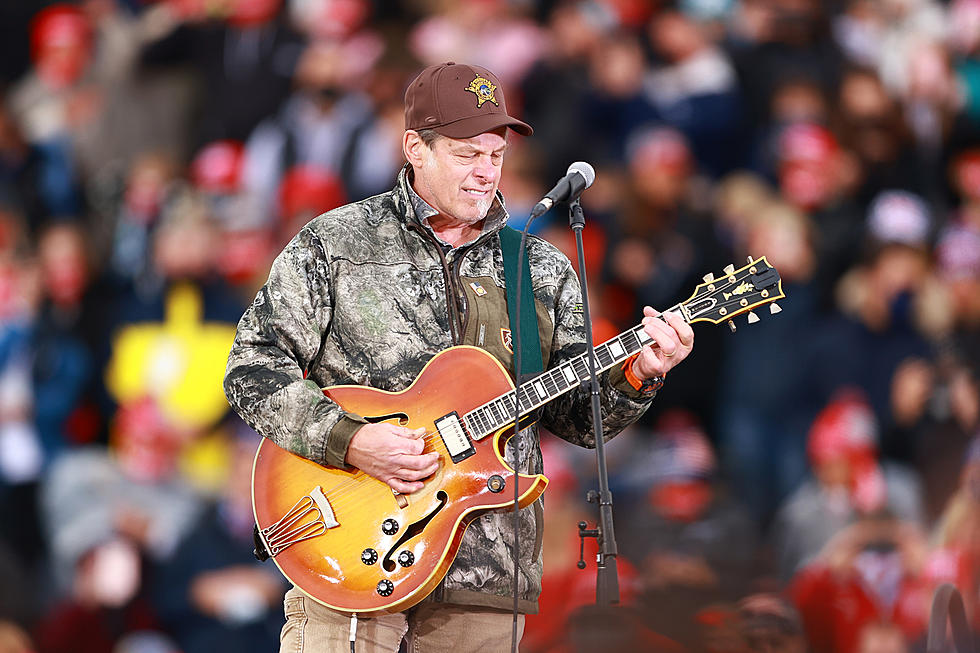 Ted Nugent Proclaims 'You Can't Cancel Me' While Replacing Recently Dropped Show
Rey Del Rio, Getty Images
Ted Nugent recently had one of the concerts on his "Adios Mofos '23" tour canceled by organizers, who bowed to the backlash when commenters protested the show on Avondale Brewing's social media page after the show was first announced. Now, Nugent has blasted the venue in one of his latest "Nightly Nuge" broadcasts, claiming that he's replacing the Birmingham show with one across the border in Mississippi and proclaiming, "You can't cancel me."
Comments the outspoken rocker had made were at the center of the protests, with a local LGBT bar in Birmingham joining in and revealing that they would no longer buy beer from the Avondale Brewery because they had scheduled the Nugent show. The rocker had previously made several anti-trans statements on social media, including one that read, "There is no such thing as transgender. You cannot change your gender. Comfortably numb is actually uncomfortably dumb. Debate me but bring your bib."
After the social media backlash, Avondale canceled the concert a day before tickets were set to go on sale. "We have heard the concerns of the Avondale community, which is so important to us, and in conjunction with our partners, have taken the necessary steps to cancel the Ted Nugent concert scheduled for June 18," wrote the brewery on their social media.
Now Nugent has responded by blasting the decision and claiming that he's got a new show in Mississippi ready to fill the void left by the recent cancellation.
"This year, in 2023, I'm going on tour for the last actual organized tour of my life, 'Adios Mofo '23'… And I've gotta tell you, the concerts are selling out left and right — except where some freaks who think that men should go into women's bathrooms and locker rooms and who think that comfortably numb is a desirable condition for your children," said Nugent in his recent video posting.
"They have protested. I think there were six snakes — they were serpents — that protested one of my concerts down in Birmingham, Alabama, of all places. We were selling tickets left and right. They canceled the concert, and the Nugent haters — which is the Michael Moore, Hunter Biden fan club — they actually canceled the concert in Birmingham, but an hour later I booked another gig for more money across the border in Mississippi," said Nugent. "So when you mess with Uncle Ted, you lose. I'm gonna rock my flamethrowing balls off this year and have the greatest concert of my life… So all you people that are angry that I'm happy, have a nice day, because the Michael Moore, Joe Biden, Hunter Biden fan club always gets upset when good people are happy. So get ready for the greatest tour of your life."
"It's called the Avondale Brewery in Birmingham, Alabama," he continued. "And again, just the lunatic fringe. Some serpents; they slithered off from underneath the rock. I think six or seven of 'em, and there were big fat men dressed up like women that wanted to sing, 'I love it when you kiss me where I pee.' Now they like that, but they don't love my music. So they protested. And the proprietors bent over rover and they canceled my concert. But again, you see that smile on my face? You can't cancel me."
At press time, the tour page on Nugent's website still lists the Birmingham show with a "TBA" where the ticket purchasing can happen and no mention of a Mississippi show, though it's assumed that it will soon be updated when the show is announced.
READ MORE: Ted Nugent Announces His Final Tour - 'Adios, Mofo'
Nugent didn't stop with just the tour announcement, then choosing to weigh in on some of the accusations against him. "This has happened all throughout my career because I stand up for God, family and country. And by the way, all the accusations are false," he claimed. "I've never met Courtney Love. I didn't dodge the draft. I've never dissed the Native Americans. I'm not homophobic. I've got gay friends and we snuggle. I'm not racist. I am black. I mean, the whole thing is just preposterous because they can't debate me, so they have to lie and hate. And then The Huffington Post and CNN and MSNBC and Rolling Stone magazine, they continue to lie and lie. All the nasty allegations are one hundred percent false. Now, I've made some mistakes in life, but they haven't mentioned any of those. They just keep lying."
"My haters are the dumbest creatures that have ever slithered," Nugent added. "And the Avondale Brewery in Birmingham, Alabama has been bombarded with good families, really good, good people, a lot of military heroes, a lot of law enforcement heroes and just good working-hard, playing-hard Americans going, 'Boy, are you people stupid. Because I'm gonna go to the Ted Nugent concert that night anyway, just not at your place.' [Laughs] So it's too funny for words."
Ted Nugent Explains Why He Is Playing Mississippi Instead of Alabama
Your Guide to Rock + Metal Bands Touring in 2023
Check out over 200 rock and metal bands' touring schedules for 2023.