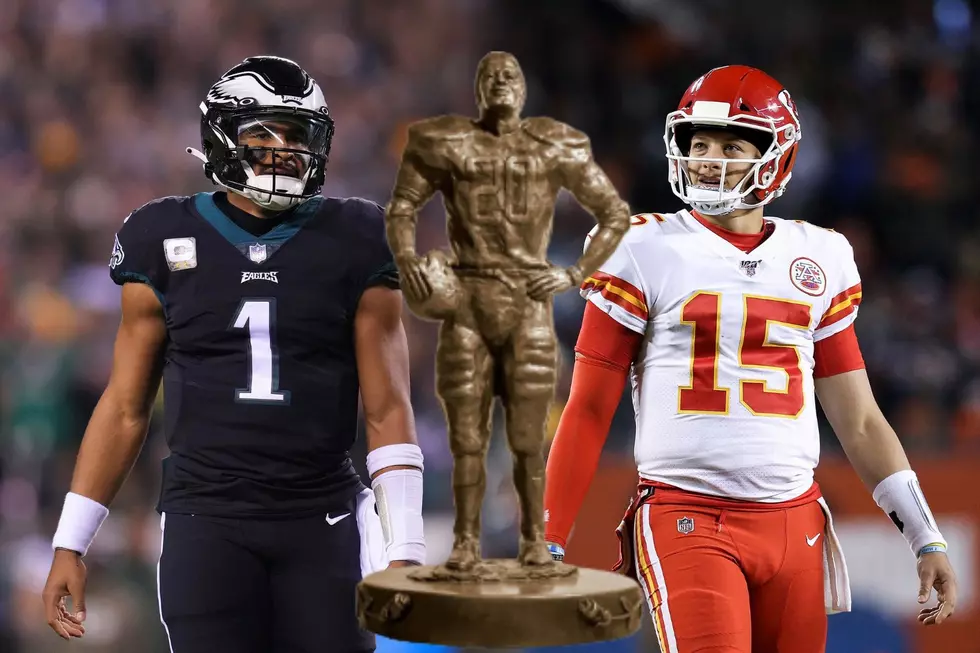 Super Bowl QB's Were Once Earl Campbell Tyler Rose Award Nominees
Getty Images / Staff
You Already Know That This Year's Super Bowl Will Feature Two QB's From Texas But Did You Know They BOTH Came To Tyler, TX As Nominees Of A Prestigious Award?
You don't need me to tell you that this year's Super Bowl will be making history in a variety of ways thanks to the two starting Quarterbacks: Jalen Hurts of the Philadelphia Eagles and Patrick Mahomes of The Kansas City Chiefs. But a few years ago while both were still in college, they came to Tyler at the same time for something special.
Back In 2016, Hurts & Mahomes Were Nominees For The Earl Campbell Tyler Rose Award.
According to post shared from "Visit Tyler" from that year, the two future Super Bowl starters are seen with award's namesake Earl Campbell. The Earl Campbell Award is given annually to the top offensive player in Division I football who was either Born in Texas, Graduated from a Texas high school; or Played at a Texas-based junior college or four-year college.
The winner is someone who also exhibits the enduring characteristics that define Earl Campbell: integrity, performance, teamwork, sportsmanship, drive, community and tenacity. The award honors of Texas Legend Earl Campbell and his home community of Tyler, Texas and is presented by SPORTyler, Inc., in conjunction with the City of Tyler, Visit Tyler, and Tyler Area Chamber of Commerce.
Back Then, Mahomes & Hurts Put Up Big Numbers For Their Schools.
Mahomes was in his junior year at Texas Tech while Hurts that year was in his freshman season at Alabama. Both put up amazing numbers and while Mahomes went pro before Hurts (who transferred to Oklahoma later in his college career) both managed to be nominated for the Earl Campbell Award.
Unfortunately, Neither One Of Them Won The Award That Year...But They Didn't Lose To A "Scrub".
While the two got to meet with the Legend himself and were proud to be nominated, the award in 2016 went to Texas running back D'Onta Foreman who rushed for over 2,000 yards that year for the Longhorns. Foreman currently plays for the Carolina Panthers where he finished this season rushing for 914 yards and 5 touchdowns on 203 attempts, all career highs.
Hindsight is 20/20 and I'm sure those voters would like to re-do that vote though.
East Texans Who Have Played in the Super Bowl
It's one thing to make it to the NFL. It's another to actually make it all the way to the championship game. These East Texans have done just that with their team.
The Top Hotels In Texas According To Trip Advisor
A new list of the top hotels in Texas in 2023 just came out and if you want to spend the night in one of these luxurious rooms, its gonna cost you!
Big Stars Bringing Tours To Texas In 2023
Check Out This List Of Stars That Will Be Performing In Texas in 2023.