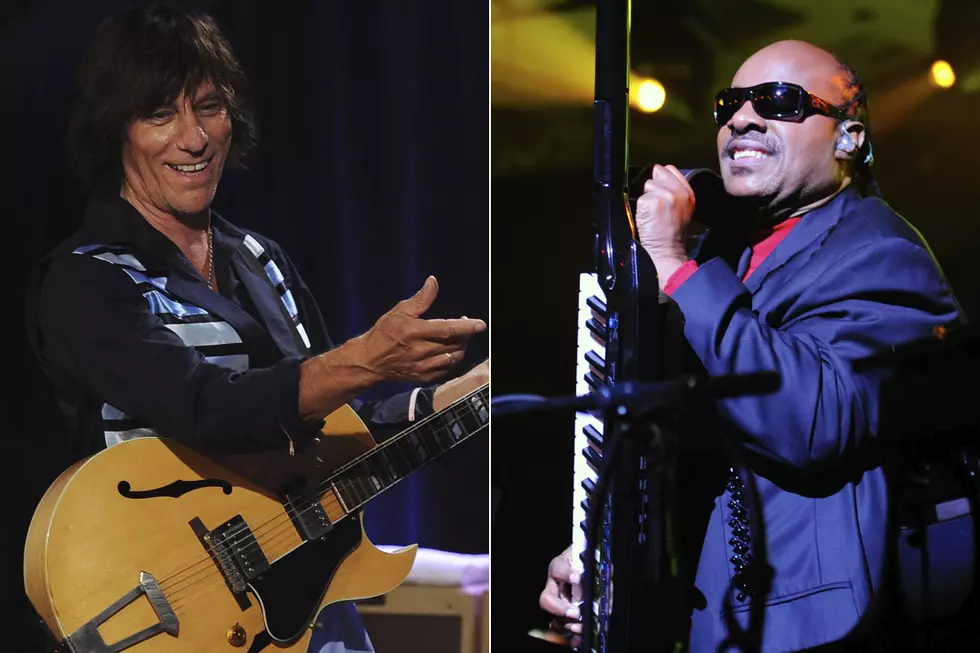 How Stevie Wonder Stole a No. 1 Hit From Jeff Beck
Larry Busacca / Ethan Miller, Getty Image
When Stevie Wonder scored a No. 1 hit with "Superstition" on Jan. 27, 1973, it announced a new sound for the brilliantly talented full-service singer, songwriter and musician who'd go on to record a string of the decade's greatest LPs. But for Jeff Beck, the song's success was a missed opportunity.
Beck was present in the studio when Wonder wrote the track. In fact, it all started with a drumbeat Beck came up with while noodling around between takes in the studio where he'd been asked to join Wonder during the sessions for what became 1972's Talking Book album. He was already firmly established as a star in his own right, but Beck found himself at something of a crossroads at the time. Meanwhile, Wonder had begun playing virtually all the instruments on his own albums, yet still preferred working with other guitarists – so their collaboration seemed like a natural fit.
"There was a time when I was pretty bored with my music, and I think somebody at CBS asked me what I wanted to do," recalled Beck in Stuart Grundy and John Tobler's The Guitar Greats. "I said I loved Stevie's stuff, so they quietly broke it to him that I was interested in doing something together, and he was really receptive. The original agreement was that he'd write me a song, and in return, I'd play on his album, and that's where 'Superstition' came in."
Beck went into the story in a bit further detail in Annette Carson's book Jeff Beck: Crazy Fingers, saying, "One day I was sitting at the drum kit, which I love to play when nobody's around, doing this beat. Stevie came kinda boogieing into the studio: 'Don't stop.' 'Ah, c'mon, Stevie,' I can't play the drums.' Then the lick came out: 'Superstition.' That was my song, in return for Talking Book. I thought, 'He's given me the riff of the century.'"
Listen to Beck Bogert & Appice's Version of 'Superstition'
Unfortunately for Beck, it didn't really work out that way. Problems with his band delayed the release of his version of "Superstition," which didn't surface until Beck, Bogert & Appice hit stores in spring 1973. Beck would score a minor hit with his recording, but there was no competing with Wonder's definitive take on the song.
As Beck remembered it in The Guitar Greats, Wonder "basically wrote it for me, but the story goes that he loved it a bit too much. No, he played it to Motown, and they said, 'No way is Beck getting this song, it's too good' and, as they had the right to say what Stevie released at that time, I lost the song as an original."
Wonder offered his version of events during an interview with Ben Fong-Torres: "Motown decided they wanted to release 'Superstition.' I said Jeff wanted it, and they told me I needed a strong single in order for the album to be successful. My understanding was that Jeff would be releasing 'Superstition' long before I was going to finish my album. I was late giving them Talking Book. Jeff recorded 'Superstition' in July, so I thought it would be out."
Listen to Stevie Wonder's Version of 'Superstition'
The tug of war over "Superstition" didn't keep the two from collaborating, however. "Apart from that, I did some sessions for the Talking Book album – 'Looking for Another Love' was one track that was released, and I think another one we did was 'Tuesday Heartbreak,' although there were others," Beck said in The Guitar Greats. "I wanted to express my guitar playing through Stevie, who I admired and enjoyed, and he was one guy I would have played lead guitar for."
Relations were strained between the artists for a while: As Wonder told Fong-Torres, "I did promise him the song, and I'm sorry it happened and that he came out with some of the arrogant statements he came out with." Still, by the time Beck got around to recording 1975's hit Blow by Blow, he had gotten far enough past it to include two Wonder compositions, "'Cause We've Ended as Lovers" and "Thelonius."
Beck eventually came to terms with missing out on the opportunity to release "Superstition" first, but his disappointment lingered for a while. "That was the right decision but we were gutted, you know, totally," he admitted in The Guitar Greats. "We would have had a monstrous, monstrous hit."
15 Famous Acts Who Released Only One Album
Some memorable artists were one-and-done.
The Rock Supergroups You Totally Forgot