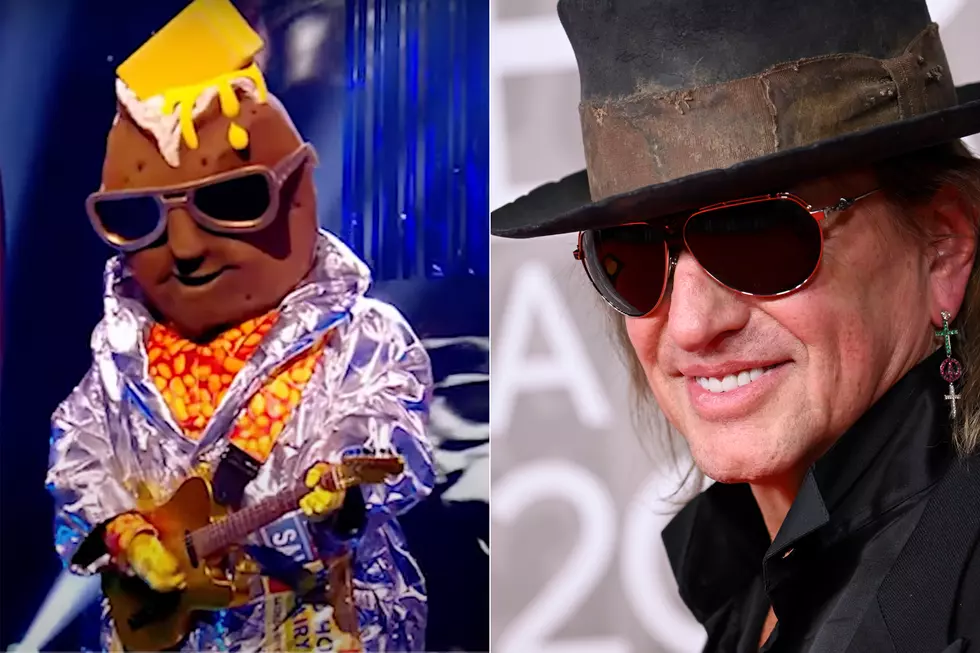 Richie Sambora Unmasked as 'Jacket Potato' on U.K.'s 'Masked Singer'
YouTube: TALENTKINGHD / Gareth Cattermole, Getty Images
Estranged Bon Jovi guitarist Richie Sambora has been revealed as one of the masked performers on the U.K. edition of The Masked Singer.
Over the course of his run, Sambora had performed Elvis Presley's "Viva Las Vegas," Leonard Cohen's "Hallelujah," Fleetwood Mac's "Go Your Own Way" and John Newman's "Love Me Again." During the performance of "Go Your Own Way," he even played guitar while in costume, which took a bit of doing.
Speaking with Channel 4's Sunday Brunch (as seen below) after his elimination, he revealed that arrangements had to be made so that he could play the instrument. 'They cut my gloves off and matched [my] fingers to gloves," revealed Sambora, adding that he really couldn't see outside of his costume, once taking a look down to make sure he was properly playing the instrument.
The "Jacket Potato" was eventually guessed by panelist Davina McCall after weeks of incorrect guesses such as Eric Clapton and Ozzy Osbourne among others. Just like the U.S. version, various clues were presented to the panelists, including mentions of "shot through the heart," "halfway there" and a video clue alluding to the title to Bon Jovi's 7800° Fahrenheit album.
According to NME, after Sambora's identity was revealed, he explained, "I love being a guitar player and a songwriter. And of course I'm very privileged and honored to have had so much success and the accolades of being a Grammy winner, an Ivor Novello Award winner and a Rock And Roll Hall of Fame and Songwriters Hall of Fame inductee, but what I really love to do is sing!"
He then added, "My hiatus from Bon Jovi and the Covid impact on my solo touring meant I could only do one thing which is make a new record until I saw The Masked Singer! I loved it and it was a lot of fun to watch it at a time where due to lockdowns and being forced to be at home the world was a little quieter than it had been since Bon Jovi kicked off 37 years ago."
The Jacket Potato (Richie Sambora) Performs Fleetwood Mac's "Go Your Own Way" on The Masked Singer U.K.
Richie Sambora Reflects on His Time on The Masked Singer U.K. with Sunday Brunch via Metro
Richie Sambora Is Revealed on The Masked Singer U.K. via Metro
Top 53 Rockers Who've Been in Multiple Successful Bands