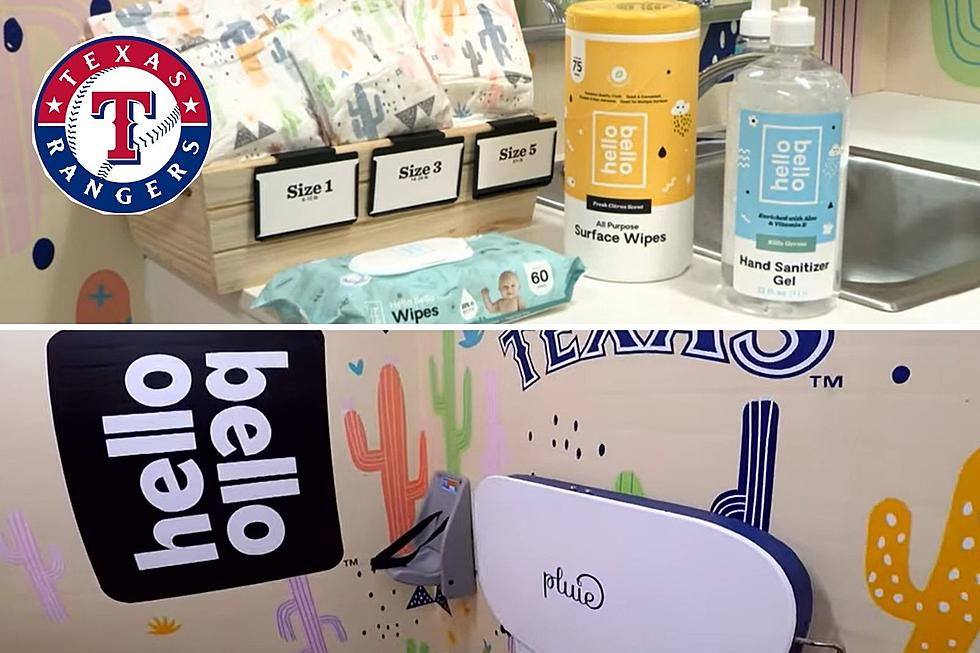 Texas Rangers New Ballpark has Clean Changing Rooms with Free Products
Diapers and Room - WFAA via YouTube / Rangers Logo - SportsLogos.Net via YouTube
Its great to be back in baseball season. The crack of the bat, the smell of popcorn, needing to change your baby.
Wait. What?
The Texas Rangers may have started a new trend for the multitude of baseball stadiums across the country. They offer multiple changing rooms across Globe Life Field to help relieve some of the stress of new parents when nature calls for their little one.
Globe Life Field in Arlington is back open with the revamped Texas Rangers hoping to make a playoff run this season. So far, its not looking too good but there are a lot of games to play so we can only see how it plays out. For new parents attending a game this season, the team has taken a small bit of stress away from them by offering clean changing rooms with free products available like diapers, sanitizer, wipes and more from Hello Bello, a baby product company started by actors Dax Shepard and Kristen Bell.
The rooms are available in four different locations in the ballpark:
Two rooms in the lower concourse by sections 20 and 27
Three rooms in the Main concourse by sections 101, 125 and 130
A room by guest services on the suite level
Two rooms in the upper concourse by sections 209 and 224
There are even rooms available for the player's families and Texas Rangers administrative staff.
The rooms are stocked with free, yes free, diapers, hand sanitizer, baby wipes and soap. Some of the rooms are equipped with a self sanitizing changing table. Don't let the room's label, "Mother's Rooms," deter dads from using them, either. They are for any parent.
Its easier to keep the rooms stocked, too, since Hello Bello has a factory in Waco.
Baseball is the sport built around the family. Having these new additions to Globe Life Field makes that family experience that much more enjoyable.
RAD! 90's themed Airbnb in Dallas, Texas
You should check out this amazing Airbnb in Dallas, Texas
World's Record Largest Nerf Battle Will Be TWO Hours From Tyler, TX
Jared's Epic Blaster Battle 7: The Largest Toy Battle in the World returns to AT&T Stadium this June, and guys, it will take place on the actual NFL field, covered in rad obstacles
Reality Show that Best Matches an East Texas City
We decided to have a little fun and match several East Texas cities with a reality show that best encapsulates that town. Have a sense of humor with some of the matches, please.