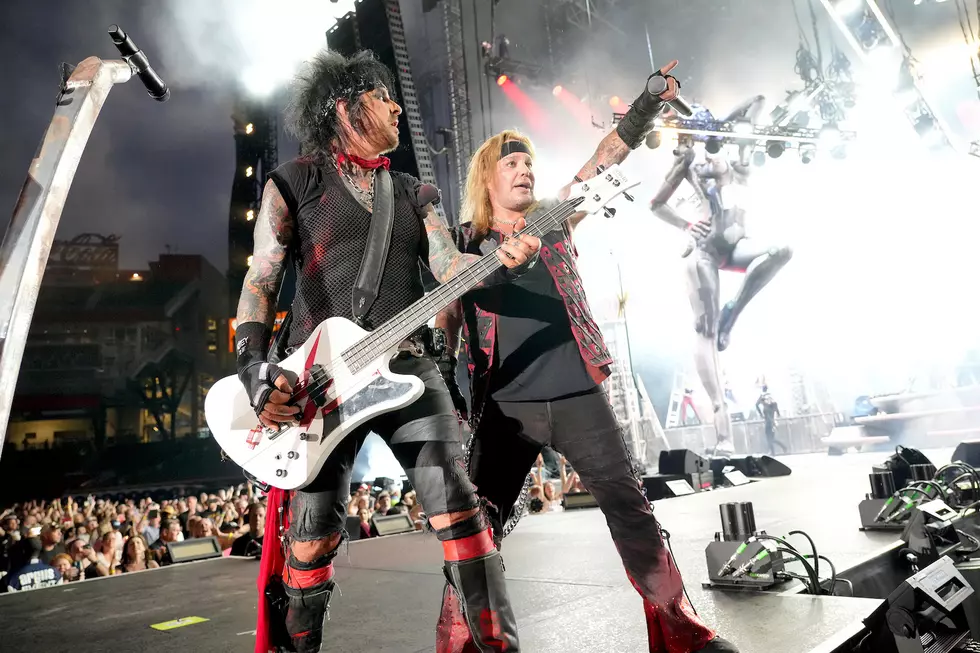 Motley Crue Now Say 'There Were No Backing Tracks for Band Members' in Reference to 2022 Stadium Tour
Kevin Mazur, Getty Images
In a response comment to a video published on their Facebook page, Motley Crue are now saying "there were no backing tracks for band members" in reference to last year's summer Stadium Tour.
The band's alleged use of backing tracks has been a hot topic of discussion amid guitarist Mick Mars' lawsuit against the band. He claims he was "unilaterally" removed from the group in the fall, while Crue's team has argued that they had to use backing tracks to cover up Mars' sloppy playing. Mars also claims that bassist Nikki Sixx "did not play a single note on bass during the entire U.S. tour" in 2022.
Yesterday (May 1), Motley Crue published a video on Facebook of drummer Tommy Lee playing at SoFi Stadium in Los Angeles, California on Aug. 27, 2022. One commenter, Bruce Holland, said, "Saw the backing tracks tour last [year] and paid dearly to see it. It's a hard NO for me this time around...," to which Motley Crue fired back in all caps, "THIS IS THE SUMMER TOUR FOOTAGE FOR FUCKS SAKE. THERE WERE NO BACKING TRACKS FOR BAND MEMBERS."
View the video and the comment (screenshot captured by Loudwire) below.
A screenshot of the comment captured by Sleaze Roxx shows that one hour after Motley Crue's comment was published, it was edited to say the same thing as mentioned above, but with the words "fucking clown" directed at Holland at the end of the comment.
Apparently, the comment was edited more than once. It's unclear what Crue's original and unedited comment was.
In July of last year, fan-filmed footage caught Lee missing a cymbal count-in before a song (which was heard throughout the stadium) while his tech was making some adjustments behind the kit. At the time, Loudwire reached out to Motley Crue's representation for comment and clarification, to which we were told that the band was not fielding media requests. Lee did manage to connect with a drum strike right as the song began after missing the count-in.
READ MORE: Motley Crue's Manager + Mick Mars' Lawyer Explain Lawsuit From Both Sides
Previously Released Deposition Statements From Motley Crue's Crew Members Confirming Band's Use of Pre-Recorded Tracks on 2022 Tour
The Facebook comment alleging no Motley Crue members used backing tracks appears to be in direct conflict with deposition statements from the band's crew members previously issued in response to Mars' lawsuit against the band.
In these statements, which were signed in early February of this year, various crew members attest to Mars' inability to play the songs properly, thus necessitating the use of backing tracks to execute a performance that would satisfy general expectations fans have of hearing these songs live.
Front-of-house engineer Brent Carpenter acknowledged, "At one point, Mick complained that we were using tracks when he was playing, which though true, was directly because of his lack of consistency."
Motley Crue's touring production manager of 16 years, Robert Long, also made it clear that the band did indeed use backing tracks on the road during last year's Stadium Tour.
"[Mars] would consistently miss notes; play out of tune; play the wrong chords during a song; stay within a chorus of a song and never come out of it; forget the song that he was playing and start a different one; and would get lost in songs. This happened at every show. Our sound technician would have to carefully monitor Mick and play tracks when Mick would go off course. Otherwise, the whole performance would be a disaster. … Our playback engineer put in cues for Mick so that he would stay on course but he would miss the cues," commented Long.
Are Motley Crue Using Backing Tracks Now That Mick Mars Has Been Replaced by John 5?
That's not a determination for us at Loudwire to make, but we can explore what others on the internet are alleging.
Former Headbanger's Ball host Riki Rachtman sent out a tweet stating, "According to John 5, Nikki Sixx plays every single note. I think the world of John. Ya know I think I'll believe him."
Footage from a 2023 show, however, appears to provide evidence to the contrary. In the video below, Sixx is seen taking both hands off of his bass to place them around his ears. As he does this, pulsing bass lines are still heard during part of "Primal Scream."
Nikki Sixx's Bass Heard While Both Hands Are Not on the Bass — 2023
Other fan-filmed footage seems to clearly show Motley Crue utilizing backing vocal tracks for lead singer Vince Neil as well. Below, Neil holds the microphone stand out to the crowd to sing the refrain to "Same Ol' Situation." Although he is not singing into the microphone, his vocals are still clearly in play, suggesting a pre-recorded track was in the live mix.
Vince Neil Holds Mic Out to Crowd While His Voice Is Still Heard Singing — 2023
How can fans know what to believe?
The situation can be confusing for fans, who have now heard Motley Crue and members of their team both confirm and deny the use of backing tracks during live performances.
There are many bands in rock and metal who utilize pre-recorded tracks to execute their live shows at a level that satisfies their own expectations of how their songs should be presented live, as well as fan expectations. So, if Motley Crue have at any point used backing tracks in 2022 and 2023, they are far from the only group in heavy music to do so.
Where and when can I see Motley Crue on tour?
Crue's world tour will continue with shows in the U.S. and overseas at these dates. For tickets, head to this location.
Bands Who Have Admitted to Using Backing Tracks
These musicians say backing tracks help them put on the best show they can and have no shame in confessing it.
The Real Names of Over 50 Rock + Metal Icons