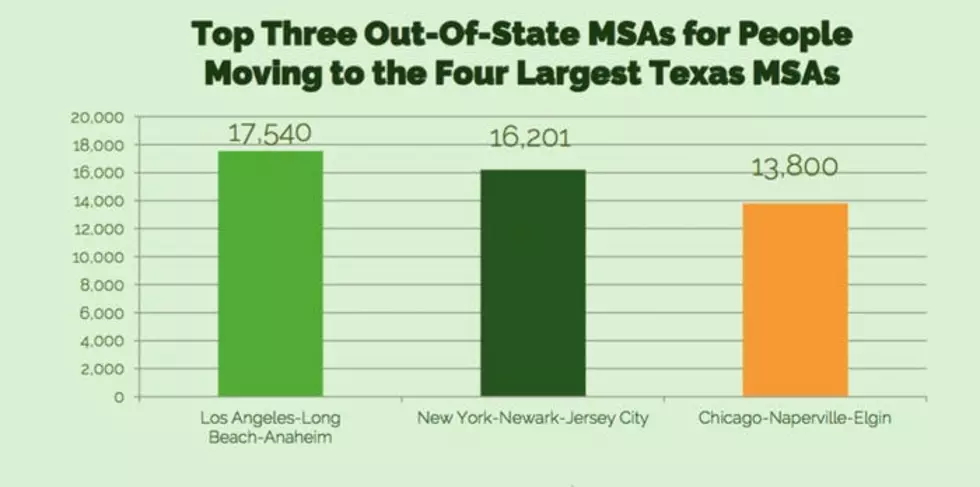 More and More Chicago, Los Angeles, New York Transplants Are Coming to Texas
Source: Texas Association of Realtors
Over 500,000 people moved to The Lone Star State in 2016, according to the Texas Association of Realtors. And more people came from California (69,945), Florida (31,145), Oklahoma (30,532), Louisiana (27,998) and Illinois (21,848) than anywhere else.
Despite slowing job and economic growth over the last two years, housing-market and population growth have remained strong and steady throughout the state," Kaki Lybbert, 2018 chairman of the Texas Association of Realtors, said in the report. "With more than half a million people moving here each year, it's evident that the Lone Star State fosters a positive environment for business development and raising a family," Lybbert noted, in the report.
As we said in the headline, the largest share of moves came from the Los Angeles, New York and Chicago metro areas.
Where are they moving to in Texas? The Dallas-Fort Worth and Houston areas.
According to the data, 123,661 new residents moved to DFW during the year. Meanwhile Houston's Harris County topped Texas with a gain of 20,942 residents relocating from out of state.
And you thought traffic was bad in Tyler.